Mary Chamberlin Cooking Class - December 17 - Roasted Tenderloin of Pork and Red Bell Pepper Caprese

Mary Chamberlin Cooking Class - December 17, 2020
Happy Holidays everyone!!
This week's cooking class will feature two delicious recipes: ROASTED TENDERLOIN OF PORK WITH

APRICOT WALNUT DRESSING AND SAUCE DIABLE and RED BELL PEPPER CAPRESE
Hope you had a wonderful Thanksgiving and thanks for sharing your great recipes! If you haven't done so yet and would like to do so, please send them to [email protected]
Here's what we have so far:
https://www.brickmanmarketing.com/newsroom/mary-chamberlin-class-members-favorite-thanksgiving-recipes
Thanks so much for signing up for the Free Phone-In Monthly Soup Preparation Lessons with Chef Mary Chamberlin on Thursday, December 17th from 2 pm – 3 pm. Due to the increased usage of the conference call service and some possible interruptions, the Free Conference Call staff suggest we start the call at 2:05 pm so please call in at that time. Please call back if there are any service interruptions or email me at [email protected] as I will be monitoring emails.
PLEASE BE SURE TO MUTE YOUR PHONE DURING THE CLASS AS BACKGROUND NOISES ARE VERY DISTRACTING. THANKS FOR YOUR HELP!
ALSO, PERHAPS KEEP A PEN AND PAD NEARBY SO YOU CAN WRITE DOWN YOUR QUESTIONS WHILE MARY IS TALKING AND THEN ASK THEM WHEN SHE OPENS UP THE Q & A SECTION.
To keep things simple this time, we will be using a free conference call service and you would dial in as indicated below:
Dial-In Number 712-451-0812 and Access Number 756-586#
Dial-in Number: (712) 451-0812

And then they will request the Access Number below.
I have posted this week's recipes and some photos below so please read the whole page to the bottom.
If the photos are too large, just right click on the picture with your mouse and then save image on your desktop.
To copy a recipe, take your cursor and drag your mouse down the page and right click, select Copy and then go to a new Word document and click paste. Then rename it and save it on your desktop for easy access.
Please plan some questions for the Q & A section about food preparation, sourcing and safety during this COVID-19 situation. We love the wonderful interaction on the call and appreciate your joining us!
Many of us are enjoying an electric can opener and the one people like is the Hamilton Beach Smooth Touch model (see photo below).
Check out Mary's new Traveling Cookbook filled with fabulous recipes! See details below.
Should you also wish to purchase a copy of Mary's fabulous prior cookbook, The Traveling Soup Pot, she is offering $5 off of the normal $35 cost to participants who call into our weekly classes and please call her directly at 831-624-0830 to order. We look forward to speaking with you! Thanks for participating!
Many of you have asked for the Olive Oil source that Mary Chamberlin had mentioned:
Verni's California Gold Olive Oil
Fresno, Ca.
A great value with high quality olive oil, freshly pressed.
Located off Auberry Road
1 Mile North of Copper in Clovis
Verni Farms
11990 N. Auberry Road
Clovis, Ca. 93611
To order, please call or text Sue to call you back: 818-402-8267
Sue will provide special pricing for us for their olive oil of $15/bottle (each 1 liter or 33.8 oz) instead of $18-$20 and 2 bottles fit in one box. Shipping will be $21.10
She wil also sell a gallon of their special olive oil at $40/gallon instead of $45. She will providing shipping costs soon. Shipping $28.99. Each gallon is 128 ounces.
They also have raw almonds, walnuts, almond butter, coconut almond butter, dried fruit including apricots, figs, plums, cherries, apples and peaches.
Take care and stay healthy!
Best regards,
Wendy Brickman and Mary Chamberlin
Contact information: Wendy Brickman
Email: [email protected] (831) 594-1500
Mary Chamberlin
Email: [email protected]
(831) 624-0830
Hurray! Mary's new book is NOW Available and people love it! It makes a wonderful Christmas gift, too.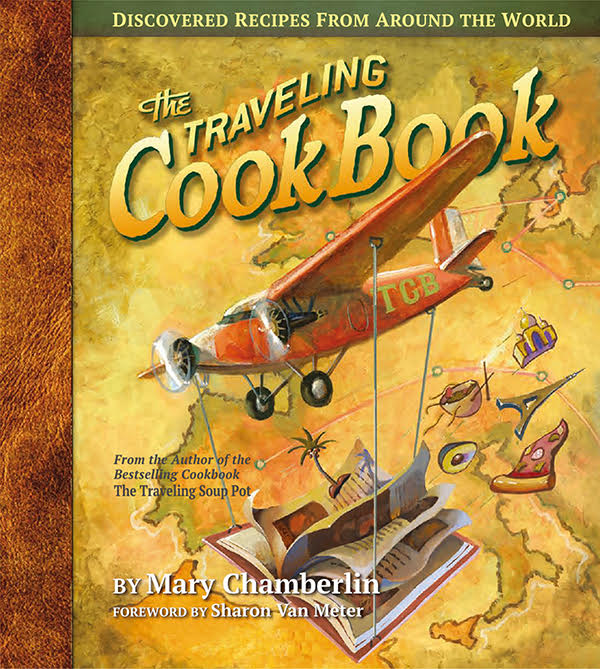 And her former best seller is still available too: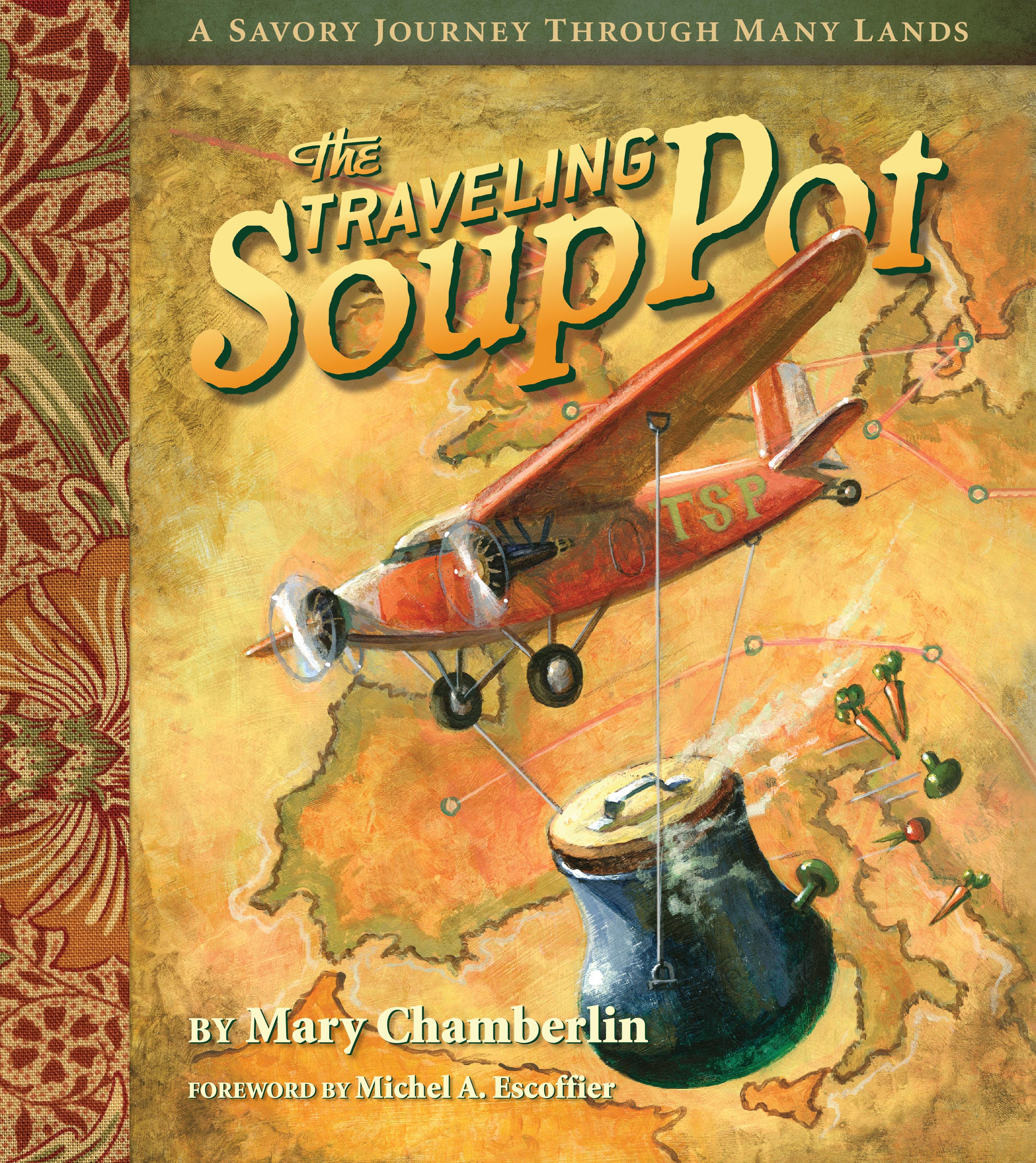 If you're local to the area, did you see the nice write-up about Mary's new book in the Carmel Pine Cone?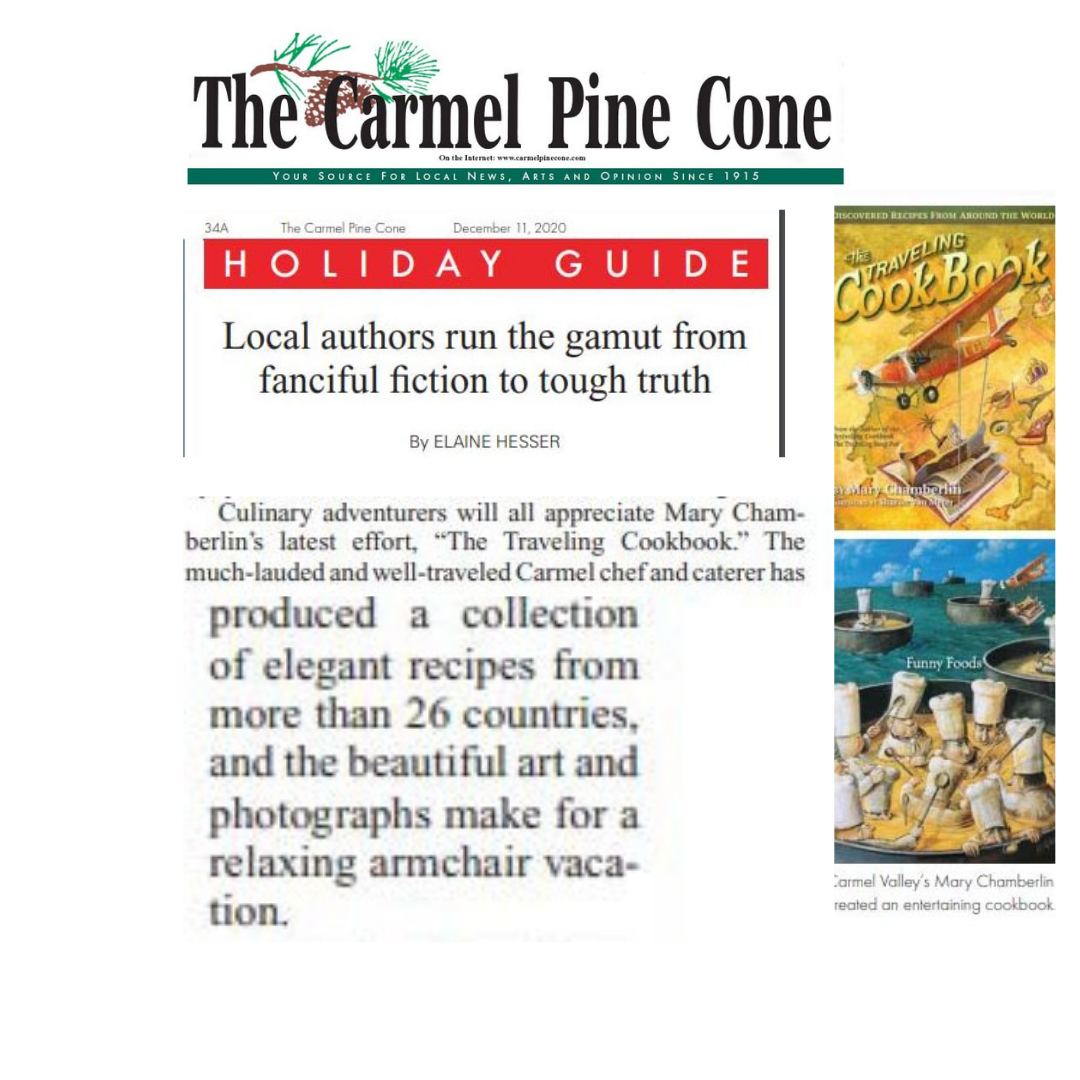 And our favorite can opener: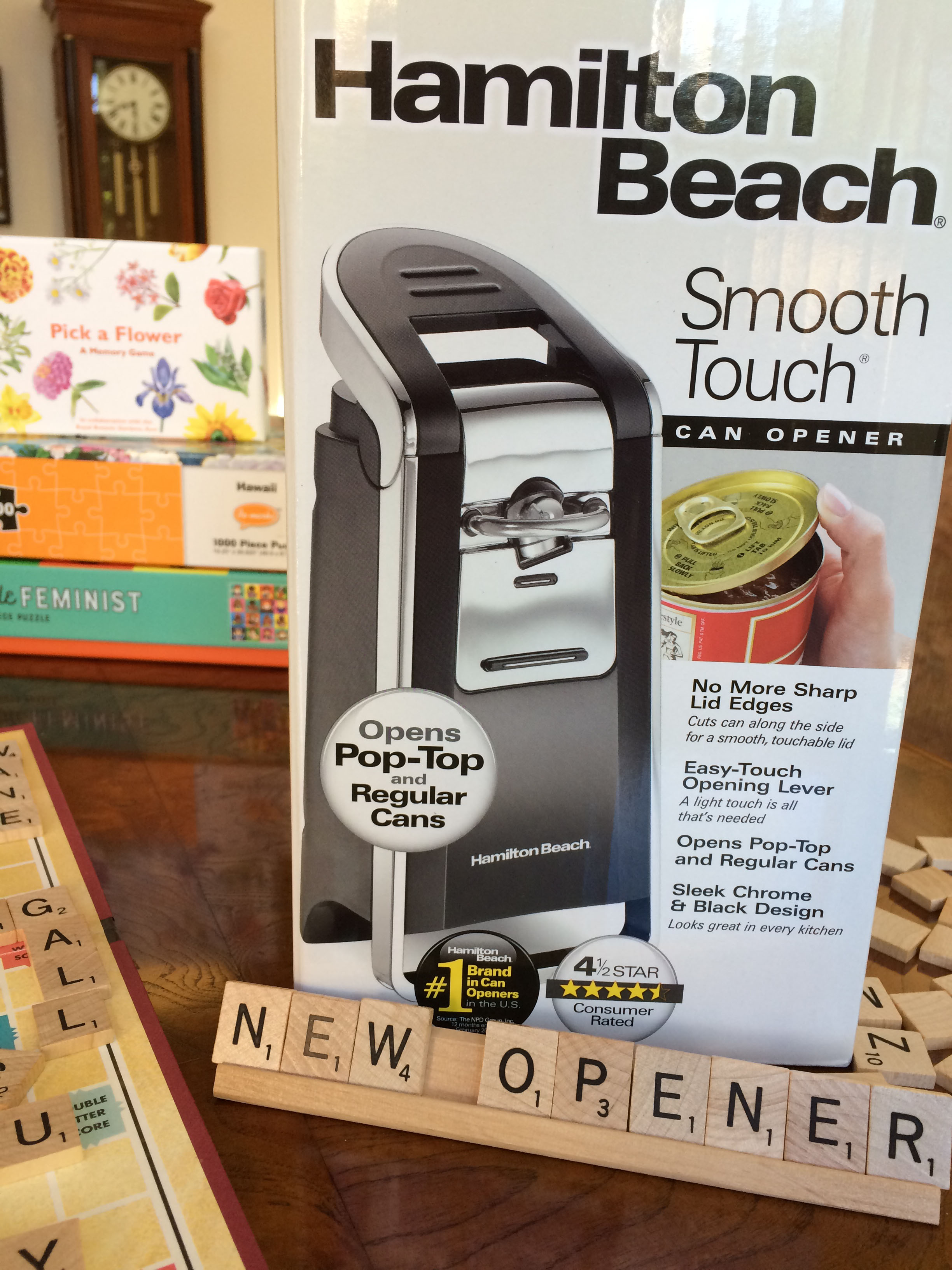 More information about The Traveling Cookbook by Mary Chamberlin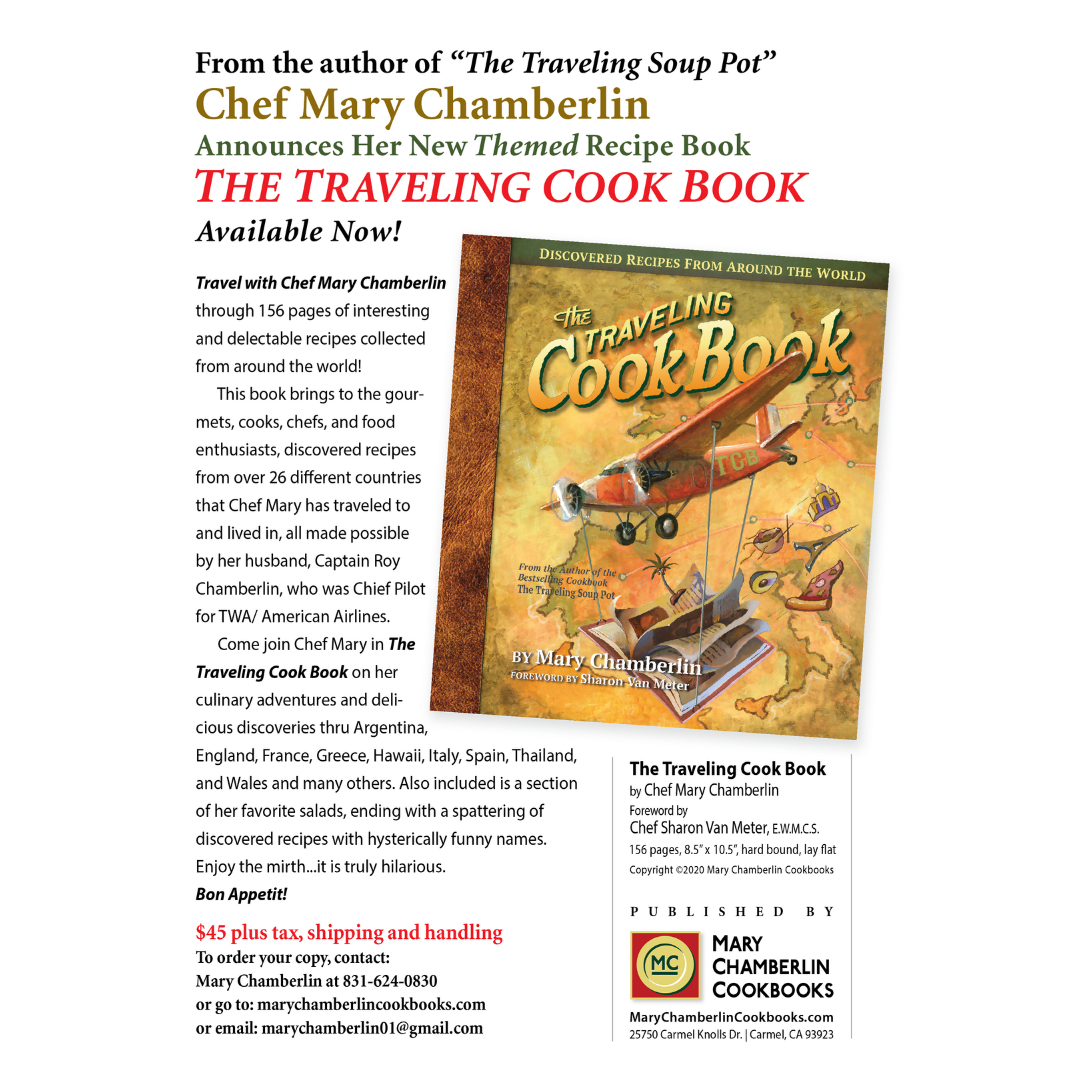 This week's recipes...

Red Bell Pepper Caprese
This salad recipe is a special salute to summer time garden vegetables using bell peppers, tomatoes, and sweet corn. I had a roasted pepper salad with the tomatoes and mozzarella cheese in Rome in the old Trastevere and decided to add a little Americanization with sweet corn. It makes a great meal with some roasted chicken or beef. Mama Mia!
INGREDIENTS:
4 red bell peppers (cut in half lengthwise, and seeded)
16 anchovies
8 cloves of garlic, sliced paper-thin
Salt
White pepper
Olive oil
PREPARATION
Heat oven to 350o. On a large baking sheet, sprayed with PAM place the 8 red bell pepper halves. Rub generously with olive oil on both sides and place skin side down on the cookie sheet. Fill the pepper halves with sliced garlic clove and 2 anchovies and drizzle a little more olive oil over the top. Salt & Pepper the bell pepper halves, and place in oven for 45 minutes to one hour until tender. Do not overcook, as it is important that the bell pepper maintain its cupped shape. Cool and fill with tomatoes, buffalo mozzarella and fresh basil.
*For filling 1:
8 medium red, ripe tomatoes, skinned and sliced
24 slices of buffalo mozzarella
24 leaves of fresh basil
*For Filling 2:
Cook sweet corn
Miniature French Green Beans
Light Vinaigrette over the top
For the Plate:
1 head of romaine, washed, thoroughly dried, and chiffonade
Olive oil, extra virgin
Balsamic vinegar
Salt & pepper to taste
Place a chiffonade of romaine lettuce around an 8' salad plate. Place the stuffed pepper in the center and spoon a little olive oil and balsamic vinegar over the top of the lettuce. Season with salt & pepper to taste.
ROASTED TENDERLOIN OF PORK WITH
APRICOT WALNUT DRESSING AND SAUCE DIABLE
This recipe is an amalgamation of travel…..London, North Wales, and France. I had a similar dressing (stuffing) with a boneless shoulder of lamb in London, I had a stuffed pork tenderloin at the Porth Tocyn in Wales and the Diable sauce was classic French.. The Bacon idea was to keep the tenderloin moist while roasting and makes a great divider and portion control when slicing the meat.
2 Tenderloins of Pork
Butterfly Lengthwise
Season with Salt & Pepper and fresh thyme
Spread with well seasoned apricot walnut dressing (Cooled)
Wrap 4 to 6 thick cut bacon slices around each tenderloin and skewer
Place in oven roasting pan (do not cover) and roast in 375o oven for 60 minutes or until bacon is cooked and somewhat crisp.
Apricot/Walnut Dressing
3 cups of dry bread cubes or (1 Box of herbed Bread Cubes)
1/2 cup butter
1 1/2 cups diced onion
1 1/2 cups diced celery
1 cup dried diced apricots
1egg
Salt & white pepper to taste
1 /2 tsp. thyme
1/2 tsp. poultry seasoning
1 cup chopped, roasted walnuts
2 cups broth to moisten (This will vary)
Sauté' onions & celery until soft, add apricots and seasonings, continue to cook for 3 or 4 minutes, add broth and slightly cool. Add the egg and walnuts and continue to cool. Stuff dressing into pork tenderloin and wrap with 4 to 5 slices of thick bacon. Fasten with toothpicks to hold in place. Serve with Sauce Diable.
Sauce Diable
Chop 2 to 3 shallots very fine and put into a saucepan with 1/3 cup white wine vinegar and 3 tbsps. green peppercorns. When liquid has completely evaporated add 1 ½ cups brown sauce. Serve with the Tenderloin of Pork.
For a quick sauce use 1 package of Peppercorn Sauce and 1 package of Pork Gravy Mix.
Each tenderloin will serve 4 to 6 people. The Dressing will fill 4 tenderloins. (These are marvelous to make ahead of time and put in the freezer for special dinners)
Red Bell Pepper Caprese Ingredients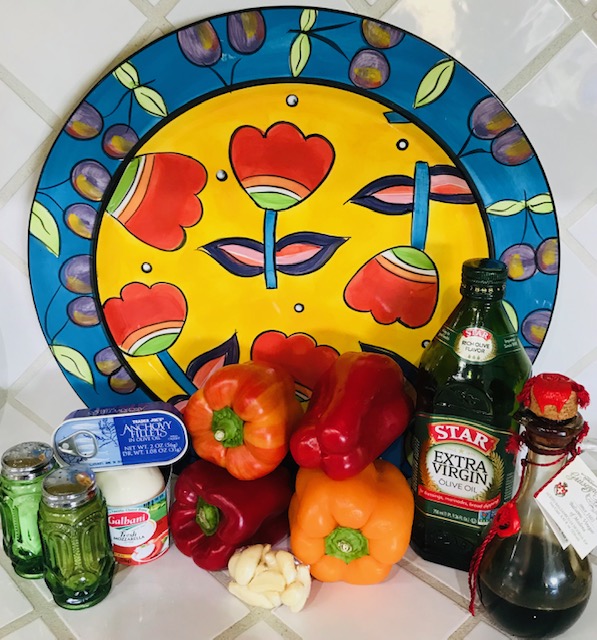 Red Bell Pepper Caprese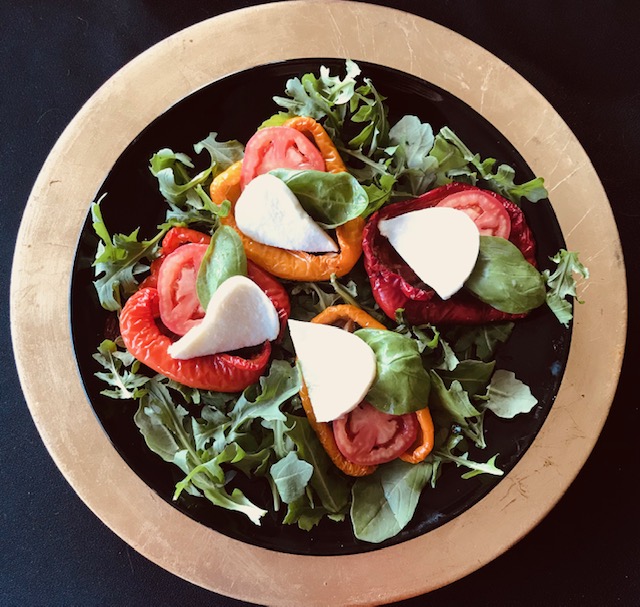 Roasted Tenderloin of Pork with Apricot Walnut Dressing and Sauce Diable Ingredients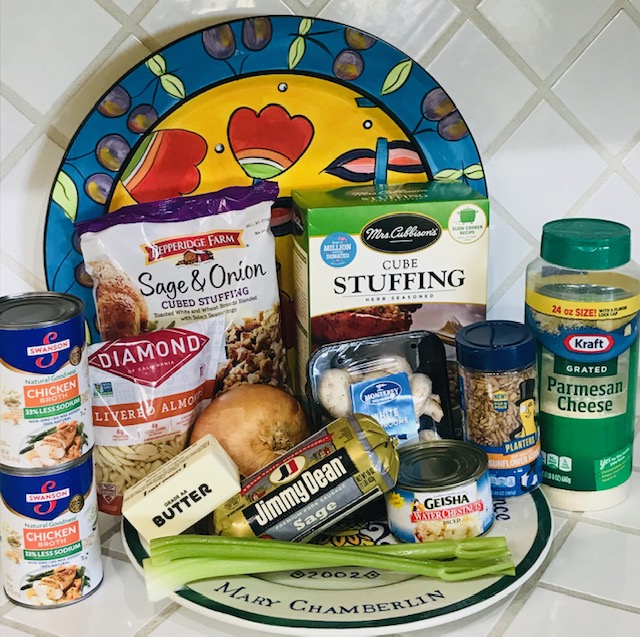 Roasted Tenderloin of Pork with Apricot Walnut Dressing and Sauce Diable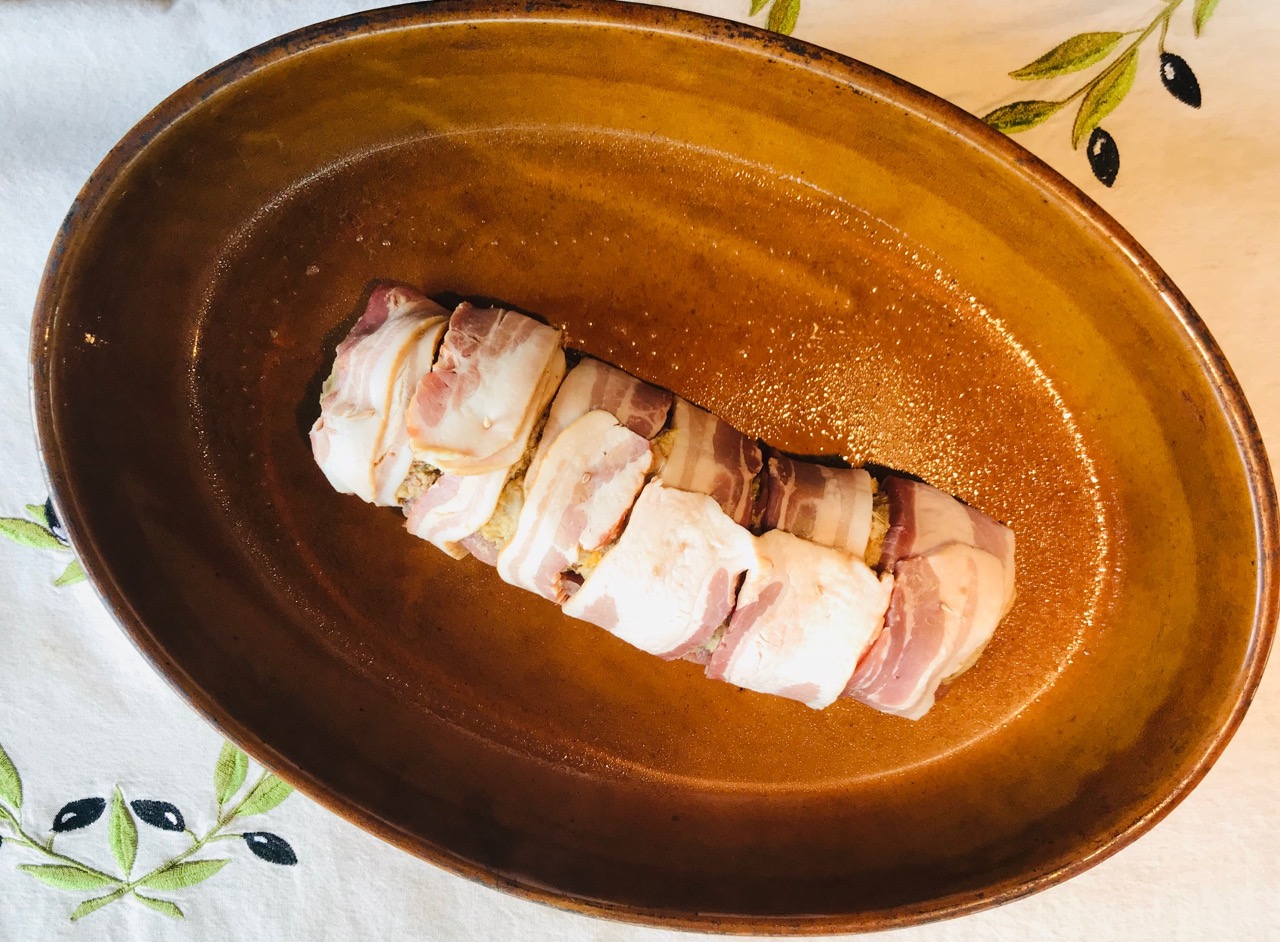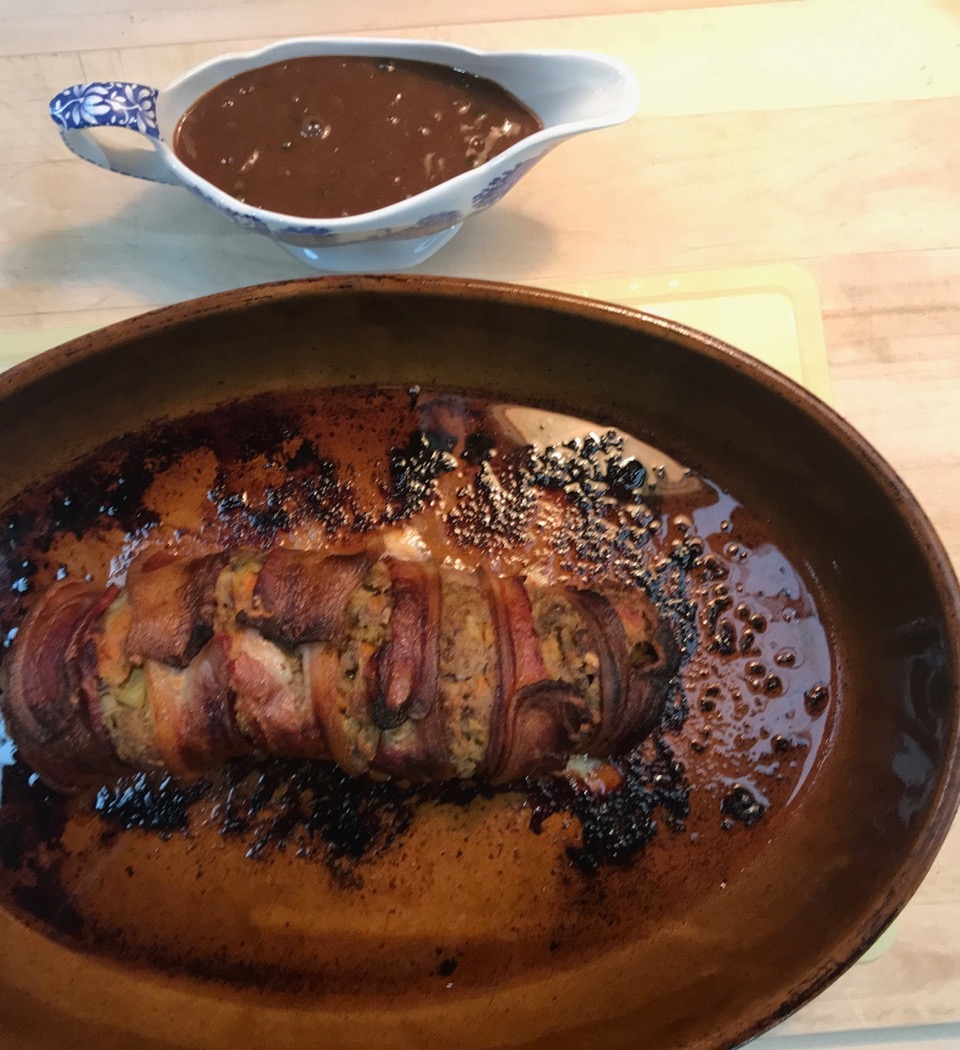 PLUS...MARGIE ANDERSON'S COMMENTS ABOUT THE TRAVELING COOKBOOK
Lots of us have bought Mary's new cookbook and are starting to try some of the recipes. So, I've gone through the book, and below are some comments on several of the recipes. I have eaten so many wonderful meals at Mary's over the years, so know I've probably had many more of the recipes in the book, but I've selected these few to comment on ---
If you have questions about any recipes, just give Mary a call. 831-624-0830. Oftentimes, she has some good shortcuts and is always happy to hear from you.
Please share your comments on recipes you try and I'll forward them.
Greek Torta, page 3 -- I haven't made this for years, but remember it was a winner. Darlene Denver bought the cookbook and it was the first recipe she tried. She said that everyone loved it.
Lamb Stuffed Artichokes, page 4 -- I've had these at Mary's and they are delicious! She also does another fabulous artichoke recipe with chopped hardboiled eggs, prosciutto roses, and a vinaigrette that we should ask her to share with the class.
Greek Almond-Orange Pudding, page 10 -- I was going to a Greek theme dinner party at Darlene and Paul Denver's, and I made this for dessert. Easy and yummy! Mary created it just for the occasion. What a friend!
Greek Lemon Chicken, page 12-- Erin Riedy and Wendy Davidson have purchased the book and made this recipe. Both said it was wonderful, and Erin said that it was the best Greek Lemon Chicken she's ever had.
Gazpacho, page 19 -- I've had several delicious gazpachos over the years at Mary's, so probably had this one too. She's a pro at soups as we all know.
Sicilian Caprese Salad, page 29 -- I haven't had this, but Mary's family loves this one and they have it often.
Walnut Chicken Lasagna, page 30 -- Delicious!!!! I had this a couple of times at Mary's and it was so good that I decided to make it for company. Yikes! A lot of work, but well worth it. If you make it, call Mary to see if there are any shortcuts.
Layered Kaleidoscope Salad, page 33 -- Beautiful and delicious! This recipe was featured in a Better Homes and Gardens issue all about Mary, her cooking and her beautiful kitchen.
Spezzatino (Ratatouille), page 41 -- Easy way to make ratatouille in the oven and it's delicious!
Parma il Pollo (Parmesan Chicken), page 44 -- I've made this several times and my family loves it. I just called it Oven-fried Chicken. Mary won a chicken cooking contest in Arkansas with this recipe and it's always the #1 choice for birthday dinners at her house.
Thai Coco Soup, page 55 -- I had this soup many times at Sue's Thai Kitchen in Kona. Yum!
The restaurant is long gone, but the memory of the food there lingers on...
Thai Yellow Curry Chicken, page 56 -- This too I had many times at Sue's Thai Kitchen. It's the best chicken curry I've ever had! (To make this recipe easier, you can buy a pre-made curry paste at the grocery store.) The gentleman she refers to in the story above the recipe, Bob Nespor, became our architect and a good friend when we built our home in Kona on the Big Island of Hawaii.
Coconut Rice, page 57 -- I had this often in Hawaii, always a treat.
Bread Pudding, page 59 -- I've never met a bread pudding that I didn't like. This one is a winner!
Thai Pineapple Fried Rice, page 60 -- Mary has been raving about this dish for years. It's on my for-sure list to make.
Passion Fruit Sauce, page 66 -- I had this at Mary's, and it's delicious on anything! Carol Aden uses Mary's recipe when she makes this sauce.
Roasted Tenderloin of Pork, page 72 -- Really, really good! A taste treat to be sure! Make several and perfect for freezing.
Calypso Shrimp, page 80 -- I've made this several times, always a hit. Super easy to put together.
Salads and Dressings, page 83 -- I've had almost all of the salads and since Mary is truly Queen of Salads, all are delicious!
With holiday dinners in mind, chef extraordinaire Mary Chamberlin will be gifting us on Thursday, December 17 at 2:00 with two spectacular recipes from her new cookbook, "The Traveling Cookbook." Both are worthy of the holidays, dazzlingly delicious, and will surely delight your eyes and tickle your tastebuds.
Mary even will explain how to cook, freeze and wrap one of these for holiday gift-giving, something that friends and neighbors of hers look forward to every year. A most unique gift, indeed!
Are you still working on your gift list? A quick and easy way to give gifts this year is a call or email to Mary (831-624-0830 or [email protected]). Simply give her the name and address of the recipient, she'll sign your name in her new book, The Travelling Cookbook, and mail it off for you. What could be easier?
If you want to join in on this holiday cooking class, send your name and email to [email protected]. Then you will receive the recipes, photos, and even a few gift ideas. I'm ordering several bottles of the olive oil that Mary recommends, Verni's CA Gold Olive Oil, for male chefs in my family. Just call 818-402-8267 to order. Several sizes are available.
---Margie Anderson