Mary Chamberlin Cooking Class - Ghost Guts and Carrot and Coral Lentil Surprise - 10-15-20
Hope you all are doing well! It seems so long since our last fabulous class with Chef Mary Chamberlin!
Thanks so much for signing up for the Free Phone-In Monthly Soup Preparation Lessons with Chef Mary Chamberlin on Thursday, October 15th from 2 pm – 3 pm. Due to the increased usage of the conference call service and some possible interruptions, the Free Conference Call staff suggest we start the call at 2:05 pm so please call in at that time. Please call back if there are any service interruptions or email me at [email protected] as I will be monitoring emails.
PLEASE BE SURE TO MUTE YOUR PHONE DURING THE CLASS AS BACKGROUND NOISES ARE VERY DISTRACTING. THANKS FOR YOUR HELP!
ALSO, PERHAPS KEEP A PEN AND PAD NEARBY SO YOU CAN WRITE DOWN YOUR QUESTIONS WHILE MARY IS TALKING AND THEN ASK THEM WHEN SHE OPENS UP THE Q & A SECTION.
To keep things simple this time, we will be using a free conference call service and you would dial in as indicated below:
Dial-In Number 712-451-0812 and Access Number 756-586#
Dial-in Number: (712) 451-0812

And then they will request the Access Number below.
I have posted this week's soup recipes and some photos below so please read the whole page to the bottom.
If the photos are too large, just right click on the picture with your mouse and then save image on your desktop.
To copy a recipe, take your cursor and drag your mouse down the page and right click, select Copy and then go to a new Word document and click paste. Then rename it and save it on your desktop for easy access.
Please plan some questions for the Q & A section about food preparation, sourcing and safety during this COVID-19 situation. We love the wonderful interaction on the call and appreciate your joining us!
Please feel free to share the meeting graphic below at the bottom of the page with any friends or family! Just right click with your mouse and Save As a new document on your Desktop for future easy acess too. Thank you!
Many of us are enjoying an electric can opener and the one people like is the Hamilton Beach Smooth Touch model (see photo below).
Should you wish to purchase a copy of Mary's fabulous cookbook, The Traveling Soup Pot, she is offering $5 off of the normal $35 cost to participants who call into our weekly classes and please call her directly at 831-624-0830 to order. We look forward to speaking with you! Thanks for participating!
Many of you have asked for the Olive Oil source that Mary Chamberlin had mentioned:
Verni's California Gold Olive Oil
Fresno, Ca.
Order # for shipment 559-299-9189
Located off Auberry Road
1 Mile North of Copper in Clovis
Verni Farms
11990 N. Auberry Road
Clovis, Ca. 93611
818-402-8267 Sue
Take care and stay healthy!
Best regards,
Wendy Brickman and Mary Chamberlin
Contact information: Wendy Brickman
[email protected] (831) 594-1500
Mary Chamberlin [email protected]
(831) 624-0830
Hurray! Mary's new book is NOW Available!!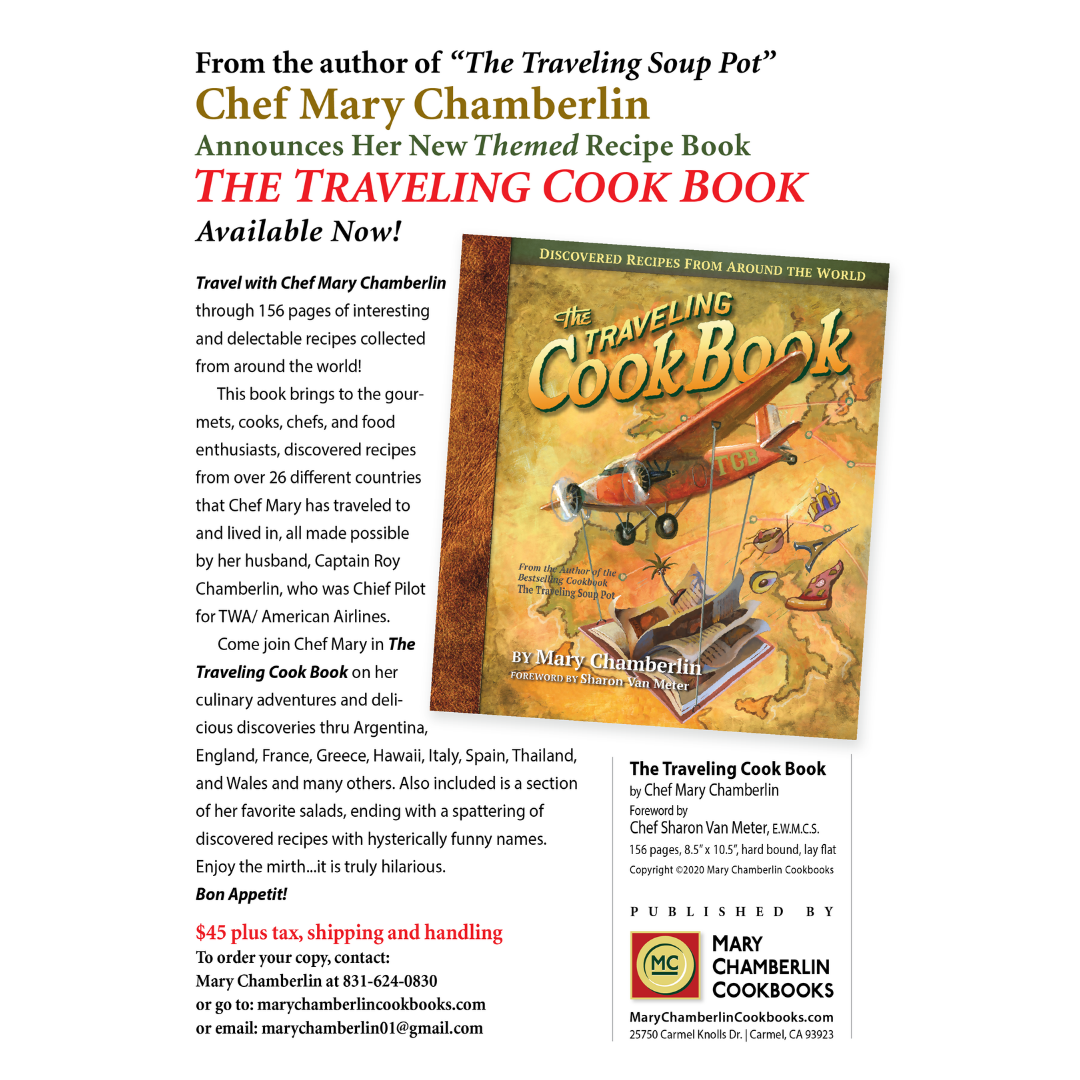 And the wonderful Traveling Soup Pot Book is also available: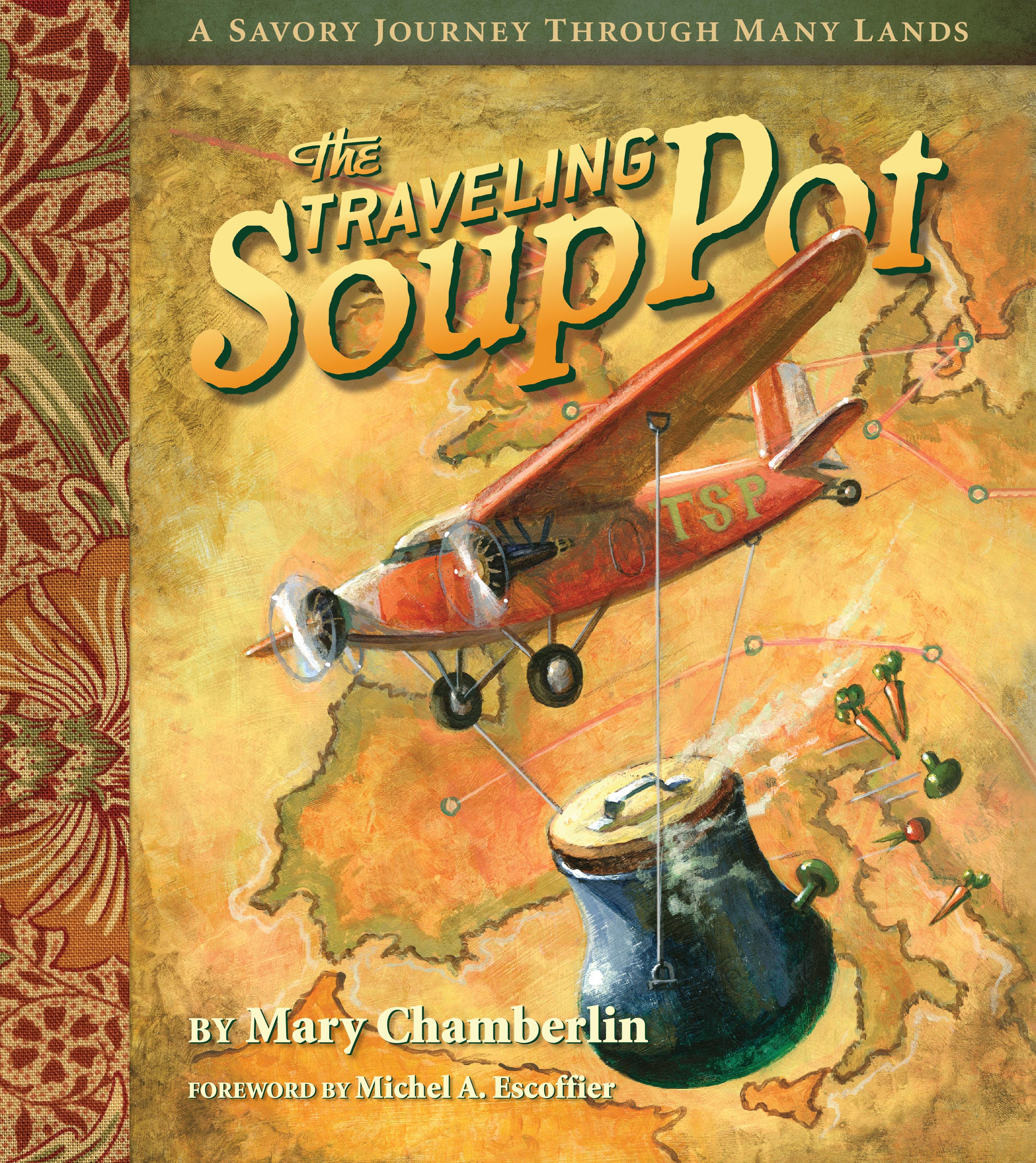 Recipes:

Ghost Guts
Haunting Dish For Halloween with Guests Unseen
2 2/3 cups spaghetti sauce with peppers
11 ounces shredded mozzarella cheese
5 ounces grated Parmesan cheese
Preheat oven to 350°F. To cook squash, halve lengthwise and discard seeds. Place squash, cut side down, on a foil lined baking sheet with non-stick cooking spray. Bake 40-45 minutes, or until squash is tender. Remove squash and cool. Remove the spaghetti-like strands by scraping squash with a fork. Transfer to a casserole dish. Add cottage cheese, spaghetti sauce and olives. Stir in half the cheese. Top with remaining cheese and bake 30-40 minutes or until bubbly and top is golden.
Carrot & Coral Lentil Surprise
(My son Wic is the " Culinary Pied Piper" of any kitchen and loves my Coral Lentil recipe from the Grand Largue in Brittany, France. He played around in the kitchen one day and came up with this soup.
The delicious base of the soup and the wonderful little pile of coral lentils in the bottom of the bowl create a real adventure in texture and taste)
Ingredients for the blended puree:
3 slices of bacon cut in strips
1 lg. can of chicken broth or 8 cups of homemade chicken stock
Sauté vegetables in butter and olive oil. Salt lightly while cooking. Add bacon and curry powder, saute' for a few minutes, then add the thyme, chicken broth, and carrot juice. Remove from heat and discard thyme sprigs. Puree in blender and return to large saucepan and add half & half.
Ingredients for the Coral Lentils mix:
1 slice of bacon or pancetta, minced fine
Salt and white pepper to taste
In a second saucepan saute, bacon and onion until soft and add ½ cup of white wine. bring ingredients to a boil and add the chicken stock and carrot juice. When mixture again begins to simmer add the lentils and cover for 5 minutes. Do not allow lentils to become mushy.
Greek yogurt and mint or cilantro leaves
Place 1/3 to ½ cup of the cooked lentils in the bottom of a soup plate. Cover with the blended puree and add a dollop of Greek yogurt and a cilantro or mint leaf.
Additional broth or carrot juice can be added if the soup is too thick.

Ghost Guts - Prepared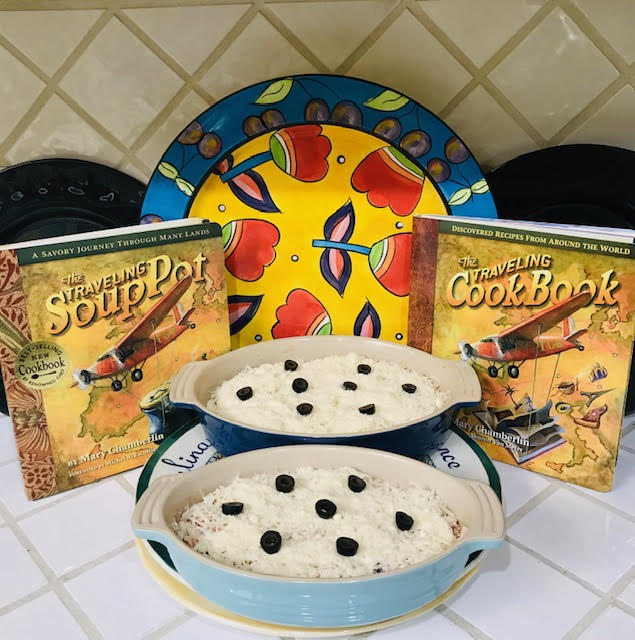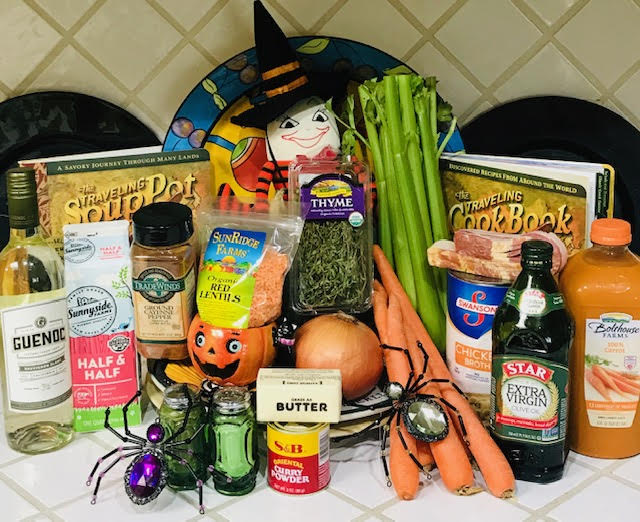 Here's our favorite can opener, too!