Mary Chamberlin Cooking Class - January 21, 2021 - Artichoke La Huile and Molten Chocolate Cakes
This week's cooking class will feature delicious recipes:
SEVERAL RECIPES WITH DELICIOUS ARTICHOKES
We all love eating artichokes and of course, the best artichokes are grown by located Ocean Mist in Monterey County!
MOLTEN CHOCOLATE CAKES
Thanks so much for signing up for the Free Phone-In Monthly Cooking Lessons with Chef Mary Chamberlin on Thursday, January 21st from 2 pm – 3 pm. Due to the increased usage of the conference call service and some possible interruptions, the Free Conference Call staff suggest we start the call at 2:05 pm so please call in at that time.
PLEASE BE SURE TO MUTE YOUR PHONE DURING THE CLASS AS BACKGROUND NOISES ARE VERY DISTRACTING. THANKS FOR YOUR HELP!
ALSO, PERHAPS KEEP A PEN AND PAD NEARBY SO YOU CAN WRITE DOWN YOUR QUESTIONS WHILE MARY IS TALKING AND THEN ASK THEM WHEN SHE OPENS UP THE Q & A SECTION.
To keep things simple this time, we will be using a free conference call service and you would dial in as indicated below:
Dial-In Number 712-451-0812 and Access Number 756-586#
Dial-in Number: (712) 451-0812

And then they will request the Access Number below.
I have posted this week's recipes and some photos below so please read the whole page to the bottom.
If the photos are too large, just right click on the picture with your mouse and then save image on your desktop.
To copy a recipe, take your cursor and drag your mouse down the page and right click, select Copy and then go to a new Word document and click paste. Then rename it and save it on your desktop for easy access.
Please plan some questions for the Q & A section about food preparation, sourcing and safety during this COVID-19 situation. We love the wonderful interaction on the call and appreciate your joining us!
Many of us are enjoying an electric can opener and the one people like is the Hamilton Beach Smooth Touch model (see photo below).
Check out Mary's new Traveling Cookbook filled with fabulous recipes! See details below.
Should you also wish to purchase a copy of Mary's fabulous prior cookbook, The Traveling Soup Pot, she is offering $5 off of the normal $35 cost to participants who call into our weekly classes and please call her directly at 831-624-0830 to order. We look forward to speaking with you! Thanks for participating!
Many of you have asked for the Olive Oil source that Mary Chamberlin had mentioned:
Verni's California Gold Olive Oil
Fresno, Ca.
A great value with high quality olive oil, freshly pressed.
Located off Auberry Road
1 Mile North of Copper in Clovis
Verni Farms
11990 N. Auberry Road
Clovis, Ca. 93611
To order, please call or text Sue to call you back: 818-402-8267
Sue will provide special pricing for us for their olive oil of $15/bottle (each 1 liter or 33.8 oz) instead of $18-$20 and 2 bottles fit in one box. Shipping will be $21.10
She wil also sell a gallon of their special olive oil at $40/gallon instead of $45. She will providing shipping costs soon. Shipping $28.99. Each gallon is 128 ounces.
They also have raw almonds, walnuts, almond butter, coconut almond butter, dried fruit including apricots, figs, plums, cherries, apples and peaches.
Take care and stay healthy!
Best regards,
Wendy Brickman and Mary Chamberlin
Contact information: Wendy Brickman
Email: [email protected] (831) 594-1500
Mary Chamberlin
Email: Marychambe[email protected]
(831) 624-0830
Hurray! Mary's new book is NOW Available and people love it! It makes a wonderful gift, too.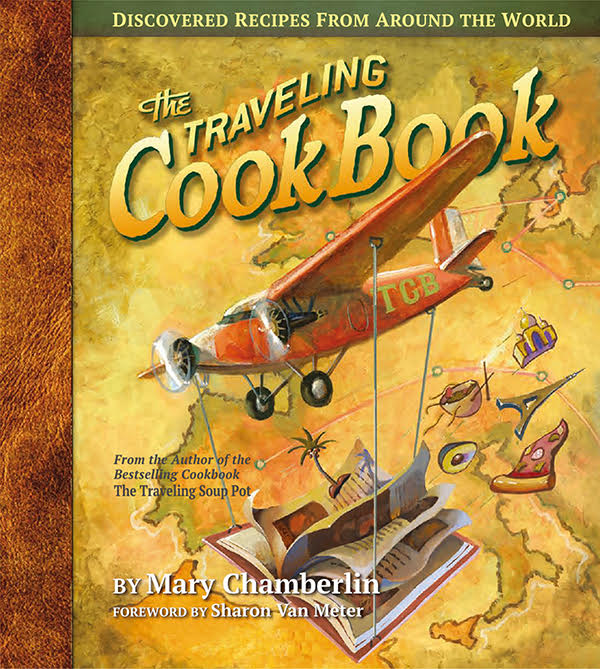 And her former best seller is still available too: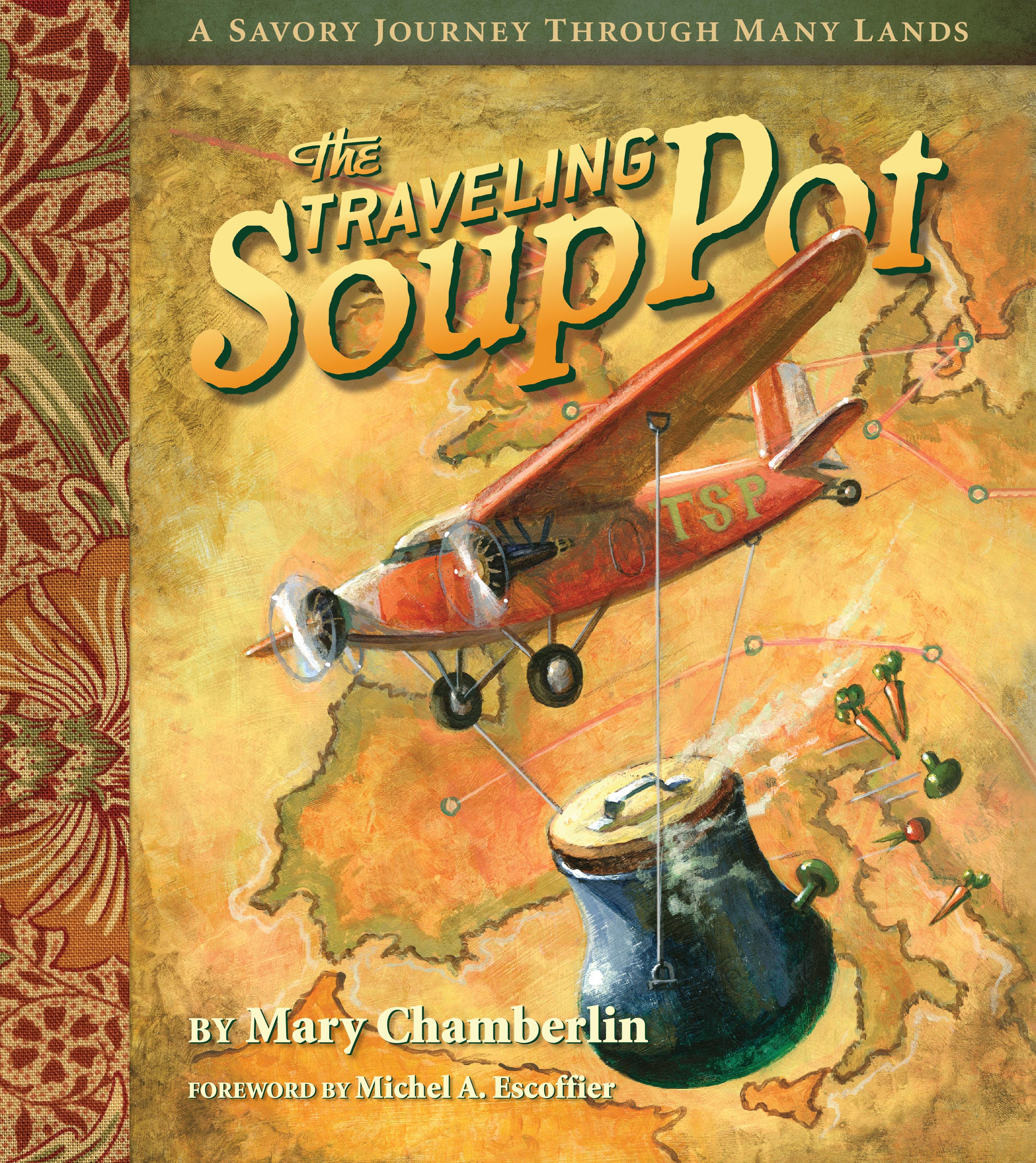 RECIPES

About Artichokes
The artichoke, a native of the Mediterranean and probably known to the Greeks, was a delicacy in Rome. It is from the Thistle family. There are about 50 known varieties of artichokes in the world.
The name "Artichoke" is a corruption of Italian and Arabic. The plant has been cultivated in France since the early part of the 16th Century. Although we think of them most often as associated with Italian Cooking, the best artichokes are found in Roussillon in Provence and Brittany.
Italian Immigrants brought the first artichokes to Half Moon Bay, California in the early 1900's and the first shipment to the East Coast was in 1906.
Globe Artichokes (the Italian Variety) are cultivated here in our area and are the most popular.
Jerusalem Artichoke - a native of North America (Canada), cultivated in France in the 17th Century, and sometimes referred to as the Artichaut du Canada. It is not really an artichoke and is from the sunflower family.
It has been said by James Beard and Wine Experts that artichokes ruin the flavor of fine wines. It leaves sweetness in the mouth after eating and therefore how it is prepared for a meal can make quite a difference in artfully combining tastes for your special gourmet dinners.
The good news is that Artichokes contain less than 1 gram of fat - 47 calories - very high in fiber - Vitamin C - Potassium - Magnesium - Folacin
Storage - 4 to 5 days in the refrigerator in a plastic bag and sprinkled with water. The best, however, is to secure them freshly picked from your local produce stand and cook at once.
ARTICHOKE SOUP

This is only one of the many things I create with artichokes, one of my most favorite vegetables. (Having never experienced an artichoke until coming to California as a child and now living near the Castroville Artichoke Fields) I found this vegetable to be an incredible addition to any table. I discovered the pea garnish on this soup dish when in Paris at a little Bistro. I found it to be a most unusual and enticing way of serving the "articiocco minestra".
8 medium artichokes, washed and trimmed or 5 jumbo artichokes
1 quart of water
1 cup dry white wine
2 cups of a rich chicken stock
1 bunch of green onions
1 leek
1 tsp. of herbs de Provence
1 tsp. lemon juice
2 cups of half & half
Salt & white pepper to taste
Place washed and trimmed artichokes in a large pot. Add water, white wine, chicken stock, green onions, and leek, salt & pepper.
Bring to boil and cook, covered for 45 minutes. Drain and cool Remove the artichokes and set aside to cool. Strain the cooking liquid reserve.
Scrape off the tender part of the leaves. Remove the thistle like choke from the bottoms and discard. Puree bottoms and scrapings in blender with the strained cooking stock and lemon juice. Add half & half and adjust seasonings. Serve hot.
Garnish with an artichoke leaf or crouton.
Another interesting garnish is some balsamic vinegar that has been reduced to thick syrup. Then place a spoon of Green Giant thawed green peas on top.
(The origin of artichokes is unknown. The seeds of artichokes, probably cultivated, were found during the excavation of Mons Claudianus in Egypt. Improved by the Arabs, artichokes passed from Naples to Florence in 1466. The Dutch introduced artichokes to England, where they grew in Henry VIII's garden at Newhall in 1530. They were brought to the United States in the 19th century, to Louisiana by French immigrants and to California by Spanish immigrants. The name has originated from the Arabic al-kharshof, through a Northern Italian dialect word, articiocco. The Arabic term Ardi-Shoki which means "ground thorny" is a folksy origin or source of the English name)
ARTICHOKES PROVENCAL
Artichokes La Huile
5 grams of fat per serving
INGREDIENTS:
*4 TO 5 Artichokes (large)
2 lemons quartered
Juice of 2 lemons
1/4 bunch of freshly chopped parsley
5 cloves of garlic minced
1/3 cup of olive oil
1 cup of white wine
1 1/2 cups water
Salt & pepper to taste
1 tsp. of herbs de Provence
Directions for quartered and whole artichokes:
Quarter artichokes and remove choke. Soak in lemon or vinegar water while preparing so they do not darken. Layer in pan with lemon, garlic, herbs, salt, & pepper. Pour liquid over the top and cover pot cooking until tender. Remove from liquid and place in serving bowl. Arrange on to a platter with the lemon wedges. Pour cooled liquid over the top and garnish with freshly chopped parsley or used as dipping sauce.
*If you are preparing the artichokes whole, cut the top from the artichoke about 1/4 to 1/2 inch. Turn artichoke face down and press to force leaves open so that the herbs and seasonings may be added.
Cook as directed above, but do not remove the choke until they are cooked and cooled. Quartered artichokes can simmer for 20 minutes. Large artichokes should take approximately 30 to 40 minutes to cook until tender on medium flame. Do not cool in hot liquid or artichoke will become mushy.
Liquid can be strained, cooled and added to mayonnaise for a dipping sauce also. Delicious!
SERVING INSTRUCTIONS FOR WHOLE ARTICHOKES:
ARTICHOKES LA HUILE AVEC PETITE POIS
Place cooked peas in center and ladle sauce over the top. Serve Hot or cold.
SEAFOOD STUFFED ARTICHOKE SALAD
Chill and fill with shrimp or crab salad and top with your favorite dressing. I find Vinaigrette to be the best.
ARTICHOKE EGGS NORWEGIAN
Chill and fill with a poached egg wrapped in smoked salmon and top with a mousseline sauce. (Wonderful for brunches and breakfast.)
ARTICHOKE EGGS BENEDICT:
Serve hot, stuffed with poached eggs, Canadian bacon, and Hollandaise Sauce.
Artichoke Dip
1 14 oz. can water packed artichokes
1-cup mayonnaise
3/4 cups freshly grated Parmesan Cheese
8 oz. shredded Monterey Jack Cheese
1 clove of minced garlic
1 tsp. Worcestershire sauce
1/2 tsp. Tabasco or cayenne pepper
Salt & white pepper to taste
Preheat oven to 350o
Chop artichoke hearts and combine in mixing bowl with all the remaining ingredients. Mix well and transfer to oven proof baking dish. Bake for 20 minutes.
For an extra delicious treat add 1 cup of crabmeat or shrimp to this dish.
Serve with crackers or French bread.

Artichoke Frittata
1 1/4 Lbs. of baby artichokes cooked Provencal & chopped
Or 3 six-ounce jars of marinated artichoke hearts
1 medium onion, chopped fine
1 clove of garlic, crushed
3 slices of pancetta, finely minced
4 eggs slightly beaten1/2 cup of Bread Crumbs
Fresh chopped parsley
1/ 2 tsp. dried herbs
1/2 LB grated jack or cheddar cheese
1/2 cup of Parmesan Cheese
Salt & pepper to taste
Dash of Tabasco
Olive oil for sauté and to drizzle on to the frittata.
Preheat oven to 325o.
Sauté garlic, onion and pancetta until soft in olive oil. Place in bowl and add all the other ingredients except for the Parmesan cheese. Pour into a greased 8-inch square-baking pan. Dust with the Parmesan cheese and drizzle a little olive oil over the top. Bake for 1 hour. Cut in 1-inch squares and serve hot or cold.
Molten Chocolate Cakes
Thelma Agopian and I were having a lovely dinner in Paris at Michel Rostang a 3 Star, Relais Guide Restaurant and recommended by our Friend Michel Tapol of Hennessy Cognac. I shall never forget that April evening in 1993 when this exquisite little chocolate cake was delivered to our table. The cake looked rather innocuous, but when we cut into it with our forks and this lovely chocolate sauce seeped onto our plates we knew we were blessed by the "Angel of Chocolate". This recipe I have been searching for since and it finally came to me in August 1996.
Ingredients:
4 oz. best quality semi-sweet chocolate (finely chopped)
1 1/2 oz. unsweetened chocolate (finely chopped)
10 tbsps or (1 cube of butter plus 2 tbsps.) softened unsalted butter
1/2 cup sugar
3 large eggs
1/2 cup plus 2 tbsps all purpose flour
3/4 tsps baking powder
1 1/2 tbsps unsweetened cocoa powder
1. Lightly butter six (6) 1 cup ramekins. Set aside.
Put both chocolates in top of double boiler. Stir till melted and remove from heat.
2. When chocolate is smooth and slightly cool, stir in butter and sugar and blend. Add eggs, flour, baking powder, cocoa . Beat with electric mixer at medium high speed until mixture is pale and has thick mousse-like consistency. (About 5 minutes)
3. Half fill ramekins. Cover with plastic wrap. Freeze at least 3 hours and up to 3 days.
4. Preheat oven 375o oven with rack in center. Bake cold desserts direct from the freezer till outer edges of the tops are set but center still moist and shiny. (about 15 to 17 minutes)
5. Invert each ramekin on to a serving plate and dust with powdered sugar.
6. Serve with Creme Anglaise or Vanilla Ice Cream, or Whipping Cream. Decorate plate with raspberries or strawberries. Serves 6.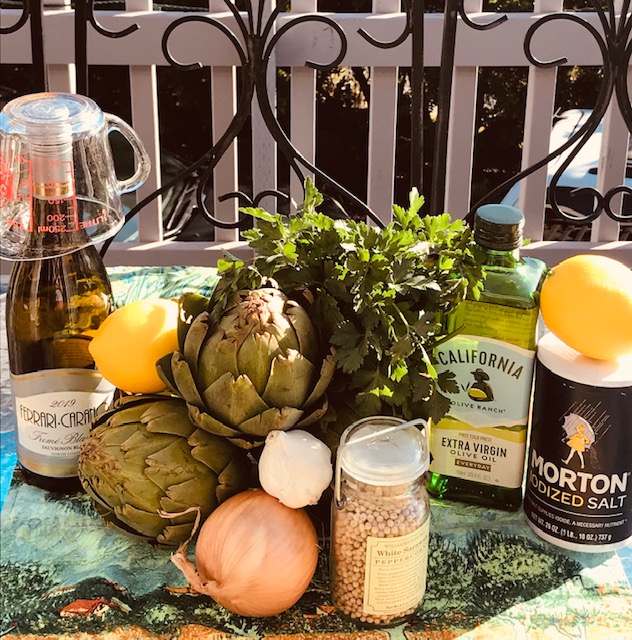 Artichokes a La Huile Ingredients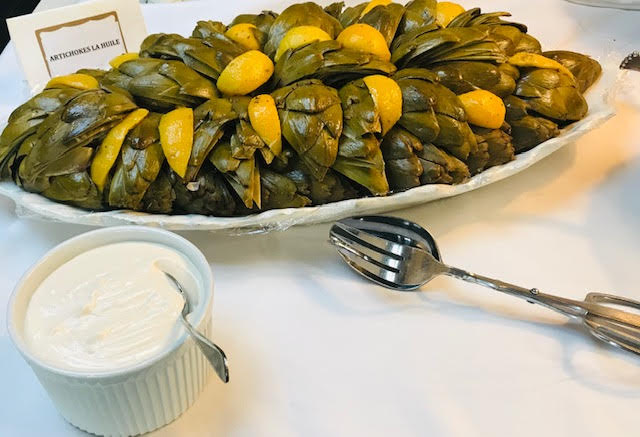 Artichokes with Homemade Mayonnaise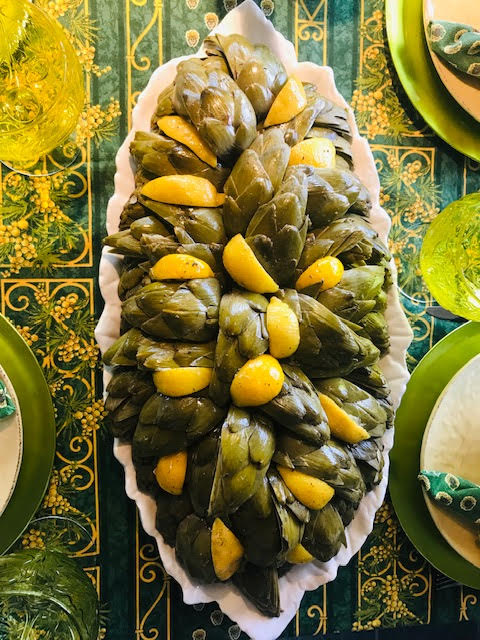 Artichokes La Huile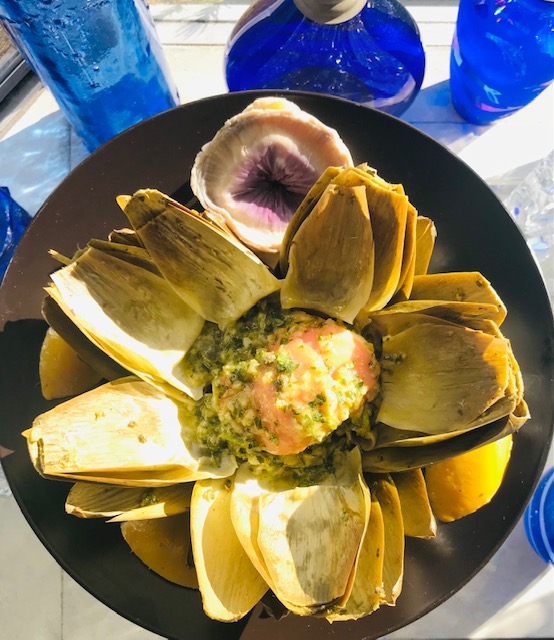 Artichokes with poached egg and smoked salmon

Molten Chocolate Cakes Ingredients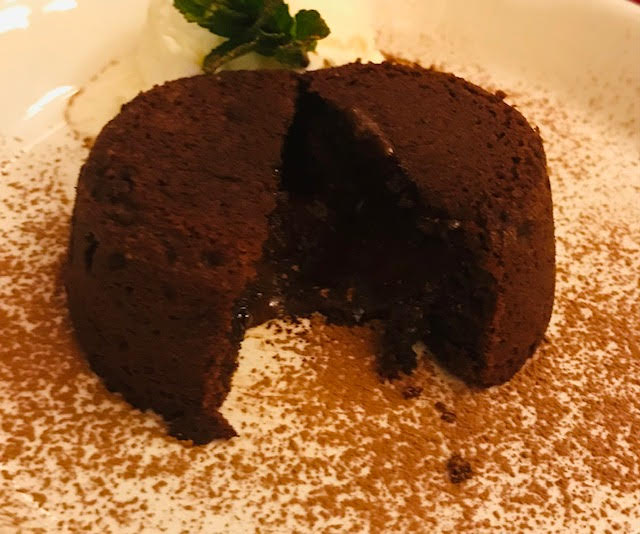 Chocolate Molten Cake - Yum!!!
And here's our favorite Can Opener too: