Mary Chamberlin Cooking Class - November 19, 2020 - Martha's Vineyard Pumpkin Soup and Cranberry Relish
Mary Chamberlin Cooking Class - November 19, 2020
Hope you all are doing well! It again seems so long since our last fabulous class with Chef Mary Chamberlin!
Just a reminder that we are collecting your favorite Thanksgiving recipes and thanks for emailing us one. Here's what we have so far:
https://www.brickmanmarketing.com/newsroom/mary-chamberlin-class-members-favorite-thanksgiving-recipes
Thanks so much for signing up for the Free Phone-In Monthly Soup Preparation Lessons with Chef Mary Chamberlin on Thursday, November 19th from 2 pm – 3 pm. Due to the increased usage of the conference call service and some possible interruptions, the Free Conference Call staff suggest we start the call at 2:05 pm so please call in at that time. Please call back if there are any service interruptions or email me at [email protected] as I will be monitoring emails.
PLEASE BE SURE TO MUTE YOUR PHONE DURING THE CLASS AS BACKGROUND NOISES ARE VERY DISTRACTING. THANKS FOR YOUR HELP!
ALSO, PERHAPS KEEP A PEN AND PAD NEARBY SO YOU CAN WRITE DOWN YOUR QUESTIONS WHILE MARY IS TALKING AND THEN ASK THEM WHEN SHE OPENS UP THE Q & A SECTION.
To keep things simple this time, we will be using a free conference call service and you would dial in as indicated below:
Dial-In Number 712-451-0812 and Access Number 756-586#
Dial-in Number: (712) 451-0812

And then they will request the Access Number below.
I have posted this week's recipes and some photos below so please read the whole page to the bottom.
If the photos are too large, just right click on the picture with your mouse and then save image on your desktop.
To copy a recipe, take your cursor and drag your mouse down the page and right click, select Copy and then go to a new Word document and click paste. Then rename it and save it on your desktop for easy access.
Please plan some questions for the Q & A section about food preparation, sourcing and safety during this COVID-19 situation. We love the wonderful interaction on the call and appreciate your joining us!
Please feel free to share the meeting graphic below at the bottom of the page with any friends or family! Just right click with your mouse and Save As a new document on your Desktop for future easy access too. Thank you!
Many of us are enjoying an electric can opener and the one people like is the Hamilton Beach Smooth Touch model (see photo below).
Check out Mary's new Traveling Cookbook filled with fabulous recipes! See details below.
Should you also wish to purchase a copy of Mary's fabulous prior cookbook, The Traveling Soup Pot, she is offering $5 off of the normal $35 cost to participants who call into our weekly classes and please call her directly at 831-624-0830 to order. We look forward to speaking with you! Thanks for participating!
Many of you have asked for the Olive Oil source that Mary Chamberlin had mentioned:
Verni's California Gold Olive Oil
Fresno, Ca.
Order # for shipment 559-299-9189
Located off Auberry Road
1 Mile North of Copper in Clovis
Verni Farms
11990 N. Auberry Road
Clovis, Ca. 93611
818-402-8267 Sue
Take care and stay healthy!
Best regards,
Wendy Brickman and Mary Chamberlin
Contact information: Wendy Brickman
[email protected] (831) 594-1500
Mary Chamberlin [email protected]
(831) 624-0830
Hurray! Mary's new book is NOW Available!!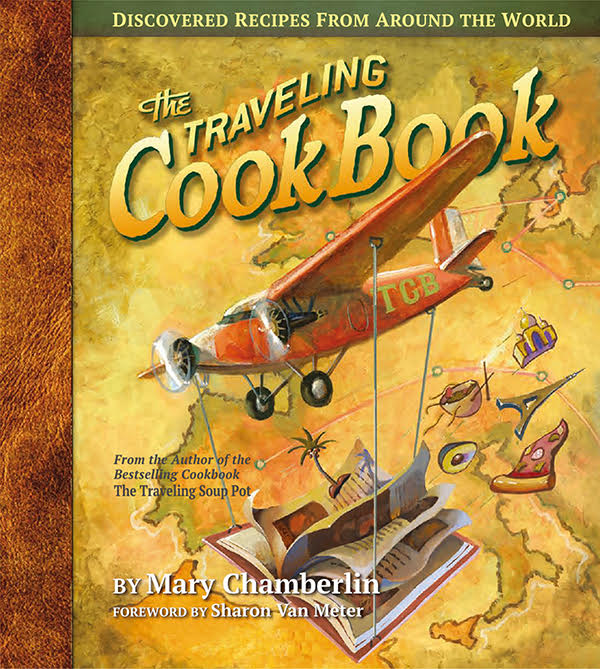 And her former best seller is still available too: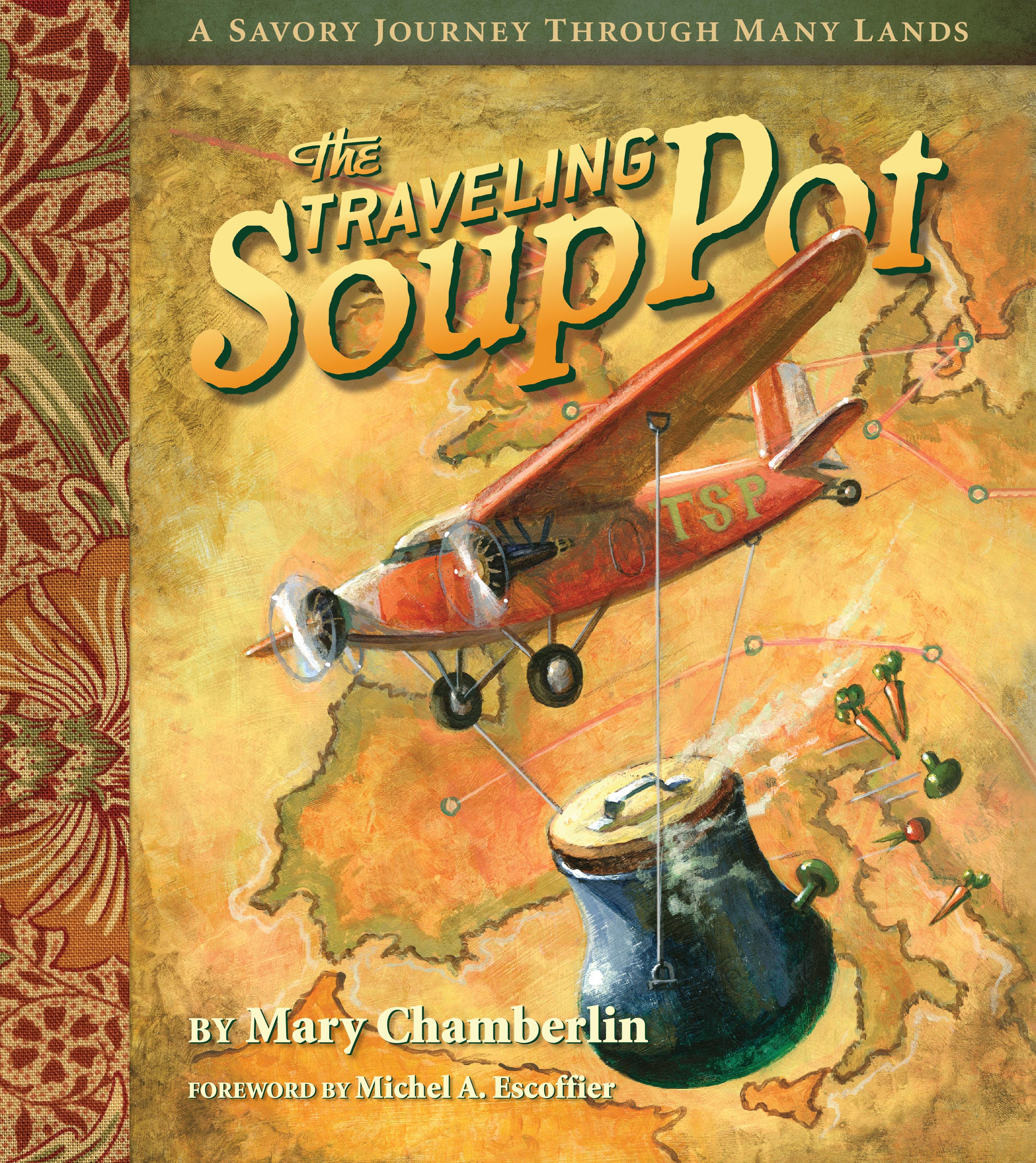 And our favorite can opener: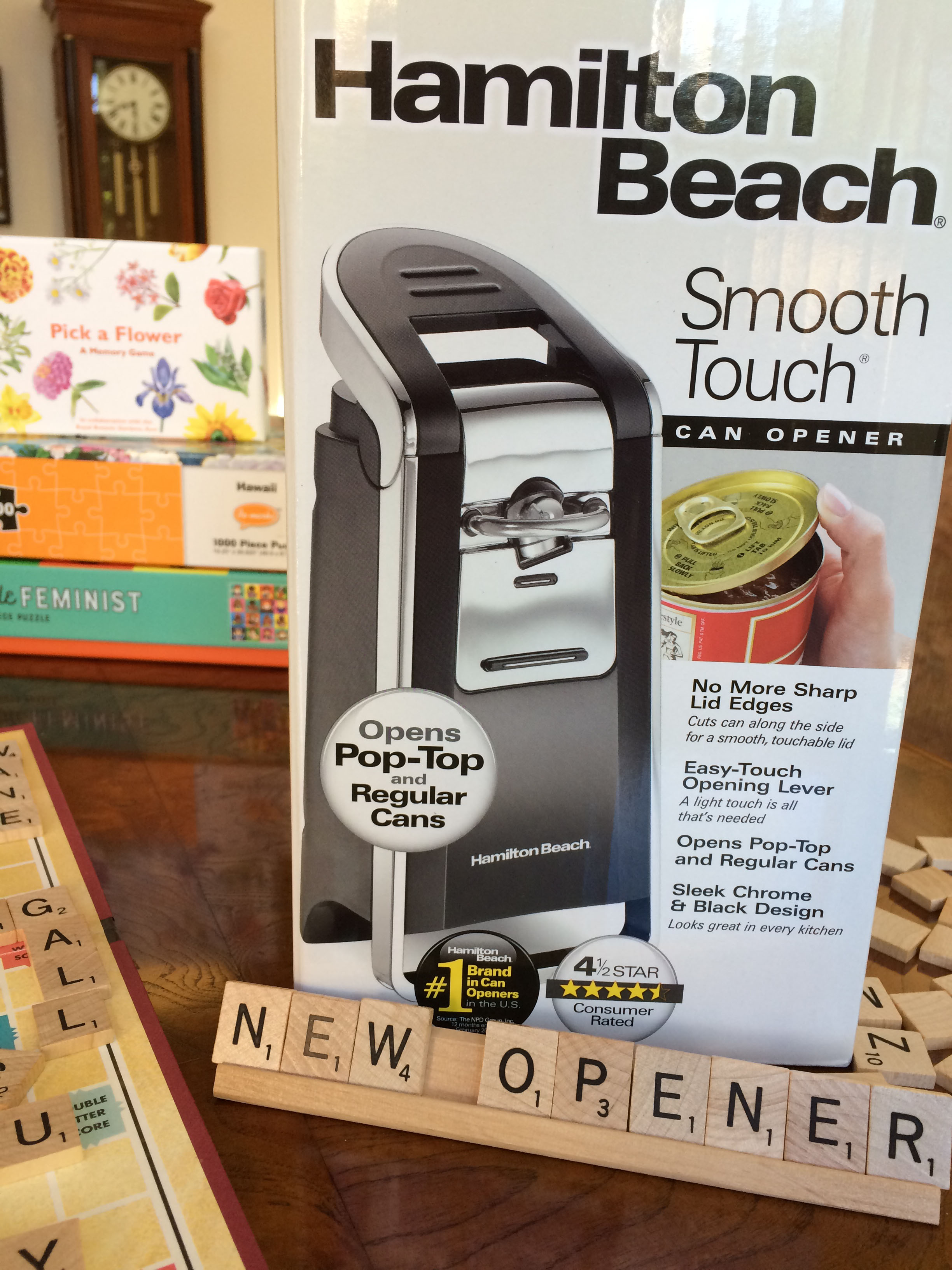 More information about The Traveling Cookbook by Mary Chamberlin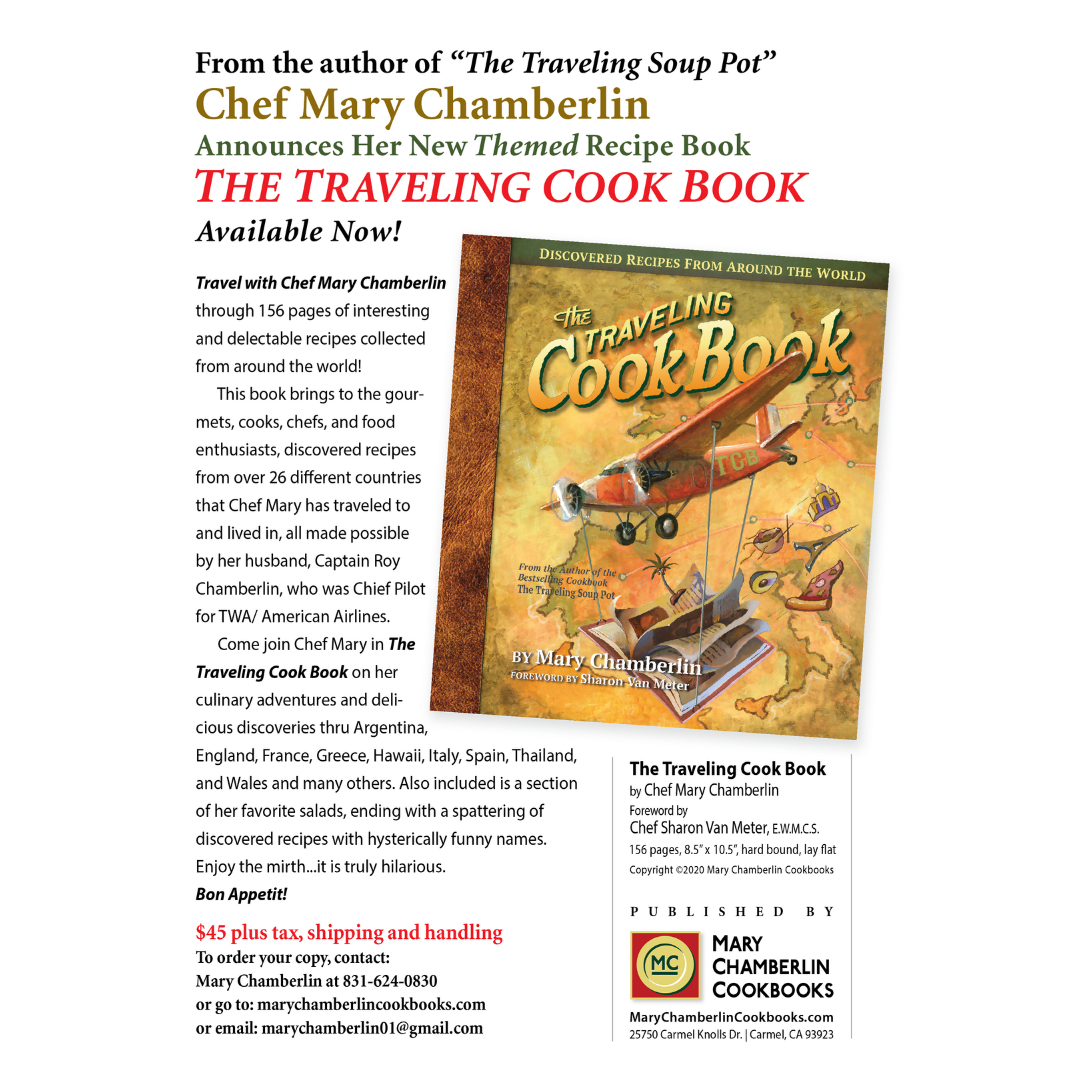 This week's recipes...
Martha's Vineyard Pumpkin Soup
In June we would visit our friend Thelma Agopian on Martha's Vineyard. Thelma lived between Paris and the Vineyard in Oak Bluffs. I had the pleasure of meeting Louise Tate King, author of the Martha's Vineyard Cookbook. This is a very New England style vineyard recipe and a perfect soup for fall and certainly Thanksgiving.
Ingredients:
2 tbsp. butter
½ onion, chopped
2 cups chicken stock (or canned chicken broth)
2 cups of cooked fresh pumpkin or canned pumpkin
2 cups milk
Small pinch of ground cloves, ground ginger, ground allspice
½ tsp salt
½ cup heavy cream
¼ cup dry sherry
Whipped cream for garnish.
Preparation:
In a 4-quart saucepan, melt the butter. When the foam subsides add the onion and cook until transparent & golden. Add chicken stock pumpkin, milk, spices, and stock. Mix ingredients well and bring to boil, stirring thoroughly. Reduce heat and simmer, stirring from time to time for 15 to 20 minutes.
Puree the soup in the Cuisinart. Add the cream and sherry and heat the soup carefully, without allowing it to boil. Adjust seasonings.
Garnish with heavy whipping cream, lightly salted. Soup may be served chilled.
Serves 4 to 6
Fresh Cranberry Relish Salad
Ingredients:
2 Pkgs. of fresh cranberries (washed and stems removed)
1 1/2 cups of sugar
2 oranges
2 apples, quartered and seeded, leave skins on
2 lg. pkgs. Of raspberry Jell-O
4 cups of water
Grind cranberries in food chopper or process in Cuisinart. Remove and set aside in a mixing bowl. Place whole orange in Cuisinart after removing seeds and liquefy. Place apples in Cuisinart and process until apples are finely chopped. Mix with cranberries, and sugar.
Bring 2 cups of cold water to boil, add Jell-O and stir until dissolved. Cool and pour into cranberry, orange mixture and add additional 2 cups of cold water. Place in decorative mold and refrigerate until set. Unmold on to platter and garnish with fresh orange slices. Delicious with turkey.
Martha's Vineyard Pumpkin Soup Ingredients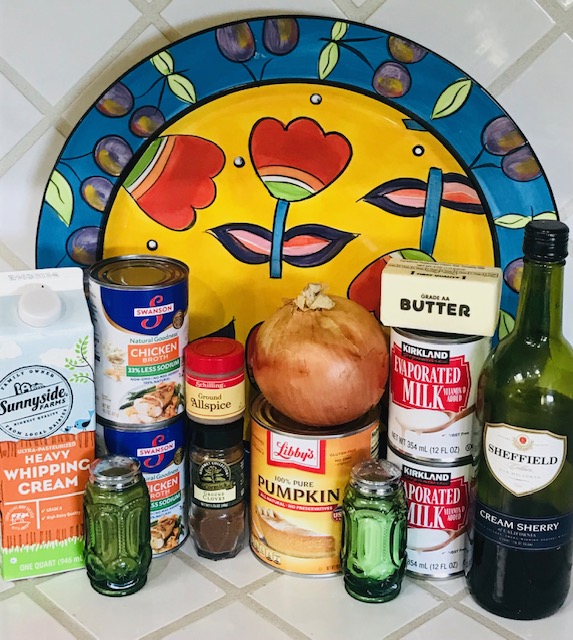 Martha's Vineyard Pumpkin Soup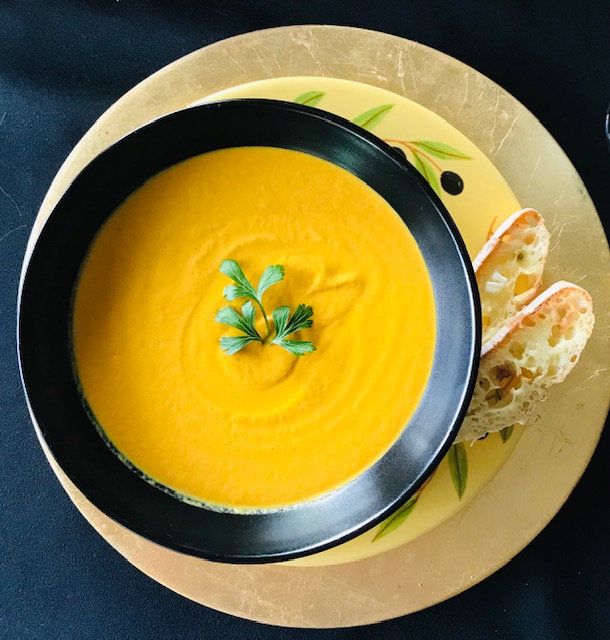 Cranberry Relish Ingredients

Cranberry Relish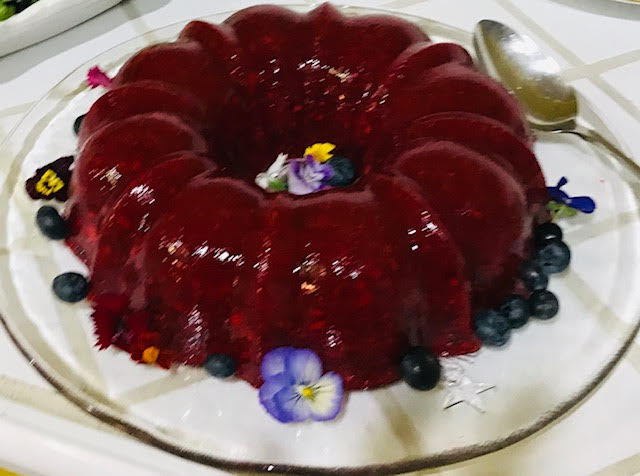 Here are some Bonus Recipes from Mary Chamberlin too!
Thanksgiving Scalloped Corn *
(This Casserole is on every Thanksgiving table in Illinois.)
Ingredients:
4 cans of whole kernel corn drained
4 cans of creamed corn
4 eggs beaten
3 cups of crackers, crushed
1 cube melted butter
½ tsp. black pepper
3 cups of evaporated milk
¼ cup dehydrated onions or
1 large onion chopped and sautéed in butter until soft
Salt & white pepper to taste
3 tbsps butter
Topping
4 cups of crushed crackers
1 1/2 cubes of melted butter
Black Pepper to taste
Preparation
In large mixing bowl mix corn, creamed corn, onions, milk, eggs and salt together. Crush crackers and mix with the melted butter and black pepper and pour into corn mixture. Place in a large casserole. Pour cracker crumb Topping on top that have been mixed with melted butter. Bake in 350o oven for 1 hour.
This will serve a large crowd of 15 to 20 people during holiday with some leftover for the next day.
* Optional
Broccoli Corn Bake
Thaw in warm water 1 large pkg. of chopped frozen broccoli, drain thoroughly and add to the corn mixture .
Edna Mary's Scalloped Oysters
(Mom fixed this wonderful dish every Thanksgiving! Living in the Midwest - Illinois - Seafood was not available except in the big cities. However, Holiday time oysters were available and this dish was a must at every :Gourmet Thanksgiving Table.)
Ingredients:
2 Pints of Oysters
3 cups of cracker crumbs, medium coarse
1 cube melted butter
1 cup of cream
oyster liquor
1/2 tsp. Worcestershire sauce
Salt to taste
Pepper to taste
Drain Oysters and reserve liquor. Combine butter and cracker crumbs and pepper. Spread 1/3 crumbs in a buttered baking dish and lay half oysters on top and repeat layer. Mix cream, oyster liquor and Worcestershire sauce. Pour over oysters, and top with the last of the cracker crumbs. Bake in 350 o oven for 40 minutes.
Finally, here' s a link to the latest Brickman Banter Newsletter for November. Just Click Here. Have a wonderful Thanksgiving everyone and have a wonderful month until our next class on Thursday, December 17th.