Mary Chamberlin Soup Preparation Class - 06-11-20 - Cold Avocado Soup - Quickie Chickie Soup
Thanks so much for signing up for the Free Phone-In Weekly Soup Preparation Lessons with Chef Mary Chamberlin on Thursday, June 11th from 2 pm – 3 pm. Due to the increased usage of the conference call service and some possible interruptions, the Free Conference Call staff suggest we start the call at 2:05 pm so please call in at that time. Please call back if there are any service interruptions or email me at [email protected] as I will be monitoring emails.
PLEASE BE SURE TO MUTE YOUR PHONE DURING THE CLASS AS BACKGROUND NOISES ARE VERY DISTRACTING. THANKS FOR YOUR HELP!
ALSO, PERHAPS KEEP A PEN AND PAD NEARBY SO YOU CAN WRITE DOWN YOUR QUESTIONS WHILE MARY IS TALKING AND THEN ASK THEM WHEN SHE OPENS UP THE Q & A SECTION.
To keep things simple this time, we will be using a free conference call service and you would dial in as indicated below:
Dial-In Number 712-451-0812 and Access Number 756-586#
Dial-in Number: (712) 451-0812

And then they will request the Access Number below.
I have posted this week's soup recipes and some photos below so please read the whole page to the bottom.
If the photos are too large, just right click on the picture with your mouse and then save image on your desktop.
To copy a recipe, take your cursor and drag your mouse down the page and right click, select Copy and then go to a new Word document and click paste. Then rename it and save it on your desktop for easy access.
Please plan some questions for the Q & A section about food preparation, sourcing and safety during this COVID-19 situation. We love the wonderful interaction on the call and appreciate your joining us!
Please feel free to share the meeting graphic below at the bottom of the page with any friends or family! Just right click with your mouse and Save As a new document on your Desktop for future easy acess too. Thank you!
Many of us are enjoying an electric can opener and the one people like is the Hamilton Beach Smooth Touch model (see photo below).
Also, here is a link to my Brickman Banter Newsletter you may want to read that is meant to be scanned from May 25th: http://campaign.r20.constantcontact.com/render?m=1102276891248&ca=4ea5f57c-8a4e-420f-9527-2a054d51767c
Should you wish to purchase a copy of Mary's fabulous cookbook, The Traveling Soup Pot, she is offering $5 off of the normal $35 cost to participants who call into our weekly classes and please call her directly at 831-624-0830 to order. We look forward to speaking with you! Thanks for participating!
Many of you have asked for the Olive Oil source that Mary Chamberlin had mentioned:
Verni's California Gold Olive Oil
Fresno, Ca.
Order # for shipment 559-299-9189
Located off Auberry Road
1 Mile North of Copper in Clovis
Verni Farms
11990 N. Auberry Road
Clovis, Ca. 93611
818-402-8267 Sue
Take care and stay healthy!
Best regards,
Wendy Brickman and Mary Chamberlin
Contact information: Wendy Brickman
[email protected] (831) 594-1500
Mary Chamberlin [email protected]
(831) 624-0830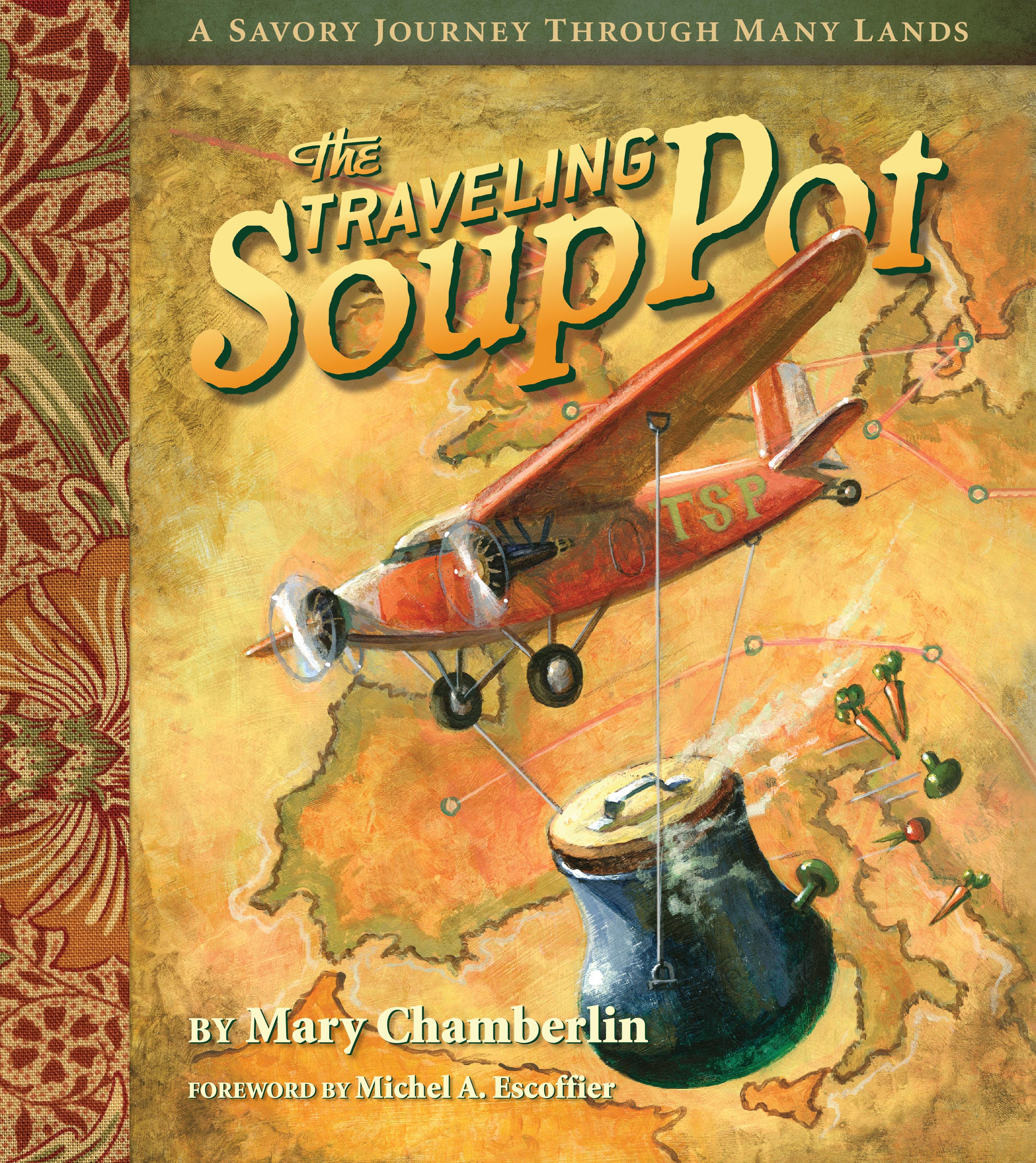 Cold Avocado-Soup – Mexican Style
(Avocadoes originated in Mexico and Central America and date back to 8000 B.C. Until the 20th Century, Aztecs believed avocadoes were a sexual stimulant and anyone concerned about their reputation did not eat them.)
Ingredients:
2 tbsps finely chopped cilantro leaves
1 Serrano chili, seeded and minced
2-cups fresh orange juice (corrected recipe)
1/2 tsp. grated orange zest
1/4-cup tequila
2 cups chicken broth
2 mashed avocados
1-cup cold milk
Salt, white pepper to taste
Preparation:
Process first three ingredients (using only 1/4 cup of the orange juice) in blender until smooth. Add remaining ingredients and process until smooth. Chill for 2 hours. Serve with chopped peeled watermelon on top.
---
Quickie Chickie Vegetable Soup
(This is simple way to make a delicious tasting soup for a cold evening. It is especially handy if there is left over chicken in the refrigerator. I confess that I had a Costco leftover chicken and decided to boil the carcass with a mirepoix of vegetables. Voila!... In less than an hour I had strained and degreased the stock and quickly prepared the soup. It tasted like I had spent several days preparing this marvelous concoction. My girlfriend, Marilyn Post, tasted it and now makes it regularly for her friends and family.)
Ingredients:
4 carrots, sliced
1 lg. onion, diced
2 or 3 leeks, diced
4 stalks of celery, sliced
3 zucchini, diced
2 tbsp. butter
2 tbsps. olive oil
1 tsp. herbs de Provence varied amounts of dried marjoram, thyme, savory, basil, rosemary, fennel seed
Thyme, fresh, 3 or 4 sprigs
Salt & pepper to taste
10 cups of Quickie Chickie Broth
2 cups of diced chicken
4 cups of cooked penne pasta
Preparation:
Sauté the vegetables in the butter and olive oil and salt & pepper to taste along with the herbs while the vegetables are cooking. When the vegetables get a nice glaze and are partially done, add broth and cook for 20 to 30 minutes. Add pasta or any left over rice and serve.
Quickie Chickie Chicken Broth
1 leftover roasted chicken from Costco
Remove chicken from carcass and dice.
Place chicken bones in a pot and cover with a large can of chicken broth and 1 cup of water
Add 1 carrot, ½ onion, 2 stalks celery, chopped
Add 1 bay leaf, 1 tsp. herbs de Provence and salt & pepper to taste.
Cook for 30 minutes and strain, removing any fat.
Cold Avocado Soup Ingredients
Cold Avocado Soup
Ingredients: Quickie Chickie Chicken Vegetable Soup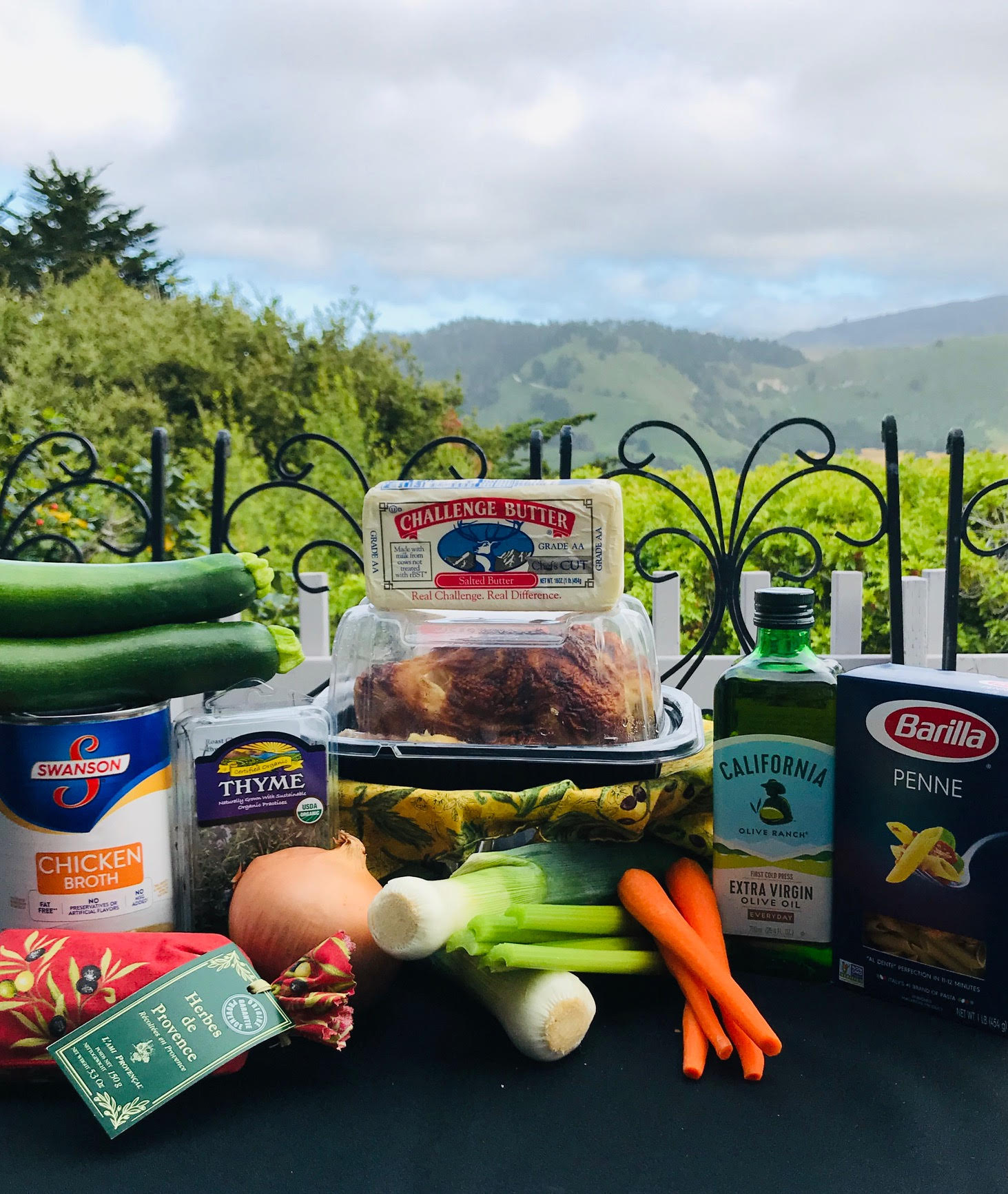 Quickie Chickie Chicken Vegetable Soup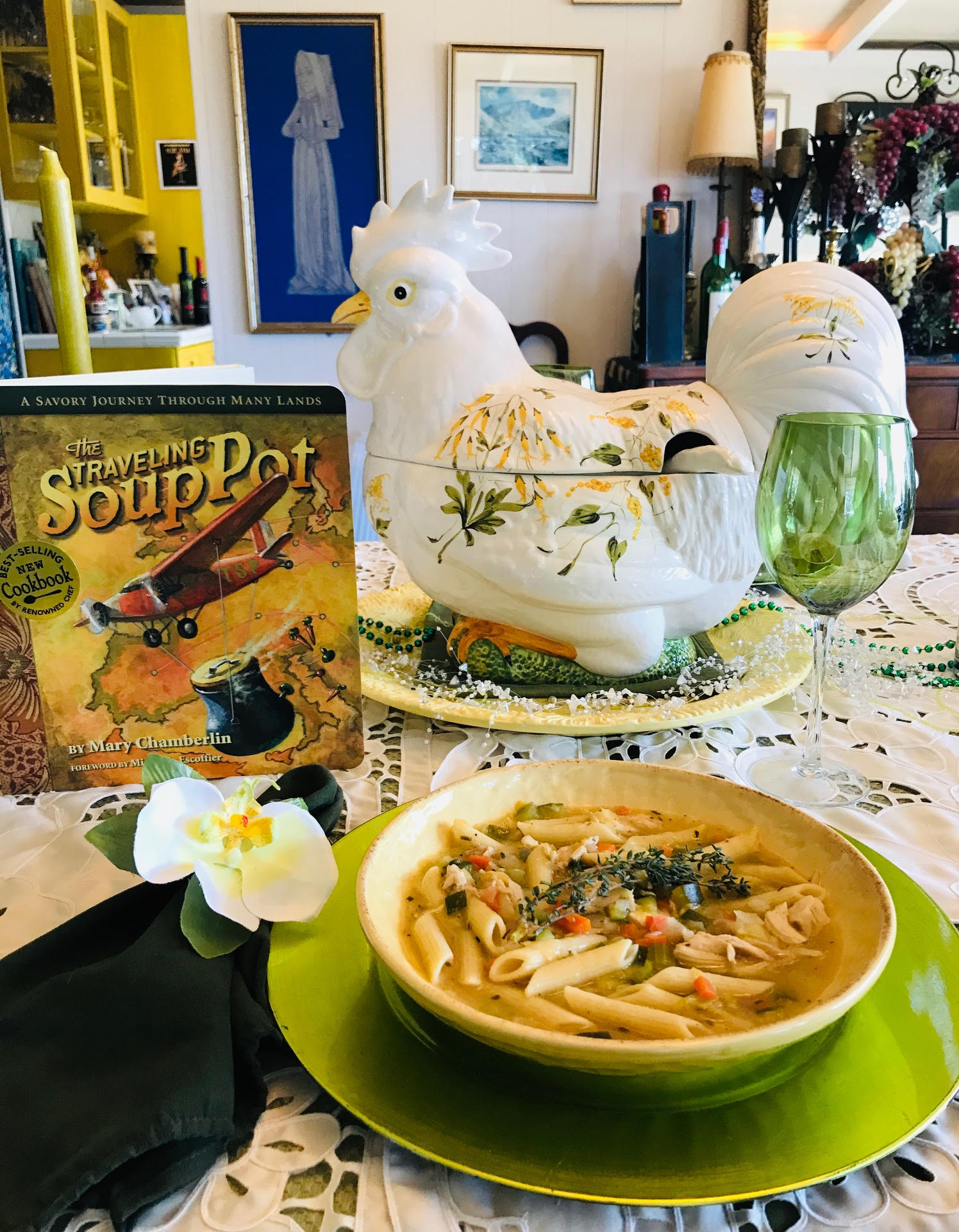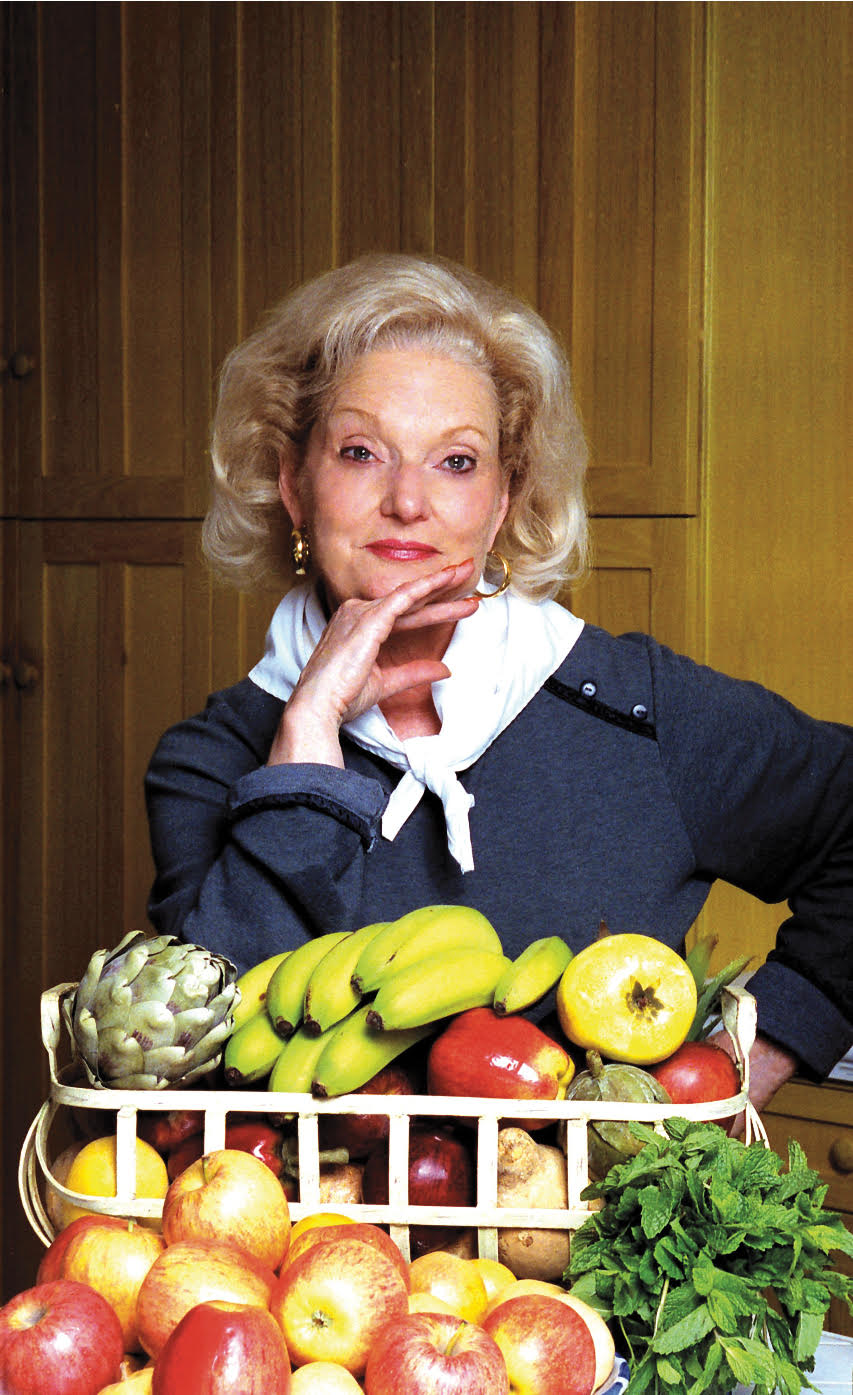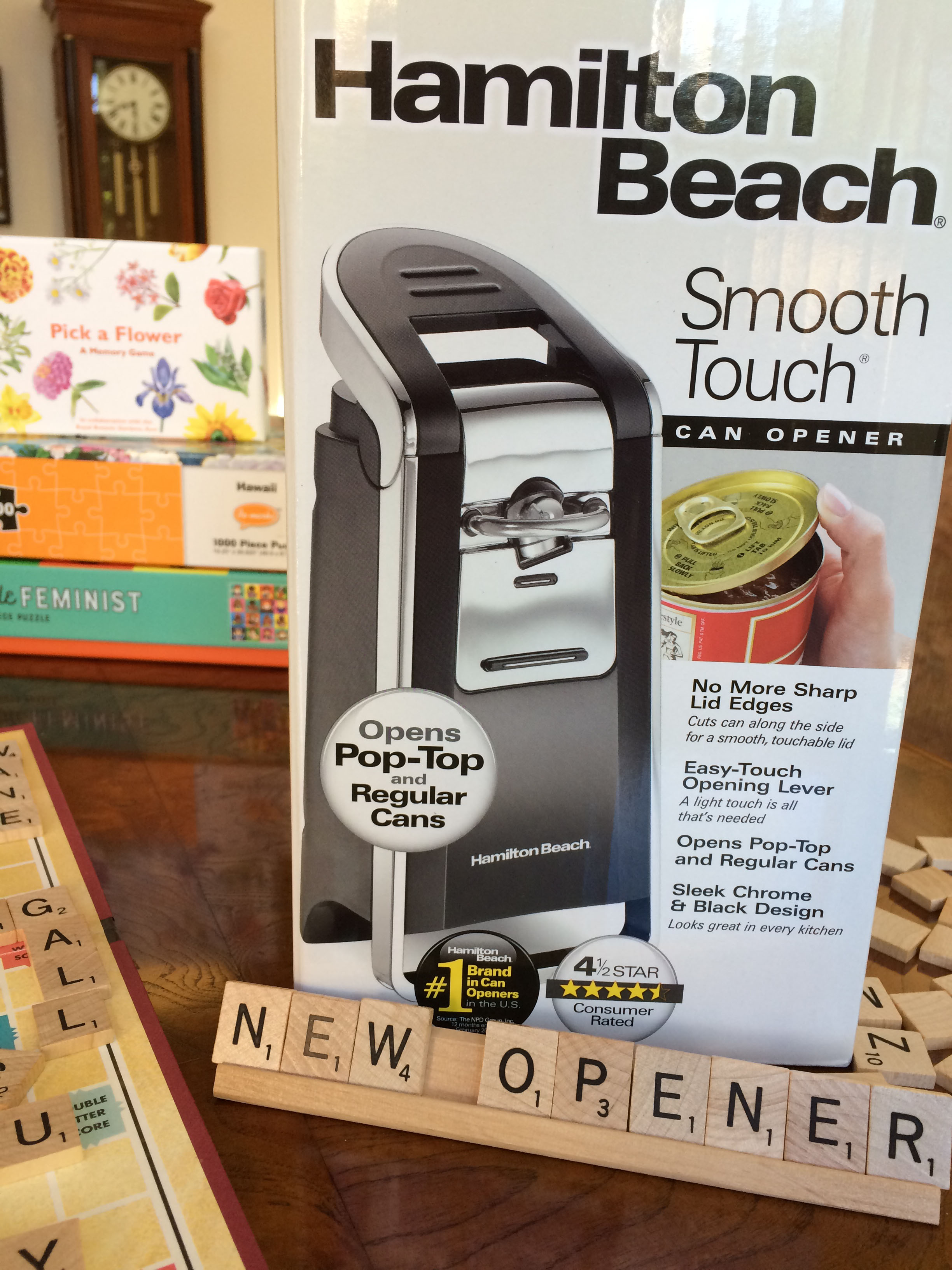 Also if you're in Monterey County and know some students...thanks for asking them to participate if they want to do so!