Mary Chamberlin's Cooking Class - February 18, 2021 - Red Snapper Bajamar and Mile High Fruit Cobbler
This week's cooking class will feature two delicious recipes:
Red Snapper Bajamar and Mile High Fruit Cobbler
Thanks so much for signing up for the Free Phone-In Monthly Cooking Lessons with Chef Mary Chamberlin on Thursday, February 18th from 2 pm – 3 pm. Due to the increased usage of the conference call service and some possible interruptions, the Free Conference Call staff suggest we start the call at 2:05 pm so please call in at that time.
PLEASE BE SURE TO MUTE YOUR PHONE DURING THE CLASS AS BACKGROUND NOISES ARE VERY DISTRACTING. THANKS FOR YOUR HELP!
ALSO, PERHAPS KEEP A PEN AND PAD NEARBY SO YOU CAN WRITE DOWN YOUR QUESTIONS WHILE MARY IS TALKING AND THEN ASK THEM WHEN SHE OPENS UP THE Q & A SECTION.
To keep things simple this time, we will be using a free conference call service and you would dial in as indicated below:
Dial-In Number 712-451-0812 and Access Number 756-586#
Dial-in Number: (712) 451-0812

And then they will request the Access Number below.
I have posted this week's recipes and some photos below so please read the whole page to the bottom.
If the photos are too large, just right click on the picture with your mouse and then save image on your desktop.
To copy a recipe, take your cursor and drag your mouse down the page and right click, select Copy and then go to a new Word document and click paste. Then rename it and save it on your desktop for easy access.
Please plan some questions for the Q & A section about food preparation, sourcing and safety during this COVID-19 situation. We love the wonderful interaction on the call and appreciate your joining us!
Many of us are enjoying an electric can opener and the one people like is the Hamilton Beach Smooth Touch model (see photo below).
Check out Mary's new Traveling Cookbook filled with fabulous recipes! See details below.
Should you also wish to purchase a copy of Mary's fabulous prior cookbook, The Traveling Soup Pot, she is offering $5 off of the normal $35 cost to participants who call into our weekly classes and please call her directly at 831-624-0830 to order. We look forward to speaking with you! Thanks for participating!
Many of you have asked for the Olive Oil source that Mary Chamberlin had mentioned:
Verni's California Gold Olive Oil
Fresno, Ca.
A great value with high quality olive oil, freshly pressed.
Located off Auberry Road
1 Mile North of Copper in Clovis
Verni Farms
11990 N. Auberry Road
Clovis, Ca. 93611
To order, please call or text Sue to call you back: 818-402-8267
Sue will provide special pricing for us for their olive oil of $15/bottle (each 1 liter or 33.8 oz) instead of $18-$20 and 2 bottles fit in one box. Shipping will be $21.10
Sue wil also sell a gallon of their special olive oil at $40/gallon instead of $45. She will providing shipping costs soon. Shipping $28.99. Each gallon is 128 ounces.
They also have raw almonds, walnuts, almond butter, coconut almond butter, dried fruit including apricots, figs, plums, cherries, apples and peaches.
Take care and stay healthy!
Best regards,
Wendy Brickman and Mary Chamberlin
Contact information: Wendy Brickman
Email: [email protected] (831) 594-1500
Mary Chamberlin
Email: [email protected]
(831) 624-0830
Hurray! Mary's new book is NOW Available and people love it! It makes a wonderful gift, too.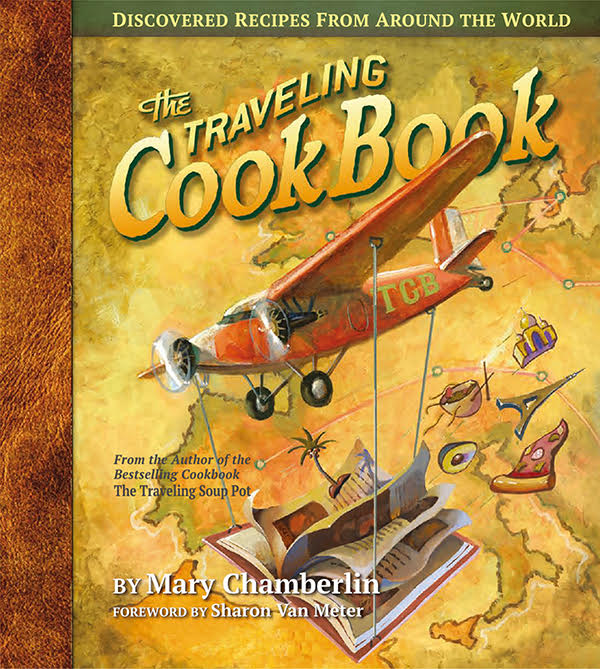 And her former best seller cookbook, The Traveling Soup Pot, is still available too: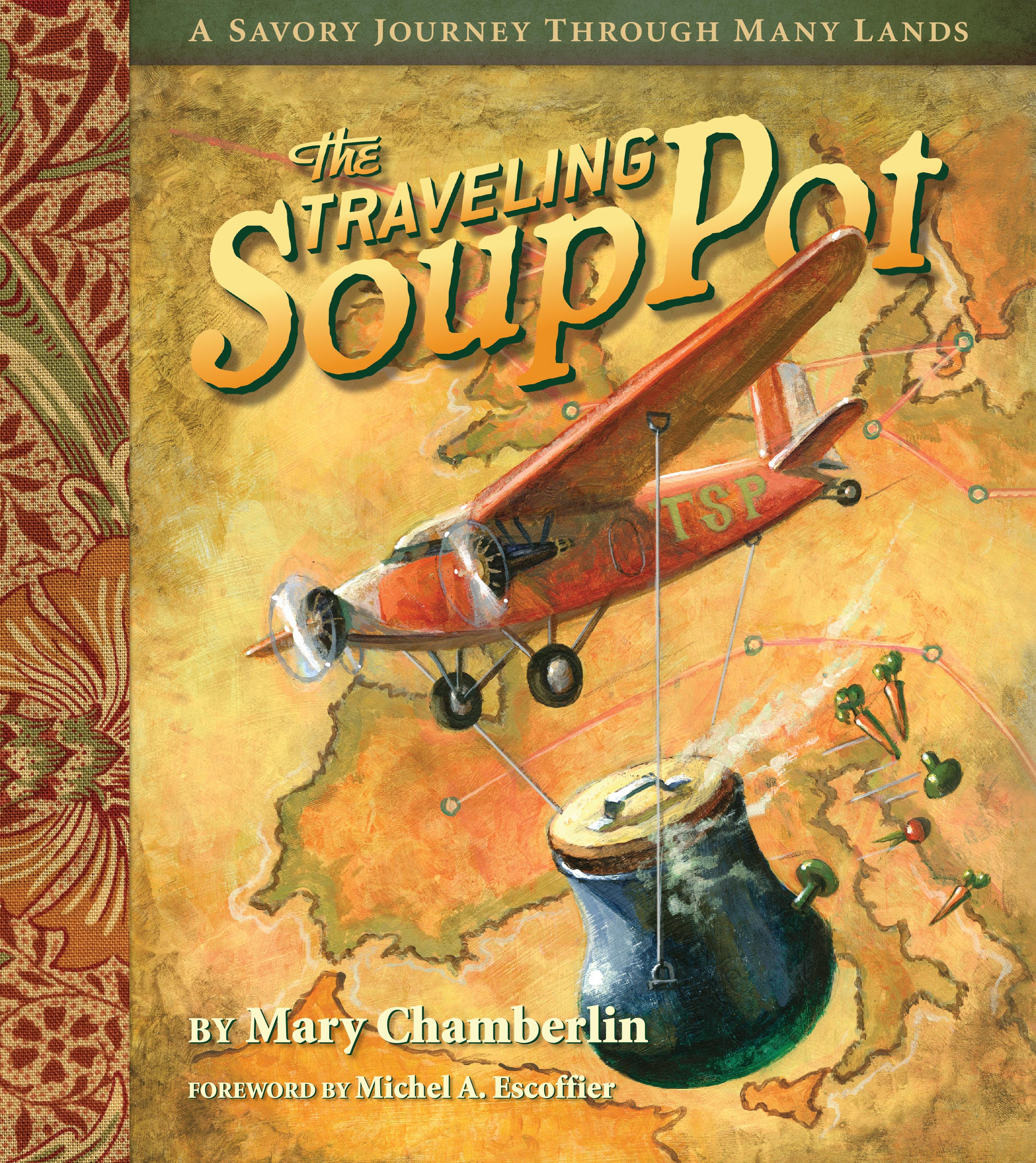 THIS WEEK'S RECIPES:

MARY CHAMBERLIN - FOOD & CATERING CONSULTANT
(I discovered this recipe while spending a month in Madrid in 1984 with my dear friend Thelma Agopian and visiting a Spanish Cooking School. My husband, Capt. Roy Chamberlin, was flying the TWA New York-Madrid 747 Route so we had the time to experience some of the wonderful dishes of Spain. I have to admit I have never tasted a more delicious white fish with this wonderful thick garlicky red sauce. This succulent dish was the specialty of the house at Bajamar Restaurant (under the sea) and not too far from the hotel. Many wonderful, delicious stories came out of our many, many evenings at this delightful restaurant. The owner Mr. Sanchez possessed such a sincere reverence for food and it's preparation.)
Red Snapper Bajamar
Ingredients:
3 cloves garlic, minced
1 onion, diced fine
1 - 2 red bell pepper, diced fine
1/2-cup olive oil
2 bottles (6oz) clam juice or 1 1/2 cups of fish stock
2 cans of Italian style tomatoes or diced tomatoes
1 can finely chopped anchovies
3 tbsps. Tomato paste
1/2 cup dry white wine
Chopped Parsley
1 tsp. of Herbs de Provence
1 tsp. oregano
3 or 4 Red Snapper Filets, Orange Ruffy, or Halibut
Shrimp or Scallops can also be used.
Preparation:
Sauté garlic, onion, and red bell pepper, in olive oil and simmer in the olive oil until the vegetables are slightly soft and have a nice glaze. Add tomatoes, tomato paste, white wine, clam juice, and anchovies. Cook for 25 to 30 minutes. Cool slightly and puree for only a few seconds in the Cuisinart. Place some of the sauce in an earthenware casserole and lay the fish filets on top, and top with remaining sauce. Bake in 375o oven for 20 to 30 minutes. Serve with rice and top with fresh chopped parsley or Cilantro.
Mile High Fruit Cobbler
For the Bottom Cobbler
1-cup butter
2 cups of flour
2 tbsps. sugar
1/4 tsp salt
2 beaten egg yolks
Mix ingredients and press into 9 x 13 pan. Press against sides of baking dish. Bake in 350o oven for 10 to 15 minutes.
For the Fruit Mixture Your Choice)
4 cups of cubed rhubarb heaping (cranberries, apples, pears, peaches, or strawberries can also be substituted and use less sugar)
2 cups of sugar
4 egg yolks
2 heaping tbsps. of flour
Mix well and put on baked piecrust. Bake 30 minutes 350o.
For the Meringue
6 egg whites
1-cup sugar
1/4 tsp. of cinnamon
1/4 tsp cream of tartar
Beat 6 egg whites stiff with the cream of tartar, add 1-cup sugar, cinnamon and spread onto fruit mixture.
Bake in 325o oven for 25 to 30 minutes. Delicious hot or cold.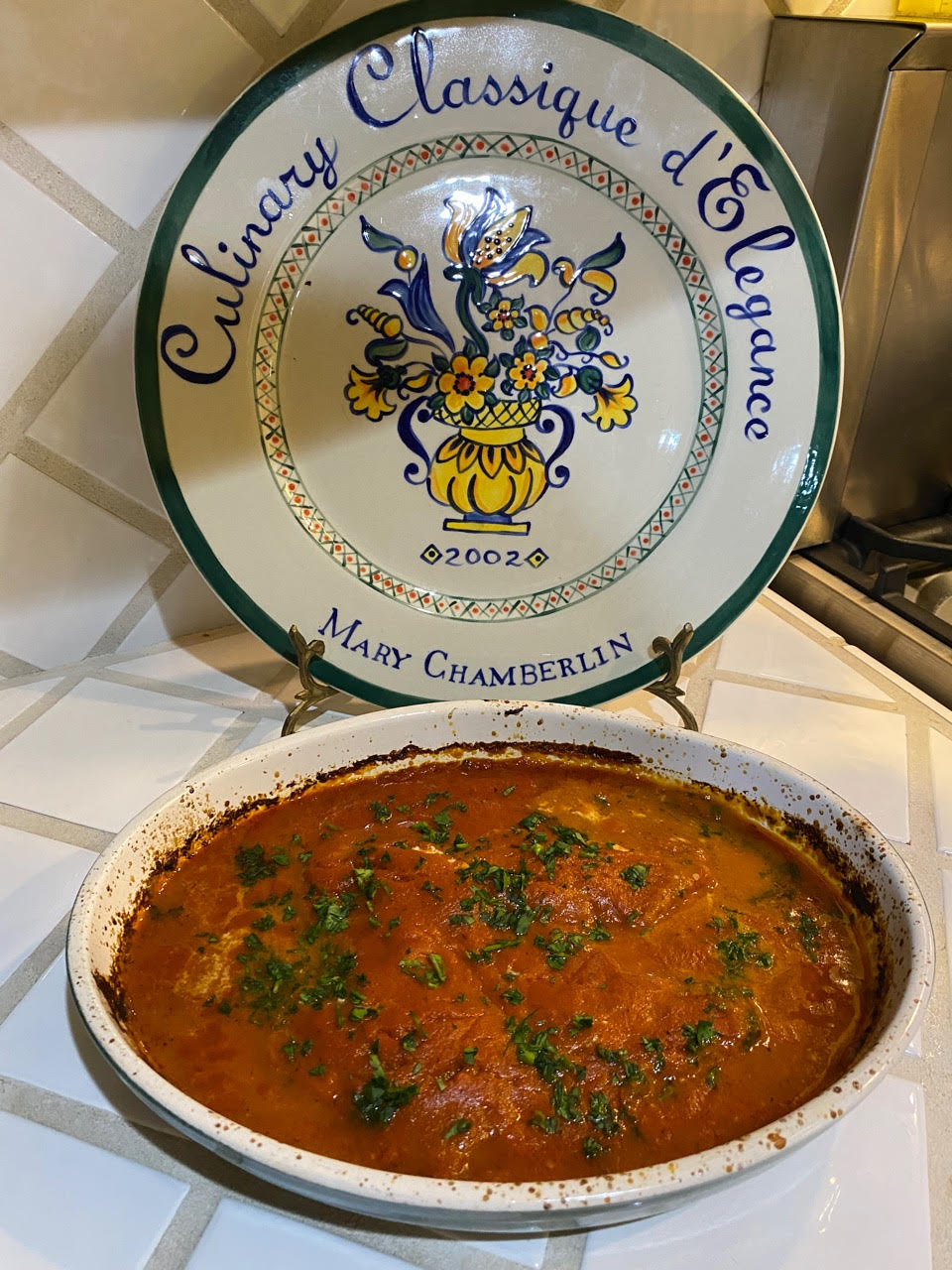 Mile High Fruit Cobbler - Ingredients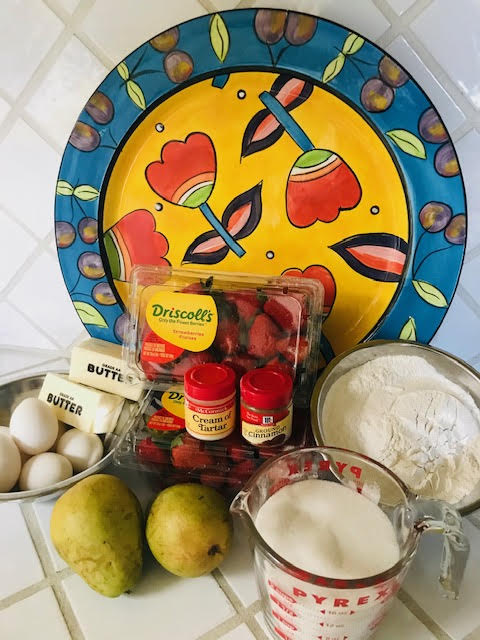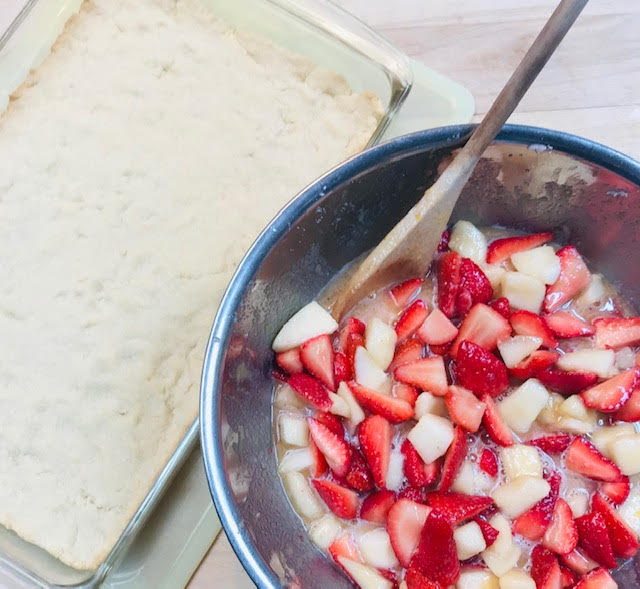 Mile High Fruit Cobbler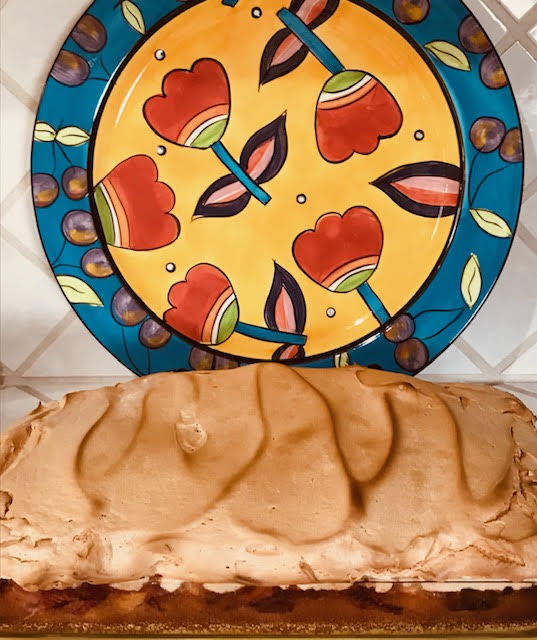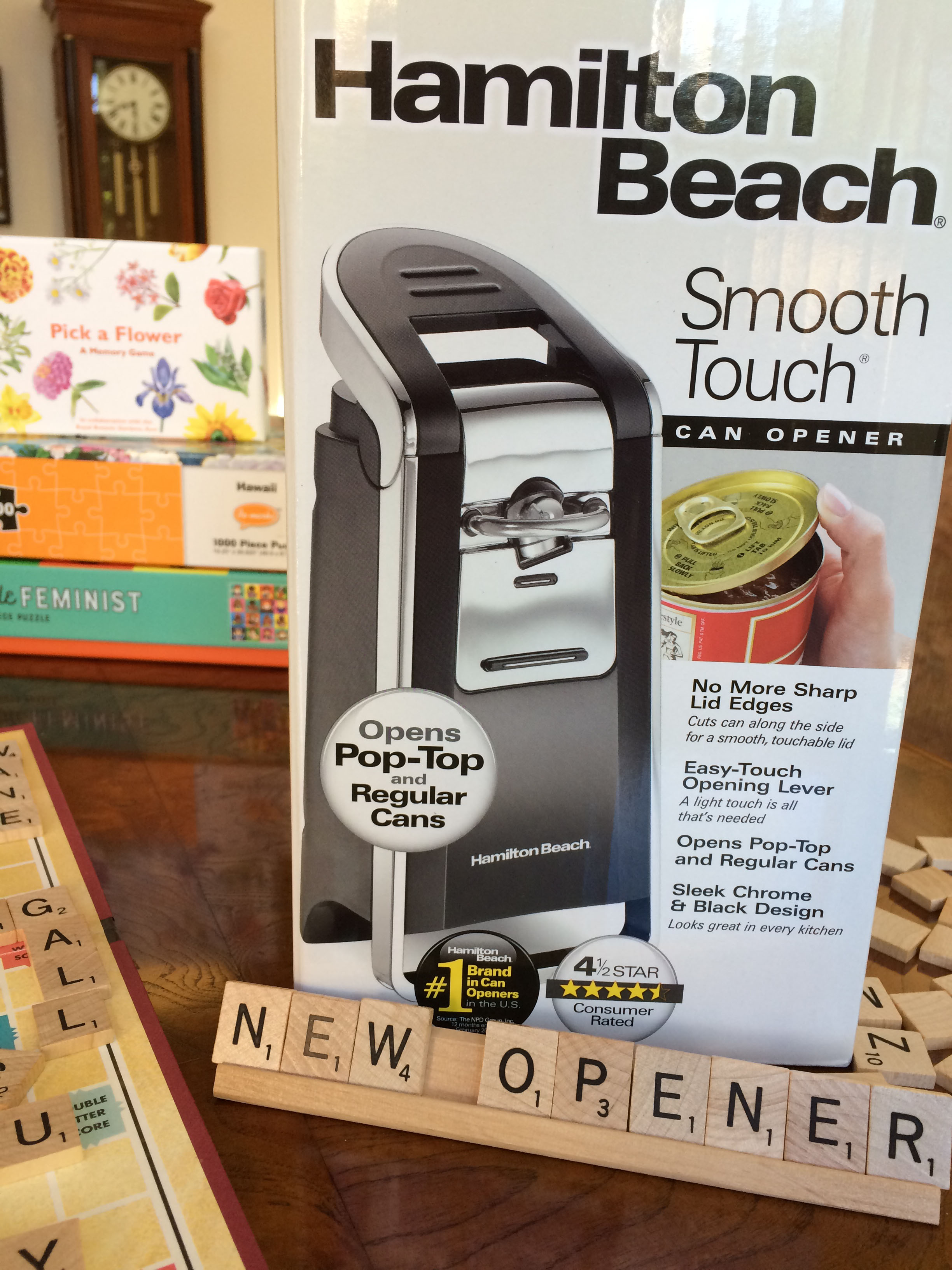 Here's a link to the recent Brickman Banter Newsletter fyi, too:
https://conta.cc/3pnGDAH