Mary Chamberlin's Cooking Class - Thursday, April 22nd - Avocado Crepe, Sherbet, Ice Cream, Turkey Imperial
This month, Mary Chamberlin's Cooking Class will be on Thursday, April 22nd, the 4th Thursday.
Here's a preview of this great class and recipes and photos will be coming soon!
WHAT IS CREAMY, DELICIOUS AND OH-SO-GOOD FOR YOU?
Delicious avocados, a heart-healthy superfood, are abundant right now and are easily found in all of the grocery stores and farmer's markets. So, what could be better than incorporating this fruit (Yes, fruit!) into a few recipes at Mary's next class on *Thursday, April 22 at 2:00?
*Please note that this particular class is on the 4th Thursday of the month instead of the usual 3rd Thursday.
Starting off the class will be a green AVOCADO CREPE with instructions for two different fillings. Then on to a recipe for a creamy green AVOCADO SHERBET. And to round things out, a super easy-to-make AVOCADO ICE CREAM. Wow! Is anyone ready to dig in?
Hold on to your hats! -- For the first time ever -- Trumpets, please -- Mary is revealing her secret recipe for the #1 best-selling, award-winning sandwich from her restaurant and delicatessen. She gave it a fitting name, THE TURKEY IMPERIAL, an open-faced sandwich fit for a queen and perfect for your next luncheon.
Two of the avocado recipes are in Mary's new book, "The Traveling Cookbook." Her cookbooks are available for purchase by calling Mary at 831-624-0830.
Stay healthy -- Eat naturally sodium-free, sugar-free, and cholesterol-free avocados! Then treat yourself to a scoop of Avocado Ice Cream.
---Margie Anderson
Thanks so much for signing up for the Free Phone-In Monthly Cooking Lessons with Chef Mary Chamberlin on Thursday, April 22nd from 2 pm – 3 pm. Due to the increased usage of the conference call service and some possible interruptions, the Free Conference Call staff suggest we start the call at 2:05 pm so please call in at that time.
PLEASE BE SURE TO MUTE YOUR PHONE DURING THE CLASS AS BACKGROUND NOISES ARE VERY DISTRACTING. THANKS FOR YOUR HELP!
ALSO, PERHAPS KEEP A PEN AND PAD NEARBY SO YOU CAN WRITE DOWN YOUR QUESTIONS WHILE MARY IS TALKING AND THEN ASK THEM WHEN SHE OPENS UP THE Q & A SECTION.
To keep things simple this time, we will be using a free conference call service and you would dial in as indicated below:
Dial-In Number 712-451-0812 and Access Number 756-586#
Dial-in Number: (712) 451-0812

And then they will request the Access Number below.
I have posted this week's recipes and some photos below so please read the whole page to the bottom.
If the photos are too large, just right click on the picture with your mouse and then save image on your desktop.
To copy a recipe, take your cursor and drag your mouse down the page and right click, select Copy and then go to a new Word document and click paste. Then rename it and save it on your desktop for easy access.
Please plan some questions for the Q & A section about food preparation, sourcing and safety. We love the wonderful interaction on the call and appreciate your joining us!
Many of us are enjoying an electric can opener and the one people like is the Hamilton Beach Smooth Touch model (see photo below).
Check out Mary's new Traveling Cookbook filled with fabulous recipes! See details below.
Should you also wish to purchase a copy of Mary's fabulous prior cookbook, The Traveling Soup Pot, she is offering $5 off of the normal $35 cost to participants who call into our weekly classes and please call her directly at 831-624-0830 to order. We look forward to speaking with you! Thanks for participating!
Many of you have asked for the Olive Oil source that Mary Chamberlin had mentioned:
Verni's California Gold Olive Oil
Fresno, Ca.
A great value with high quality olive oil, freshly pressed.
Located off Auberry Road
1 Mile North of Copper in Clovis
Verni Farms
11990 N. Auberry Road
Clovis, Ca. 93611
To order, please call or text Sue to call you back: 818-402-8267
Sue will provide special pricing for us for their olive oil of $15/bottle (each 1 liter or 33.8 oz) instead of $18-$20 and 2 bottles fit in one box. Shipping will be $21.10
Sue wil also sell a gallon of their special olive oil at $40/gallon instead of $45. She will providing shipping costs soon. Shipping $28.99. Each gallon is 128 ounces.
They also have raw almonds, walnuts, almond butter, coconut almond butter, dried fruit including apricots, figs, plums, cherries, apples and peaches.
Take care and stay healthy!
Best regards,
Wendy Brickman and Mary Chamberlin
Contact information: Wendy Brickman
Email: [email protected] (831) 594-1500
Mary Chamberlin
Email: [email protected]
(831) 624-0830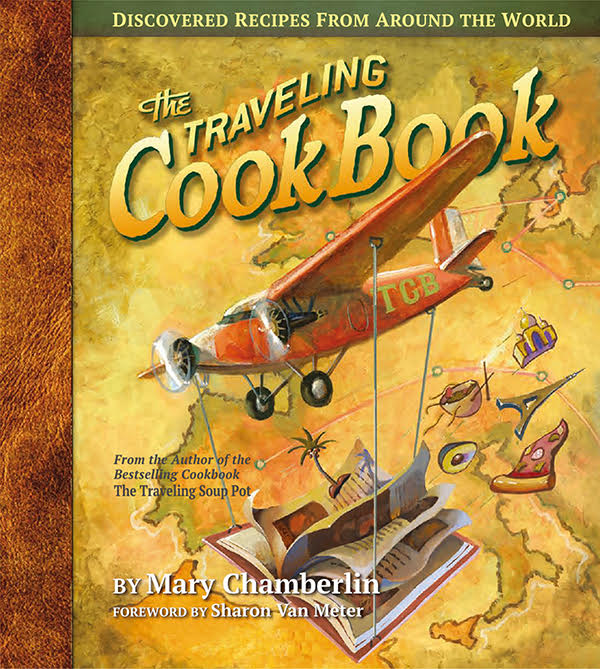 Hurray! Mary's new book, The Traveling Cookbook is NOW Available and people love it!
It makes a wonderful gift, too. Her other cookbook, The Traveling Soup Pot, is also a treasure to have in your kitchen!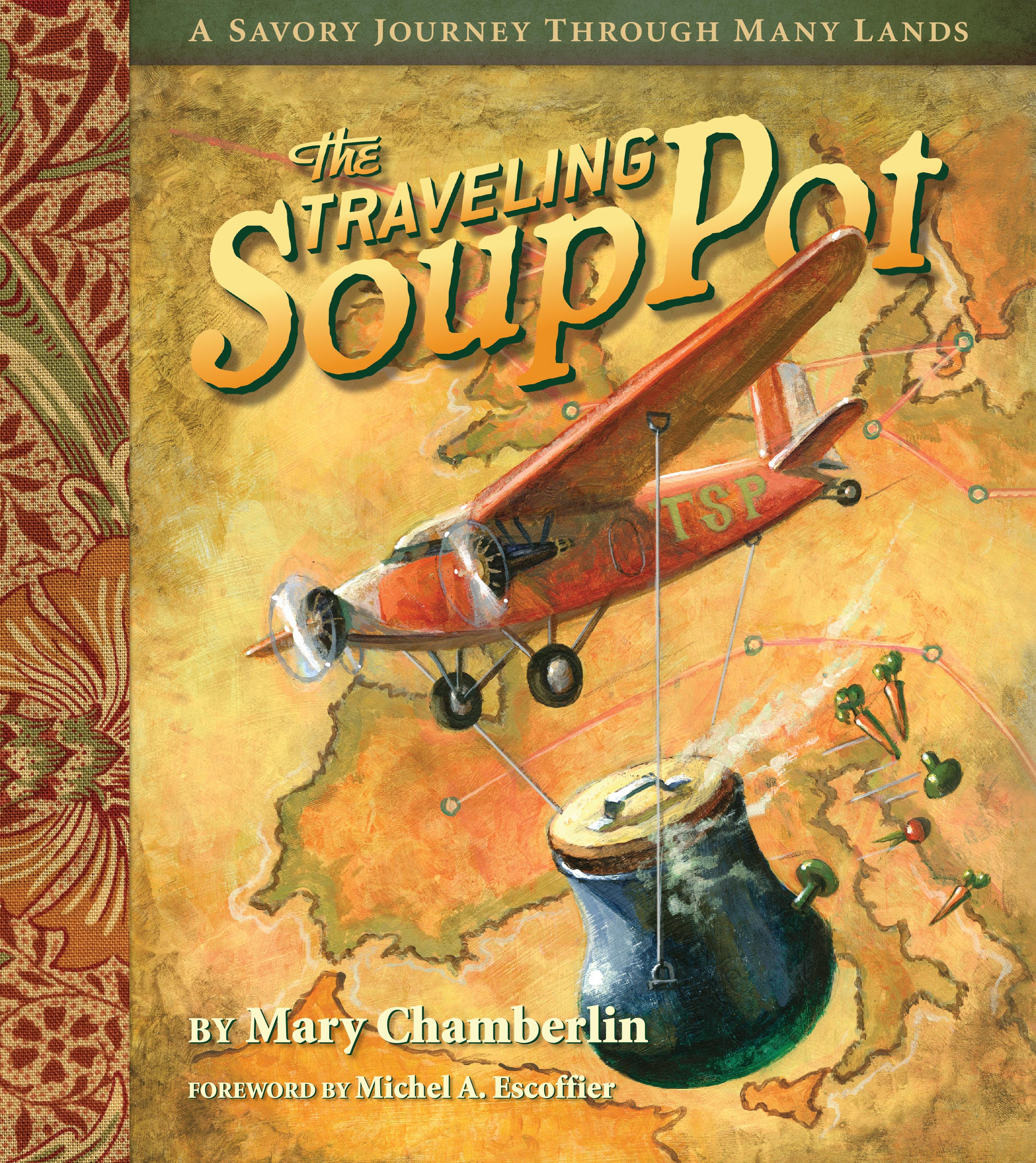 The April 2021 Brickman Banter Newsletter is now available just fyi...CLICK HERE
And, here's our favorite Can Opener, too: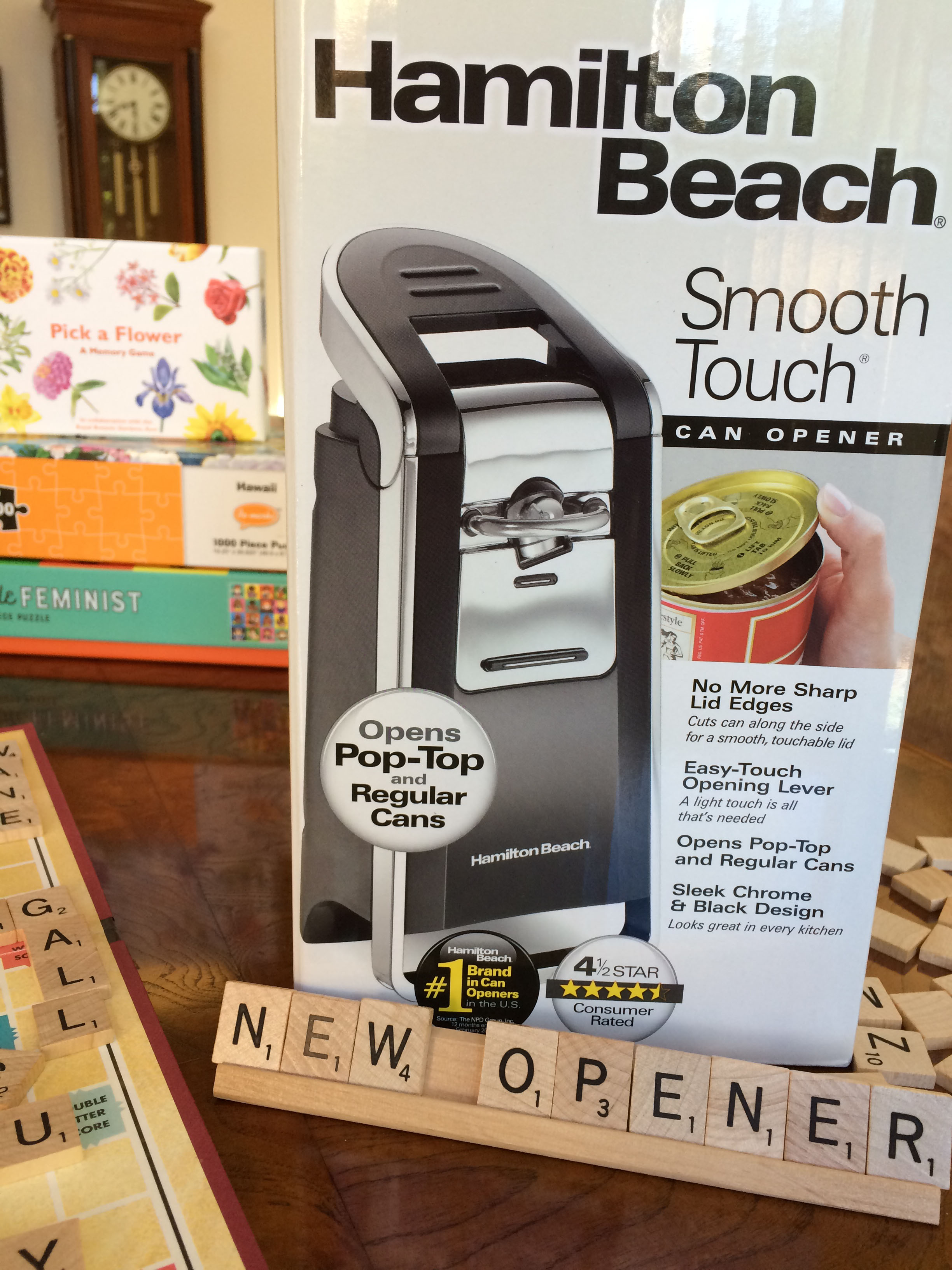 Avocado Crepes with Crab & Shrimp
Crepe a L' Avocat
1 large mashed avocado
8 eggs
½ tsp. salt
1-cup flour
¾ cup milk
¾ cup beer
1 tbsp. melted butter
Prepare batter and let rest for 2 hours. Make crepes in crepe pan.
Filling
Béchamel Sauce
2 cups milk
1½ oz. flour
1½ oz. butter
Add
1-cup Gruyere cheese
Dash of Worcestershire sauce
Salt & pepper to taste
Fold in
2 lbs. crabmeat or 1 lb. shrimp
*Fill crepes when mixture has cooled. Top with grated cheese, dot with butter.
Bake 400o oven for 10 to 15 minutes until cheese melts.
*Never fill crepes while mixture is hot. Crepes can be filled the day before and heated the next day.
Crepe Batter
4 large eggs (room temperature)
1-cup flour
1/2 tsp. salt
1-cup water
1-cup milk
1 tbsp. melted butter or oil
Beat all ingredients together with wire whisk. Let stand for 20 minutes until small lumps dissolve. Whisk again. Heat crepe pan over medium heat. Butter pan and pour enough crepe batter into the pan to cover bottom. Cook until lightly browned. Turn the crepe over to the other side for just a minute and place onto a plate.
Recipe makes approximately 24 to 30 crepes.
Avocado Crepe Sandwich
(CREATED BY MARY'S DAUGHTER, DEBORAH CARPENTER)
The cold crepe sandwich started with the towering success of the "Torta Primavera", a 17-layer, edible crown of delicious delights. My catering and cooking school featured
several guest chefs from all over the world. On one such visit, my daughter, Deborah, was sous chef for the wonderful French chef, Edward Agopian, when he made avocado
crepes filled with crab and Bechamel sauce. It inspired her to create this hybrid recipe by buttering the avocado crepe and layering deli meats and cheeses, avocado and egg,
folding and sealing it with butter, then topping with homemade mayo sauce. It was a great hit and became a regular feature on our menu.
CREPE PREPARATION
Whisk ingredients together and let stand for 2 hours. Make crepes in large 12-inch pan
for sandwich.
SANDWICH PREPARATION
On a cooled crepe, brush melted butter on top. In the middle of the crepe, add first a slice of cheese followed by slices of meat, avocado, egg, bacon, more meat, then finish with cheese.
Fold crepe over the top of the sandwich ingredients like a burrito and seal with butter.
Top with a mayonnaise of your choice and garnish with fresh tomato slice and serve with
tossed salad or fresh fruit.
These sandwiches can be made a day before serving. If you plan on this, here is a tip to keep your avocado green. Soak avocado slices in lemon
water and put on paper towels to remove excess moisture, add to the sandwich and enjoy!
Serves 6 to 8
CREPE INGREDIENTS
1 large avocado, mashed
8 eggs
ó tsp. salt
1 cup flour
. cup milk
. cup beer
1 Tbsp. melted butter
SANDWICH INGREDIENTS
Thin sliced deli turkey and ham
Thin sliced Monterey Jack,
Longhorn Cheddar or any
mild cheese
Crispy cooked bacon strips
Avocados, thin sliced
Hard boiled eggs, thin sliced
(use egg slicer for
uniform size)
If you are going to eat right away, you can add slices of
cucumber, tomato, lettuce or any vegetable you like.
AVOCADO SHERBET
1 cup of avocado, mashed
1 cup of pineapple juice
1 cup orange juice
1/2 cup lemon juice
1 1/4 cups of sugar
1 cup of skim milk or half & half
1/4 tsp salt
Few drops of pistachio flavoring (optional)
Dissolve sugar in the milk, add the avocado pulp, mix thoroughly and add the fruit juice. Freeze using 8 parts ice and 1 part ice cream salt.
Serves 6 to 8.
EASY AVOCADO ICE CREAM
1 Kitchen Aide Mixer with Paddle
*½ Gallon of Vanilla Ice Cream
2 ripe avocados
Juice of 1 lime
Zest of the lime
2 tbsps of powdered sugar
In Cuisinart or blender process the avocados with the limejuice, zest, and powdered sugar. Set Aside. Place barely softened vanilla ice cream in the mixer and blend until it is the consistency of soft –serve ice cream. Immediately blend in the avocado mixture and return quickly to the freezer in a bowl or the ice cream carton.
*The key to this ice cream is to not let the ice cream melt or soften too much.
Serve with a little orange marmalade and pistachios.
Serve either dessert with lemon cookies.
Turkey Imperial Sandwich
(A national award-winning sandwich served at my Mission Deli!)
Ingredients:
1 lb. white sliced turkey (Good Quality)
1 lb. Swiss cheese Slices
1 Pkg. English Muffins
*Curried Apple Salad
1 stick softened butter
1 Can of Dole Pineapple slices
1 can of Cranberry Sauce
* Curry Apple Salad for Turkey Imperial
4 or 5 Golden Delicious Apples (Peeled cored and cut into small dice)
1/2 whole onion process in Cuisinart on pulse.
1 Tsp. Oriental Curry Powder
1 cup of mayonnaise
Salt & white Pepper to taste
Core and peel apples, peel and quarter onion. Cuisinart onion using on/off pulses and put in bowl with apples. Add mayonnaise, curry powder, salt and white pepper mix together and store in glass container until used for the sandwich.
To Assemble:
Butter an English muffin
Lay a slice of turkey on top
Layer some Apple Salad to fit the Muffin
Add another slice of turkey on the Apple salad
Add a slice of Swiss cheese on to turkey
Lay a pineapple ring on top of the Swiss cheese
Place the open-faced Imperials on to a cookies sheet and place in 350o oven until cheese is melted. Remove from oven. Place a slice of cranberry sauce on top of the pineapple and serve warm. Great for ladies luncheons. Can be made ahead of time.
AVOCADO CREPE INGREDIENTS

AVOCADO CREPE BATTER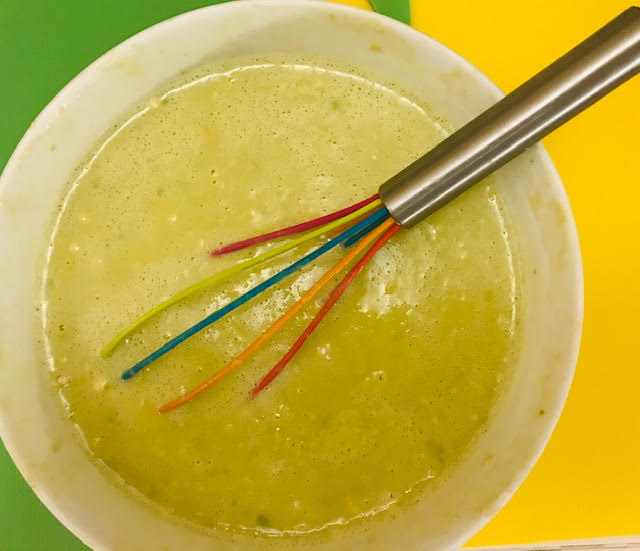 AVOCADO CREPE SANDWICH

AVOCADO SORBET INGREDIENTS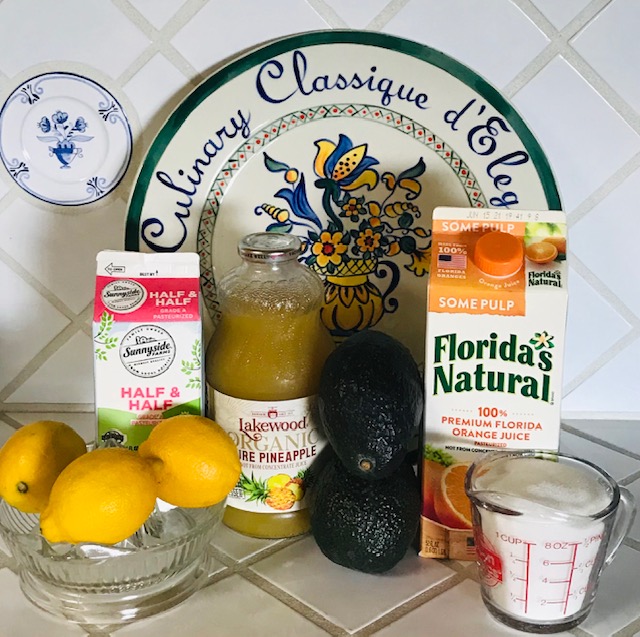 AVOCADO SORBET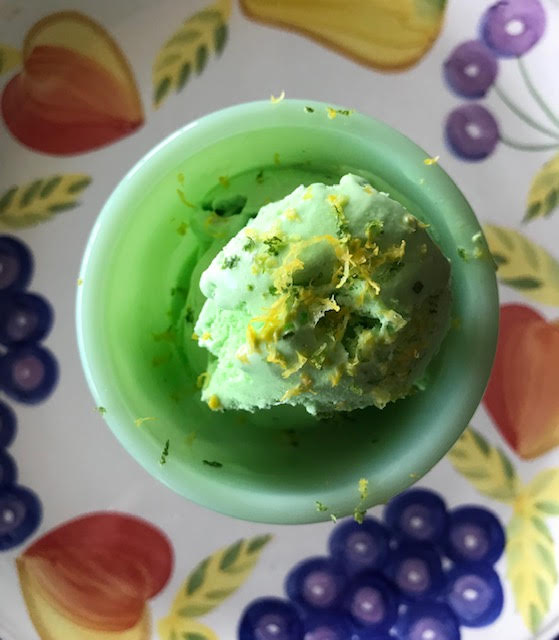 THE TURKEY IMPERIAL INGREDIENTS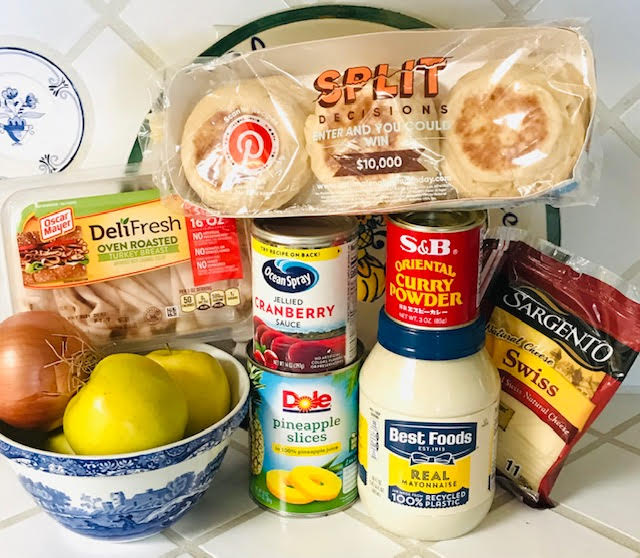 THE TURKEY IMPERIAL