Carousel Candies All You Need is Love Valentines Celebration in February
Carousel Candies on Old Fisherman's Wharf to hold a special "All You Need is Love!" Valentine's Celebration" throughout the month of February
Monterey, CA. January 2021. Get ready for the upcoming Valentine's Day season with Carousel Candies, the passion pink destination celebrating its 60th Anniversary on Old Fisherman's Wharf, and their upcoming sweet promotion, "All You Need is Love!" during the entire month of February.
Whether it is a thoughtful sweet treat for your sweetheart, a family member, a client, colleague or friend, Carousel Candies will offer 20% off of all purchases to locals who pay by cash, just with the mention of the famous lyrics, "All You Need is Love" during the entire month of February.
For those who cannot come to Old Fisherman's Wharf in February, they can order special treats on their enhanced Official Online Candy Store online store at www.CarouselCandies.com. Carousel Candies ships anywhere in the United States.
"In these challenging times, we strongly believe that 'All You Need is Love!' explains Liz Elves, owner of Carousel Candies, sharing her sweet offer with Monterey County locals. "Valentine's Day is certainly one of our favorite holidays where we enjoy seeing loving couples, parents, children and everyone else coming out to see our special Valentine's confections and decorations. I remember how giving a heart-shaped box filled with candy was a symbol of courting one's own true love. At Carousel Candies, we like to believe that St. Valentine's himself would be impressed with all of the love we pour into our custom-made candy creations!"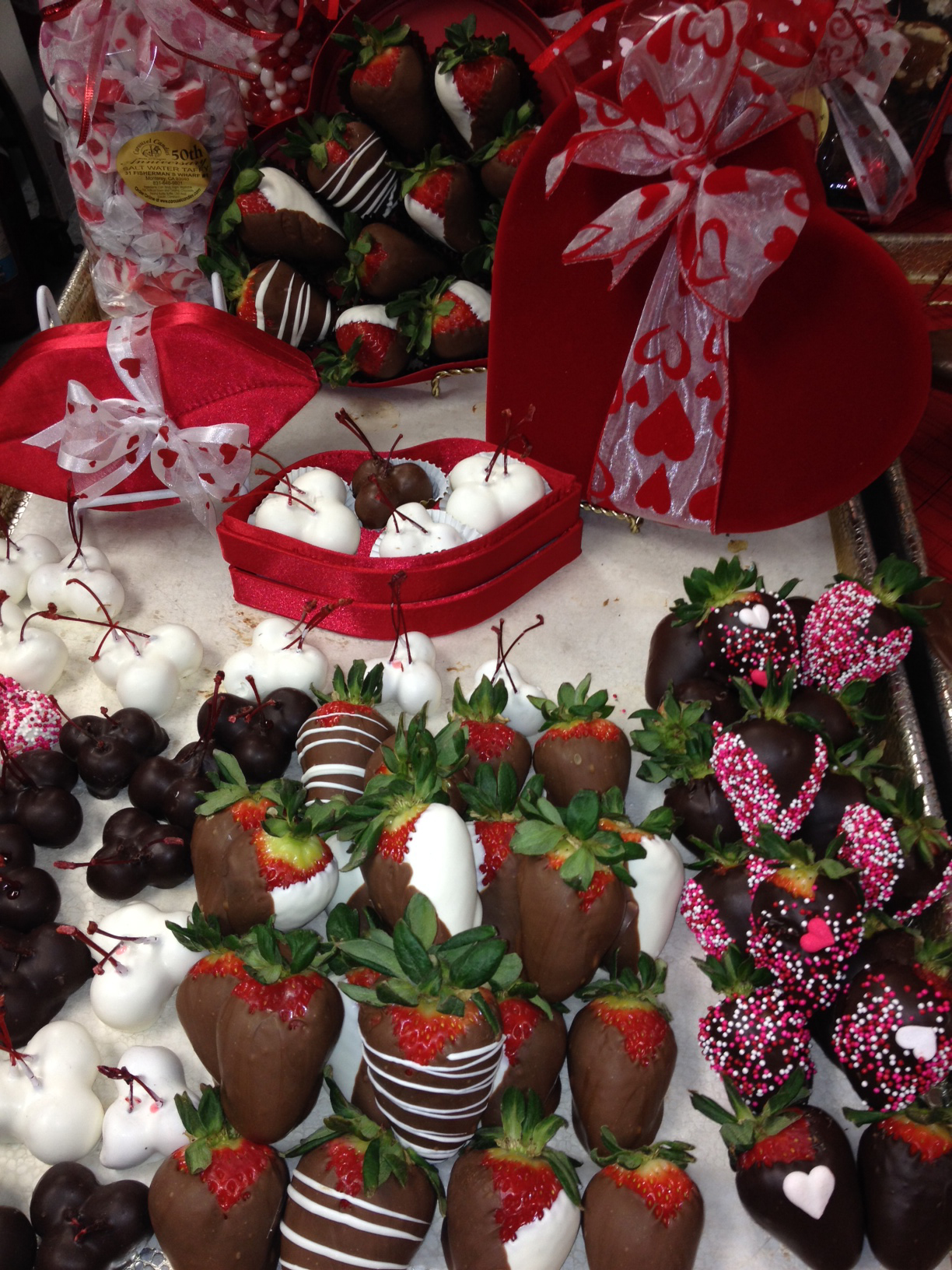 About Carousel Candies
Over the years, Carousel Candies' has shared one-of-a kind special homemade confections for generations of fans around the world. All of the popular recipes were created by Carousel Candies co-owner Rick Elves, and have continued on with his wonderful confection creations.
Carousel Candies is proud to have been ranked "One of the Top 30 Candy Stores in America" by Relish Magazine. The old-fashioned pink candy-colored historic shop with the mesmerizing taffy puller machine in its front window was featured on a Modern Marvels segment of the A & E History Channel that continues to frequently re-air the segment. Carousel Candies was featured on Australian TV and also was thrilled to see photos in the 2015 Guinness Book of World Records. This descriptive listing showed their own world-renowned iconic candy store which was featured in the photo shoot of record holder Nick Stoeberl who had the world's longest tongue that year.
Valentine's Gift Ideas
Carousel Candies is a one-stop shop for a customized thoughtful gift on Valentine's Day (or any day) and they ship anywhere in the USA! You can order online but locals should definitely make the journey to this chocolate mecca!
Select from their very special handmade colorful seasonal Valentine's Salt Water Taffy (available only in February) made from a secret family recipe and beautifully wrapped for the holiday. Team it with any of the other world-renowned tasty 45 Salt Water Taffy flavors. Carousel Candies also offers a wide assortment of tasty sugar-free chocolates and salt water taffy.
Choose one of the attractive pre-packed Valentine's chocolate boxes OR put together a customized beautiful Valentine's box of everyone's favorites including smooth, creamy chocolates with or without fresh roasted nuts, Rocky Road hearts made with homemade fresh marshmallow, assorted chocolate truffles, turtles, clusters, haystacks, gourmet fudges with their new caramel chocolate fudge, caramel corn with or without Belgian chocolate drizzled on it, turtles, marzipan, gummies and sours, brittle, butter toffee nuts, pecan rolls made with Penuche fudge dipped in caramel rolled in California pecans, chocolate covered pretzel sticks and more. Locals and visitors alike are amazed at the wide assortment of special candies to choose from made from the highest quality natural ingredients with no additives. Why not try their macadamia English Toffee covered in rich white chocolate for a unique sweet surprise. Carousel Candies also offers a wide assortment of sugar-free chocolates.
Another thoughtful Valentine's Day gift idea can include Carousel Candies' fresh and delicious beautifully Valentine's decorated apples featuring handpicked, extra fancy apples delivered fresh from the orchard, smothered in their famous, homemade, creamy caramel and then hand-decorated with premium chocolate and gourmet toppings.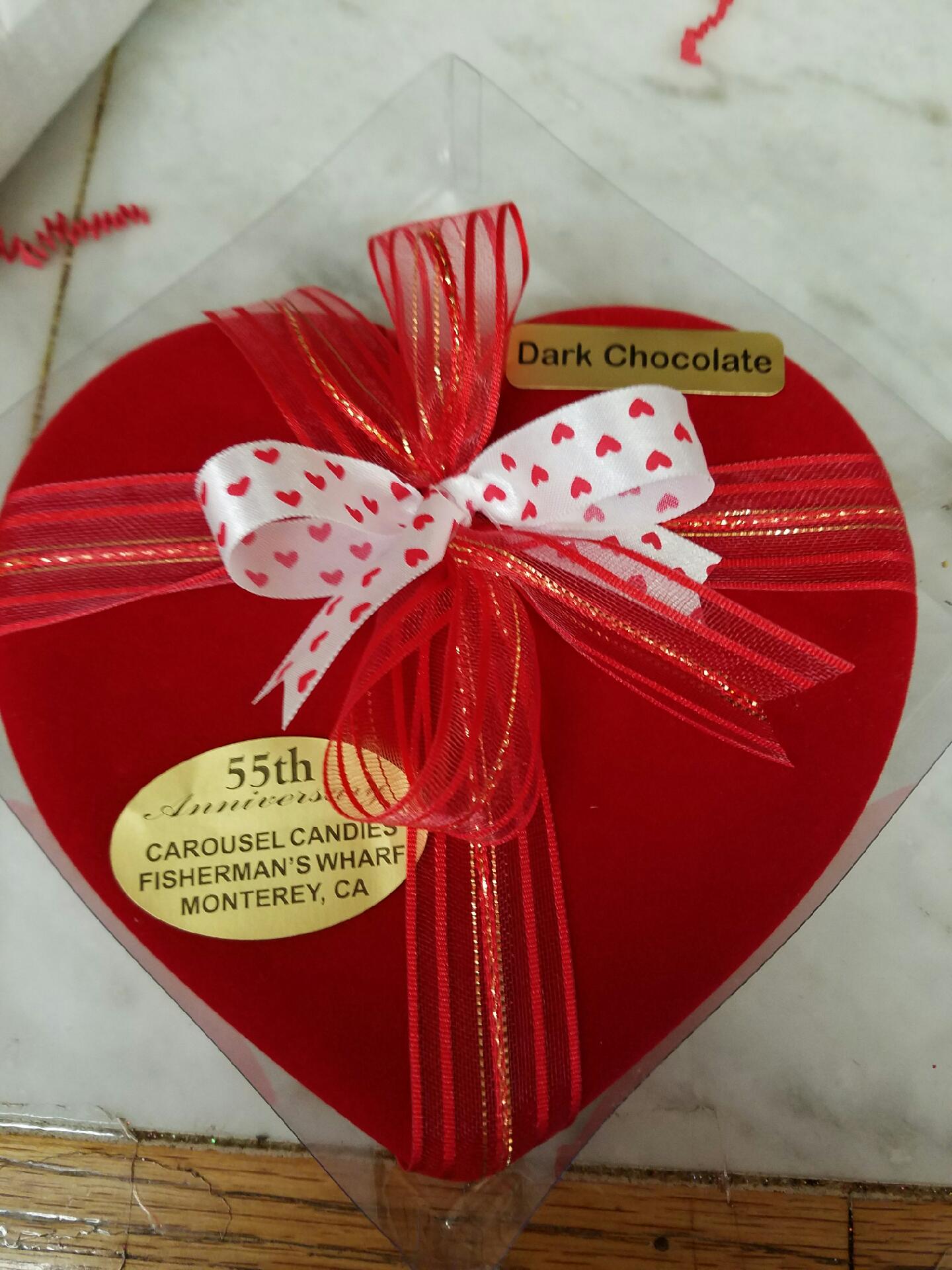 NEW at Carousel Candies
On site at Carousel Candies, they have some new tempting treats including delicious homemade waffle cones with lots of ice cream flavors including their newest, Strawberry Cheesecake Ice Cream. They also have green tea boba drinks, limoncello popcorn and the always popular cotton candy.
Founded in 1960, Carousel Candies (www.carouselcandies.com), is located at 31 Old Fisherman's Wharf (next to Old Fisherman's Grotto) in Monterey (831-646-9801). Carousel Candies is open 7 days for everyone's sweet cravings every day of the year.
Carousel Candies produces wonderful chocolates year-round for any holiday or special occasion. They specialize in corporate gifts, from customized chocolate creations, to candy-of-the month packages, to edible candy baskets. They also offer fundraising "fun to sell for a cause" products including caramel apples, candy apples and salt water taffy.
Liz Elves adds, "Seeing the generations of repeat customers throughout the years who come and visit us, and watching the children and our employees' children grow up and bring their own children to Carousel Candies, is our own sweet reward! Life is short so why not enjoy some incredible chocolate as a non-guilty pleasure – just not too much at once since, with our Carousel Candies creations, a little goes a long way!"
For more information, call (831) 646-9801 or go to carouselcandies.com.