Mary Chamberlin Class Members Favorite Thanksgiving Recipes
Here are some wonderful recipes from members of the Mary Chamberlin Cooking Classes that are special for Thanksgiving!
From Lois Schaefer of Encinitas, California
ZUCCHINI

CASSEROLE
A Family favorite since 7-92
3 LBS ZUCCHINI STEWED, DRAINED, MASHED
1 LG AND 1 SM PKG CREAM CHEESE
1 TAB GRATED ONION
2 EGGS SLIGHTLY BEATEN
1 TAB SALT
2 TAB WORCESTERSHIRE SAUCE
1 SM CAN CHOPPED GREEN CHILES
MASH ALL TOGETHER
Put into 8X 8 DISH
SPRINKLE BREAD CRUMBS ON TOP
375 30 MIN OR UNTIL KNIFE COMES OUT CLEAN.
From Emily McKean of Rancho Palos Verdes, CA
If you like Caviar you will love this…
CAVIAR PIE
Combine 6 hard-cooked eggs, chopped, with 3 Tablespoons of mayonnaise. Spread evenly in a well-greased 8" spring-form pan. I grease it with some mayonnaise. Sprinkle with 1 ½ cups minced onions. Soften 8 oz. cream cheese and blend with 2/3 cup sour cream until smooth. Spread over onions with a wet spatula. Cover and chill 3 hours or overnight. Before serving, top with 3 ½ or 4 oz. of lumpfish caviar or Black Capelin Caviar and spread to pan edges. Run a knife around the sides, loosen the spring-form and lift off. Garnish with lemon twists and parsley sprigs. I serve it with Carr's water crackers or mini toasts. Serves 10 to 12.
From Betty Sproule of Pacific Grove, CA
Browned Flour for Turkey Gravy
About a week before Thanksgiving, put a generous cup of flour into a pyrex dish or cast iron skillet. Bake in a 325 oven for about 1 hour, stirring every 15 minutes to break up lumps and check color. The browned flour is done when it is uniformly the color of a brown paper bag. The browning process is the Maillard reaction which gives the flour the brown color and cooked flavor. Let the flour cool completely and store at room temperature in a glass jar for up to two months.
To make turkey gravy, heat about 3 T of turkey fat or butter in a skillet. Stir in 3 T of the browned flour. Add turkey stock, stirring constantly, and seasonings to your taste. If you don't have enough turkey broth, you can use chicken or vegetable broth. The gravy will have a golden brown color and a delicious taste. If the gravy has lumps, pour it through a strainer into your gravy boat. If you like giblet gravy, you can cut up cooked giblets and add them to the gravy.
I originally learned this recipe for browned flour from a program about cooking for Thomas Jefferson at Monticello. I usually make my browned flour at the same time that I bake potatoes, as they use the oven at the same temp for the same amount of time.
I appreciate the opportunity to submit my favorite family Thanksgiving Recipe for Turkey Gravy. I use the gravy over my turkey, dressing, and mashed potatoes. I also make hot turkey sandwiches on the day after Thanksgiving and make even more gravy.

From Jim Lowman of La Grange, CA
My family called it Piggy Pudding, a topping for any and all pies and a favorite for breakfast the next day;
1 box each of Jello – orange, lemon and lime for Thanksgiving and red and green for Christmas
Ripe but firm bananas
Red seedless grapes cut in half
A large quantity of whipped cream
Prepare jellos in shallow pans – I like pie pans myself, easily stacked to conserve fridge space while setting
Slice bananas and grapes into a suitable size bowl (we had a large family) – glass is great for presentation!
Cube the jellos into the bowl, fold in the whipped cream, keep cold until ready to dollop onto deserts!
I have prepared this for years for the diabetics in my family, changing only to sugar free Jello and sweetener for the whipped cream. A cold creamy refreshing contrast to the warm spice of the pumpkin pie!
---Jim Lowman from LaGrange, CA
I'm adding one thing to this recipe so please delete the first one I sent. Thanks

Margie Anderson of Del Mar
Growing up, we always started holiday meals with a small fresh shrimp cocktail served in individual stemmed crystal glasses. The recipe for the sauce is simple and delicious.
SEAFOOD COCKTAIL SAUCE
1/4 cup mayonnaise
3/4 cup catsup or store-bought cocktail sauce
Lemon juice, to tasteTobasco sauce, to taste
Worcestershire sauce, to taste
Horseradish, to taste
Minced celery, optional
I've also used shrimp cocktails as an appetizer for a party by filling a large bowl with the shrimp and cocktail sauce and then letting guests serve themselves in small bowls with celery sticks on the side to add.
And, as entertaining has gotten more casual and so many food items are readily available for take-out, I recommend the cocktail sauce at The Fish Market.
Also from Margie Anderson of Del Mar
CRAISIN SALAD
1 head green lettuce
1 head red lettuce
1 cup sliced almonds, toasted
4 granny smith apples, sliced or cubed
1 pkg craisins (dried cranberries)
4 stalks celery, sliced
1 bunch green onions, sliced
Dressing:
1/2 cup olive oil
1/2 - 3/4 cup honey
1/4 - 1/3 cup lemon juice
2 tsp. prepared mustard, or to your taste
Margaret Cox - Carmel Valley/San Diego

I'm not a cook, but in 2013, when I tried this recipe, I was asked to bring it for the next several years.

Mari Cox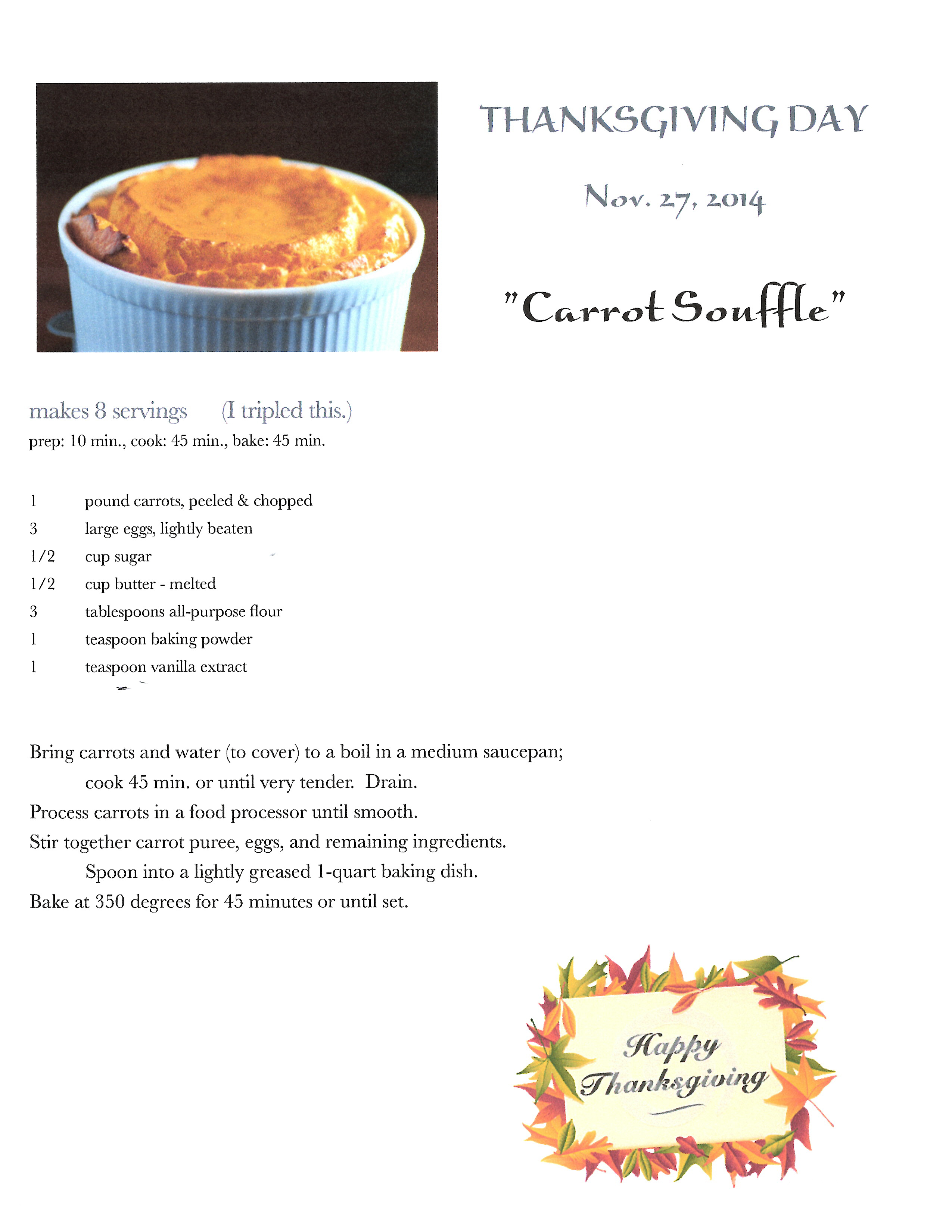 Marguerite Walker from San Diego and Darlene Denver of Encinitas, too!
Orange Praline Yams
4 pounds peeled, sliced and cooked yams or sweet potatoes
2/3 cup orange juice
1 T. grated orange rind
5 T. brandy
1 tsp. salt
Fresh ground pepper to taste
1 tsp. ground ginger
4 T. butter, melted
1/3 cup light brown sugar, packed
3 egg yolks
Beat yams in a mixing bowl with an electric mixer until smooth.
Mix in remaining ingredients, beating until mixture is light and fluffy.
Butter a 2-quart casserole and pour in yam mixture, smoothing top evenly.
Praline Topping:
2/3 cup light brown sugar, packed
8 T. butter, melted
1 cup chopped pecans
1 tsp. ground cinnamon
Mix all ingredients in a small bowl and spread evenly over yams.
Bake casserole at 350 degrees for 45 to 50 minutes or until golden brown and bubbly.
Remove from oven and let stand 10 minutes before serving.
Serves 10 to 12
Sally Trovaten from Carlsbad
This recipe was adapted from one that appeared in November 2001 Bon Appetit. It's a favorite in our family anytime of year. Good on any meat, fish or fowl.
Love the cooking classes! Thanks so much.
Gingered Cranberry and Kumquat relish
Bright citrus flavor and NO COOKING involved!
16 (or more!) kumquats*, stemmed, rinsed and patted dry
1/2-1 C sugar (we used 1/2 C or less for that tart zing)
1/2 C (or MORE!) minced crystallized ginger
Using on/off turns, coarsely chop cranberries. Transfer to medium bowl. Mince half the kumquats, removing any seeds.
Thinly slice remains kumquats, again removing seeds. Mix all kumquats, sugar and ginger into chopped cranberries. (sugar will dissolve
as mixture sits). Cover relish and refrigerate at least 4 hours. Will keep well for about a week
*Buy/pick your kumquats when in season and freeze as sometimes it's quite difficult to find them at Thanksgiving time. In a pinch
you can use tangerines (about 4 depending on size). Toss them into a food processor skin and all
Erin Reidy from Del Mar
Aunt Elsie
Here is my recipe entitled Aunt Elsie

It is really escalloped pineapple which my family lore has it that my Aunt Elsie paid $50 in the 50's. So that was big money in those days

Elsie

2 cans pineapple chunks in heavy syrup. (Not in juice)

2 sticks butter melted

2 eggs

1/2 cup whole milk

11/2 cups white sugar
1 quart white bread cube (I use Wonder bread

Mix melted butter, eggs, milk, sugar together then add pineapple with syrup mix with a spoon. Lastly add bread cubes put in Pyrex dish 9 by 12. And bake in oven. 350 degrees until baked and brown. about 30-45 min

Cyndie Corzine from San Diego

Here are 2 family favorites:

Shrimp and Mirliton (Chayote) Dressing

6 mirliton (Chayote), boiled , peeled, seed removed, cubed
1 small onion, chopped
1/2 green pepper, chopped
2 toes garlic, chopped
1/2 cup celery, chopped
2 tsp fresh parsley, chopped
2 eggs , slightly beaten
1 cup fresh bread crumbs
Dash liquid crab boil, Zatarains
1 bay leaf
1 lb. raw peeled & deveined shrimp (31-40 count)
Salt, coarse ground black pepper, cayenne to taste
Olive oil
Coat bottom of a large skillet with olive oil. Sauté onions, celery, green pepper until soft. Add garlic and cook 1 more min. Add mirliton and cook another 15 mins. ,season with salt, peppers and liquid crab boil. Add bay leaf. Stir in bread crumbs and beaten eggs . Mirliton will release a lot of water, once this is all incorporated add parsley and shrimp. Stir well , cover skillet and turn off heat. Let sit for 5 mins., shrimp should be pink. Spray a baking dish with Pam about nd put dressing in it and bake uncovered at 350 degrees for 25-30 mins. Enjoy

Potato Dressing

3 cups peeled , cubed red or gold potatoes
3 cups peeled, cubed sweet potatoes
2 bunches green onions, green & white parts, chopped
3/4 cup Parmesan cheese, grated
2 tsp olive oil
2 tsp butter
Garlic Salt, coarse ground black pepper and cayenne to taste
Heat olive oil and butter in a Dutch oven until butter is melted. Stir in both kinds of potatoes cooking about 15 mins until they are fork tender retaining their form. Add green onions and cook until tender. Season with garlic salt, and peppers. Stir in Parmesan cheese and taste for seasoning. You might need to add a little more olive oil if dressing is too dry.

Mary Chamberlin of Carmel, CA

Thelma's Pumpkin Buckle

Goodbye Pumpkin Pie

(My very dear Friend, Thelma Agopian lives in Paris and Martha's Vineyard. This is a recipe she created during her summer time at the Vineyard. Great for Thanksgiving!)

Buckle Batter

1/2 cup melted butter

1-cup flour

1-cup sugar

1-cup milk

4 tsp baking powder

1/2 tsp salt

1 tsp vanilla

Pour melted butter into a large shallow baking dish or pan that has been sprayed with PAM.

Mix remaining ingredients and pour batter mixture over the top of the butter while pan is hot.

Pumpkin Mixture

1 - 30 oz. can pumpkin pie mix

3/4 cup evaporated milk

2 beaten eggs

1-cup dark brown sugar

1 heaping tbsp. flour

2 tsps cinnamon

1 tsp cloves

1/2 tsp nutmeg

Dash of salt

Gently pour pumpkin mixture onto the batter. Bake at 350o for about 25 to 30 minutes. Serve hot or cold with whipping cream or ice cream.
And another from Mary Chamberlin of Carmel, CA
Thanksgiving Scalloped Corn 2
Ingredients:
3 cans of whole kernel corn drained
3 cans of creamed corn
4 eggs beaten
3 cups of crackers, crushed
1 cube melted butter
½ tsp black pepper
3 cups of evaporated milk
¼ cup dehydrated onions
salt & white pepper to taste
3 tbsps butter
Topping
4 cups of crushed crackers
1 1/2 cubes of melted butter
black Pepper to taste
Preparation
In large mixing bowl mix corn, creamed corn, milk, eggs and salt together. Crush crackers and mix with the melted butter and black pepper and pour into corn mixture. Place in a large casserole . Pour cracker crumb Topping on top that have been mixed with melted butter. Bake 350 oven for 1 hour.
This will serve a large crowd of 15 to 20 people during holiday with some leftover for the next day.
* optional
Broccoli Corn Bake
1 large pkg. of chopped frozen broccoli can be added that has been thawed in warm water. Delete bell pepper from recipe.
Wendy Brickman from Monterey
I used to bring this salad to family Thanksgiving Dinners and it was appreciated by all of the tomato lovers!
Tomato and Black Olives Marinated Salad
INGREDIENTS
½ tsp turmeric
1 c Pitted black olives
6 lg Ripe tomatoes, cut in small wedges
1/4 cup Chopped fresh watercress
CUMIN DRESSING
2 tsp Granulated sugar
1/4 tsp Black Pepper - freshly ground
2 cups Chopped red onions
1/3 cup Extra Virgin Olive Oil
1 tsp Salt
3/4 tsp Ground cumin
2 tb Lemon juice
INSTRUCTIONS
In a shallow container or plate, arrange the tomato slices, onions, olives and watercress.
CUMIN DRESSING Combine olive oil, lemon juice, sugar, salt, cumin, pepper and turmeric. Pour dressing over tomatoes, olives and watercress. Cover and marinate at room temperature for 1 hour or in refrigerator for several hours. Makes 6 to 8 servings
Margie Anderson from Del Mar
CREAM OF PUMPKIN SOUP WITH CURRY
2 T butter
1/4 cup finely chopped onion
2 - 3 t curry powder (or more, if desired)
1 T flour
2 14 oz cans chicken broth
1 15oz can pumpkin
1 t brown sugar
1/2 t mace or nutmeg
1/4 t salt, 1/8 t white pepper
1 cup 1/2 and 1/2
Heat butter in 2 qt or larger pan. Saute onions until limp. Stir in curry and flour, cook until it bubbles and a little brown. Remove from heat and gradually whisk in chicken broth. Stir over heat while it thickens a little. Add pumpkin and all spices. Cook stirring constantly until simmering. Stir in 1/2 and 1/2 and continue to heat. DO NOT BOIL! Thin with additional 1/2 and 1/2 or milk if necessary. Ladle into cups or bowls. If desired, garnish with a dollop of sour cream and minced parsley or chives. Pass a small pitcher of warmed sherry so guests can choose to add approximately 1 tsp.
Before Thanksgiving dinner, I have served this in little mugs and passed on a tray with the warmed sherry. It's a nice way to take the edge off your hunger while waiting for dinner.
Margie Anderson from Del Mar
Cranberry Christmas Cake
Tart fresh cranberries and sweet buttery cake are perfectly combined in this popular Christmas dessert!
Prep Time20 mins
Cook Time45 mins
Total Time1 hr 5 mins
Servings: 16 servings
Ingredients
3 eggs
2 cups sugar
3/4 cup butter, softened
1 teaspoon vanilla
2 cups all-purpose flour * see note below for gluten-free alternative
12 oz fresh cranberries
Instructions
Preheat oven to 350 degrees. With a mixer, beat the eggs with the sugar until slightly thickened and light in color, about 5-7 minutes. The mixture should almost double in size. The eggs work as your leavening agent in this recipe, so do not skip this step. This mixture should form a ribbon when you lift the beaters out of the bowl.

Add the butter and vanilla; mix two more minutes. Stir in the flour until just combined. Add the cranberries and stir to mix throughout.

Spread in a buttered 9x13 pan. (This pan is my favorite!) Bake for 40-50 minutes, or until very lightly browned and a toothpick inserted near the center of the cake comes out clean. (I baked mine for 43 minutes.)

Let cool completely before cutting into small slices about 1"x2", so that they could be easily eaten at a party. Enjoy
Patti LaBelle's Macaroni and Wendy Brickman's Friend's Favorite Thanksgiving Recipe
READY IN: 50 mins
SERVES: 8
INGREDIENTS
DIRECTIONS
Preheat oven to 350.

Lightly butter a deep 2 1/2 quart baking dish.

Fill a large pot with water and bring to a rapid boil.

Add macaroni and the 1 TB oil.

Cook for 7 minutes, or until somewhat tender.

Drain well, and return to the pot.

Meanwhile, in a small saucepan, melt 8 TB of the butter.

Stir into macaroni.

In a large bowl, combine all of the shredded cheeses.

To the macaroni, add 1 1/2 cups of shredded cheeses, half and half, the cubed cheese and the eggs, and the seasoned salt and pepper.

Transfer to the prepared casserole dish, and top with remaining 1/2 cup shredded cheese.

Dot with remaining 1 TB of the butter.

Bake for 30-35 minutes or until the edges are golden brown and bubbly.

Serve hot.

Serves 8.