Mary Chamberlin Cooking Class - Asparagus Soup and Cassata Siciliana - 08/20/20
Thanks so much for signing up for the Free Phone-In Monthly Soup Preparation Lessons with Chef Mary Chamberlin on Thursday, August 20th from 2 pm – 3 pm. Due to the increased usage of the conference call service and some possible interruptions, the Free Conference Call staff suggest we start the call at 2:05 pm so please call in at that time. Please call back if there are any service interruptions or email me at [email protected] as I will be monitoring emails.
PLEASE BE SURE TO MUTE YOUR PHONE DURING THE CLASS AS BACKGROUND NOISES ARE VERY DISTRACTING. THANKS FOR YOUR HELP!
ALSO, PERHAPS KEEP A PEN AND PAD NEARBY SO YOU CAN WRITE DOWN YOUR QUESTIONS WHILE MARY IS TALKING AND THEN ASK THEM WHEN SHE OPENS UP THE Q & A SECTION.
To keep things simple this time, we will be using a free conference call service and you would dial in as indicated below:
Dial-In Number 712-451-0812 and Access Number 756-586#
Dial-in Number: (712) 451-0812

And then they will request the Access Number below.
I have posted this week's soup recipes and some photos below so please read the whole page to the bottom.
If the photos are too large, just right click on the picture with your mouse and then save image on your desktop.
To copy a recipe, take your cursor and drag your mouse down the page and right click, select Copy and then go to a new Word document and click paste. Then rename it and save it on your desktop for easy access.
Please plan some questions for the Q & A section about food preparation, sourcing and safety during this COVID-19 situation. We love the wonderful interaction on the call and appreciate your joining us!
Please feel free to share the meeting graphic below at the bottom of the page with any friends or family! Just right click with your mouse and Save As a new document on your Desktop for future easy acess too. Thank you!
Many of us are enjoying an electric can opener and the one people like is the Hamilton Beach Smooth Touch model (see photo below).
Should you wish to purchase a copy of Mary's fabulous cookbook, The Traveling Soup Pot, she is offering $5 off of the normal $35 cost to participants who call into our weekly classes and please call her directly at 831-624-0830 to order. We look forward to speaking with you! Thanks for participating!
Many of you have asked for the Olive Oil source that Mary Chamberlin had mentioned:
Verni's California Gold Olive Oil
Fresno, Ca.
Order # for shipment 559-299-9189
Located off Auberry Road
1 Mile North of Copper in Clovis
Verni Farms
11990 N. Auberry Road
Clovis, Ca. 93611
818-402-8267 Sue
Take care and stay healthy!
Best regards,
Wendy Brickman and Mary Chamberlin
Contact information: Wendy Brickman
[email protected] (831) 594-1500
Mary Chamberlin [email protected]
(831) 624-0830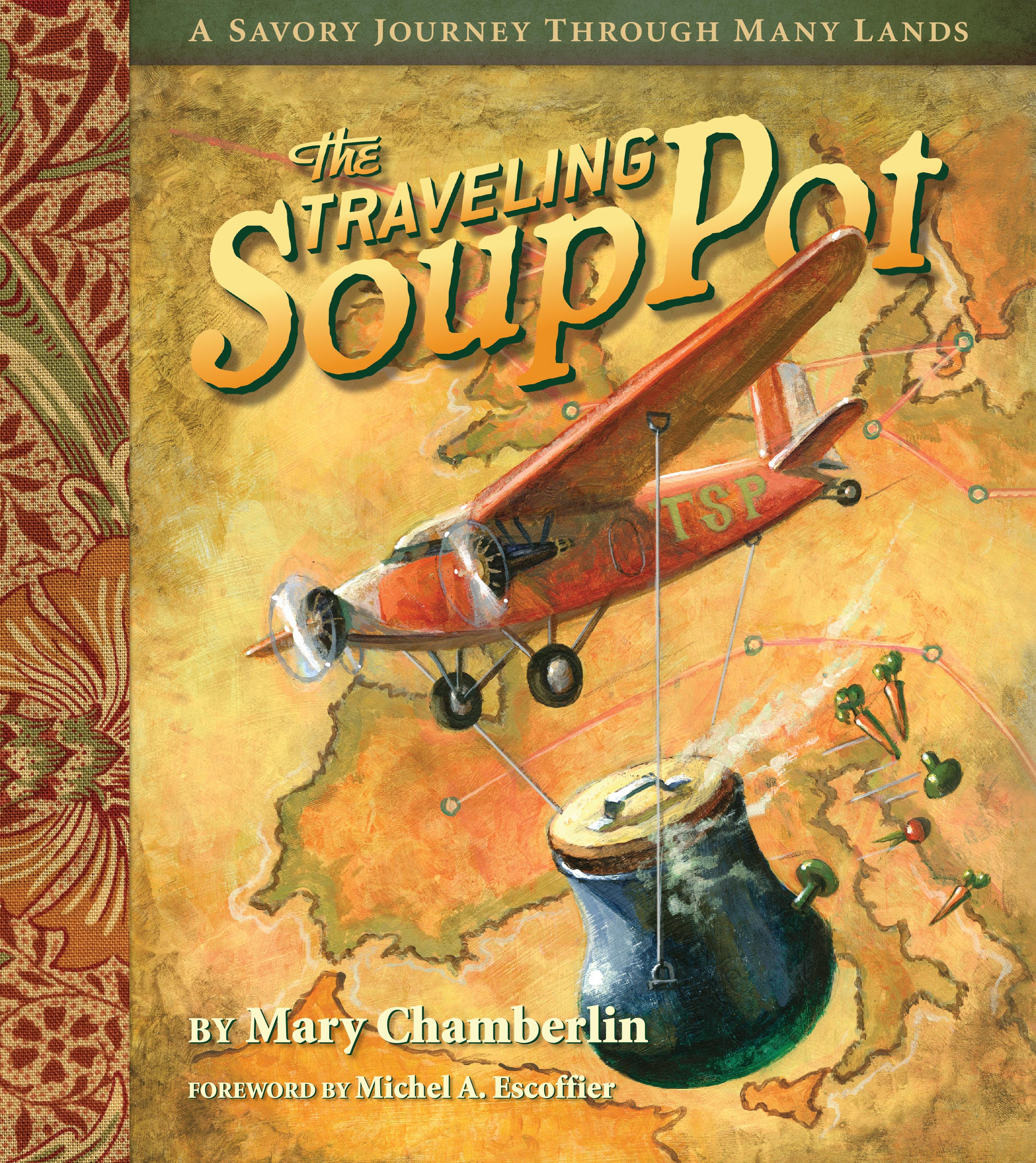 Asparagus Soup with Crab Cakes
(The asparagus soup is delicious, but the addition of the crab cake makes for a soup that is a full meal. Just add a lovely lettuce salad with citrus slices and a citrus dressing and few pistachios on top…Voila!)
Ingredients:
4 tbsps. of butter
4 tbsps. of olive oil
1 medium sized onion, chopped
2 leeks, chopped
4 stalks of celery
1 Lb. of fresh asparagus, trimmed and chopped (Leave a few tips for garnish)
4 cups of chicken stock
*2 cups of half & half
Salt & pepper to taste
1 recipe of crab cakes
Preparation:
1. Sauté onion, leeks, asparagus, and celery in oil and butter until soft, (for about 7 minutes). Add 2 cups of chicken stock and continue to cook for 10 minutes until tender.
2. In Cuisinart or blender process the asparagus, onion, celery, and leek mixture along with the broth making sure that the puree is perfectly smooth. It any pith seems apparent strain through a colander. Return the puree mixture to a soup pot, add the half & half and adjust the seasonings with salt & pepper. Serve with the crab cake.
3. To assemble: Place a ladle of soup into a shallow soup bowl and place crab cake in center. Garnish with an asparagus tip.
**Recipe for Crab Cakes:
¼ cup cracker meal
¼ cup mayonnaise
1 egg beaten lightly
1 tbsp minced onion
¼ tsp Worcestershire sauce
¼ tsp dry mustard
1 lb of crabmeat, coarsely shredded
¼ tsp Old Bay Seasoning
Preparation:
Combine all ingredients together and toss gently.
Heat butter in skillet, form patties and roll in breadcrumbs. Fry in butter & olive oil until golden brown.
For a deeper green color:
Take a handful of fresh parsley and process it with a 1/3 cup of chicken broth and add to the soup.
*To lower your fat intake in the soup delete the half & half and substitute chicken stock.
** Crab cakes can also be purchased from your local fish market.
Cassata Sciliana
This is my most favorite Italian Ice Cream Bomb which I have adapted to a ring mold and chosen my favorite flavors of ice cream. It can be made ahead of time and stored in the freezer! I unmold the Cassata on to a lovely tray and decorate it with candied fruit and whipping cream. Show it to my guests and then slice it and serve it with Chocolate Sauce. Divine and dramatic!
Large Ring Mold
1 qt. vanilla ice cream
¾ qt. of strawberry Sorbet or strawberry ice cream
2 jars of Marshmallow Cream
8 oz of whipping cream
1 tbsp sugar
1 package of ladyfingers or several slices of pound cake
3 oz. sherry or brandy
3 oz of mini chocolate chips
8 oz of assorted candied fruit, chopped fine or maraschino cherries
3/4 qt. spumoni ice cream
¾ qt. chocolate ice cream
1. Line a to 3 to 3 1/2 quart ring mold with vanilla ice cream, place in freezer until ice cream is set.
2. Layer the strawberry ice cream into the mold and again return to freezer.
3. Layer the ladyfingers that have been soaked in sherry and again return to freezer.
4. Place the 2 jars of marshmallow cream in your mixer ands slowly begin to mix.
5. Now whip the whipping cream with 1 tbsp of sugar until thick and slowly incorporate that into the marshmallow cream
6. Stir in the candied fruit and chocolate.
7. Fill the mixture into the mold and freeze for at least 2 hours.
8. Now top the mold with the spumoni ice cream freeze.
8. Lastly add the chocolate ice cream and freeze until solid.
Cover and store in the freezer until ready to use. Will keep several months if securely covered.
To Serve: Unmold onto a platter and decorate with whipping cream and candied fruit.
At this point I show the decorated Cassata to the guests. Return to the kitchen, slice and serve with a chocolate sauce
Quick Chocolate Sauce
Chocolate Ganache
½- cup heavy cream
3 ½-ounces extra bittersweet chocolate, chopped.
To make the ganache: In a saucepan bring the heavy cream to a boil. Remove the saucepan from the heat and add the chopped chocolate. Let stand for a minute and then whisk until shiny and smooth.
Asparagus Soup with Crab Cakes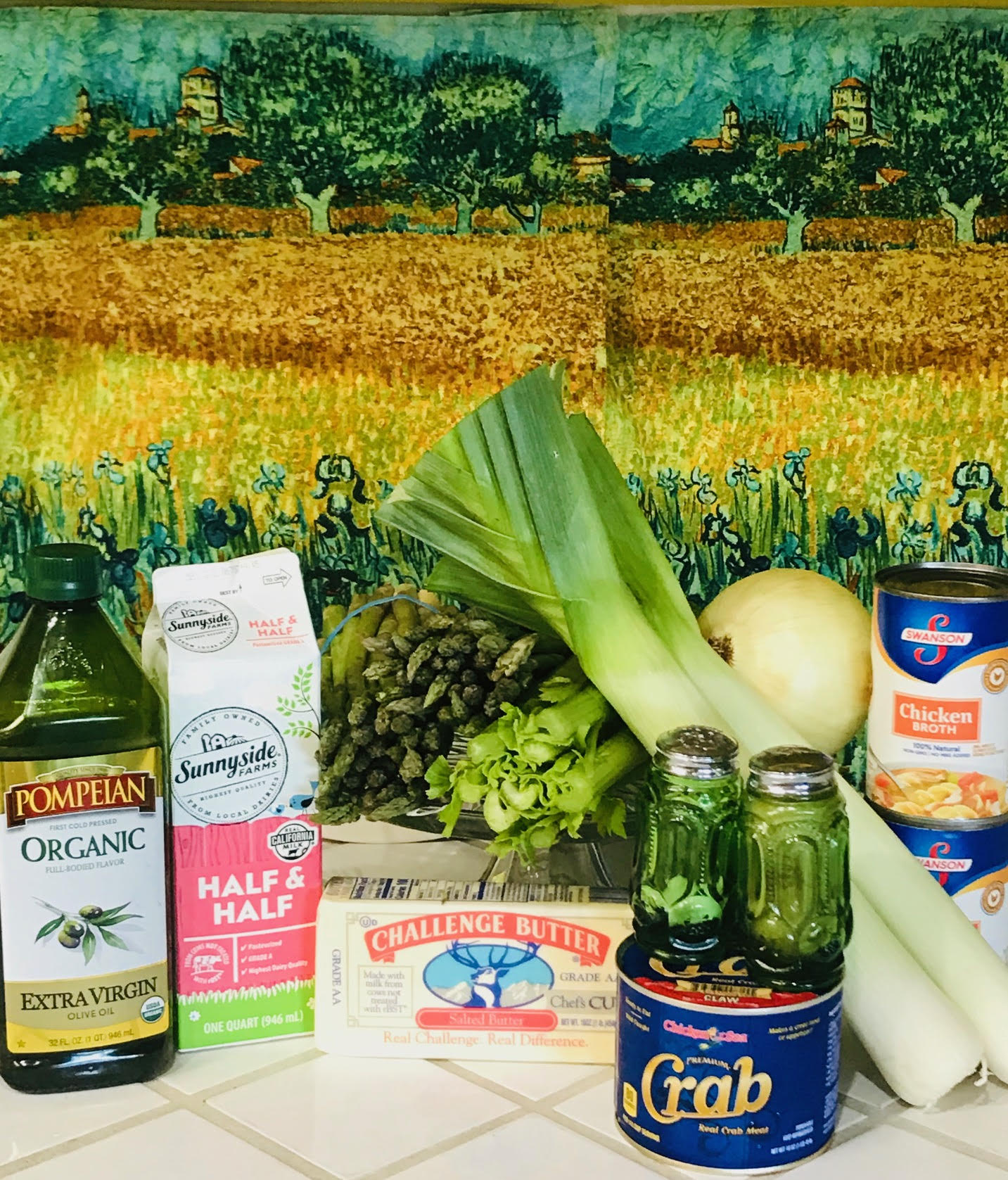 Asparagus Soup with Crab Cakes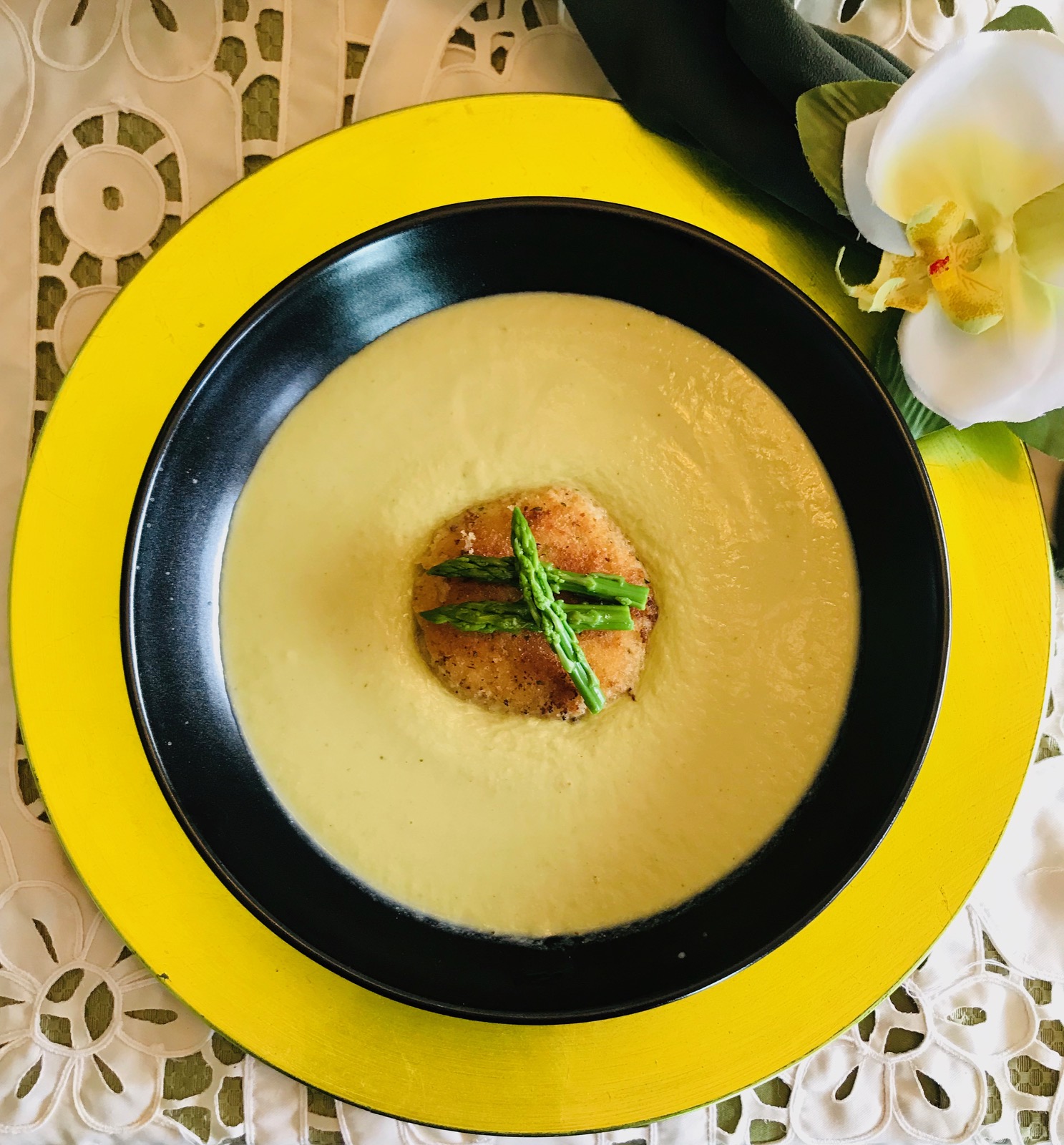 Cassata Siciliana Ingredients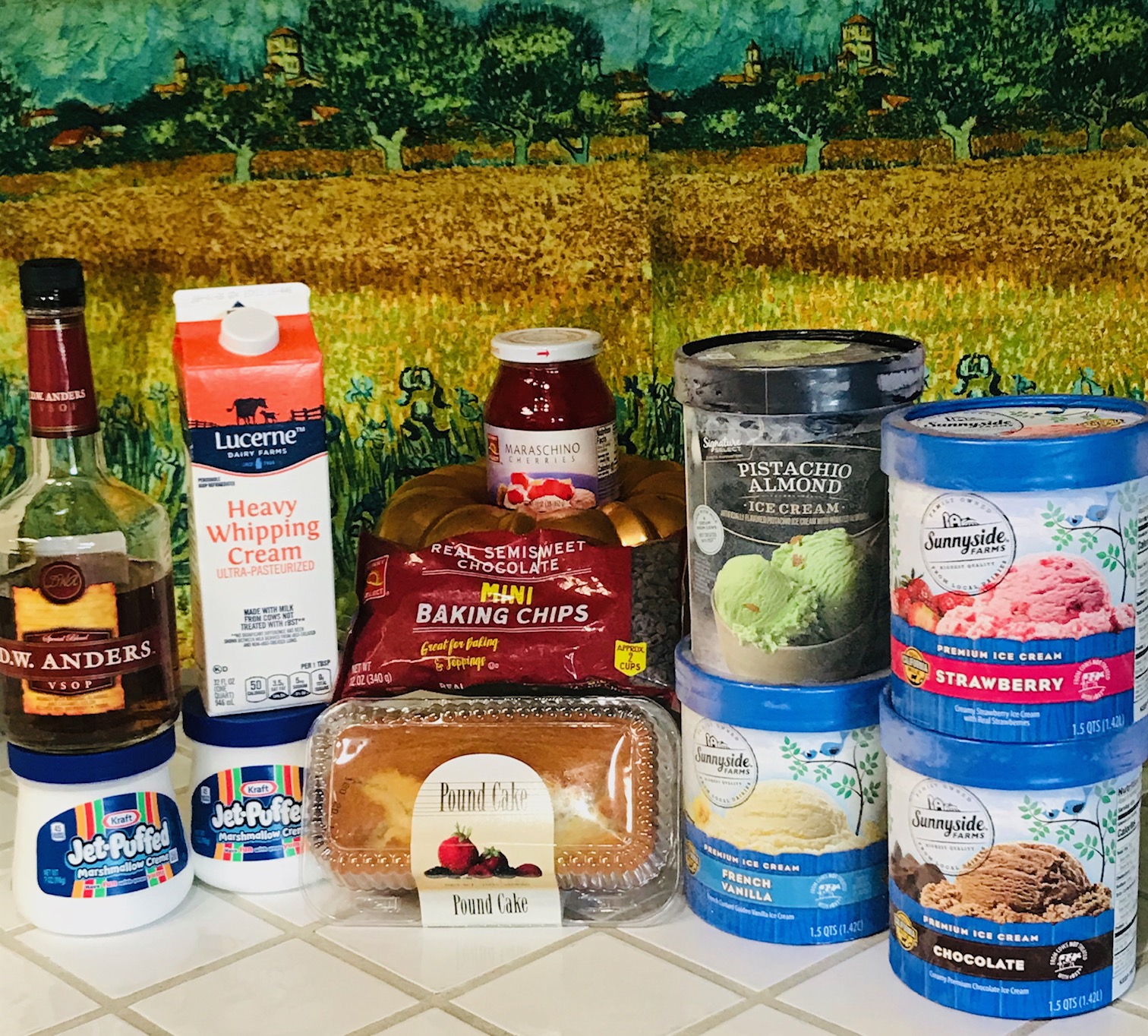 Cassata Siciliana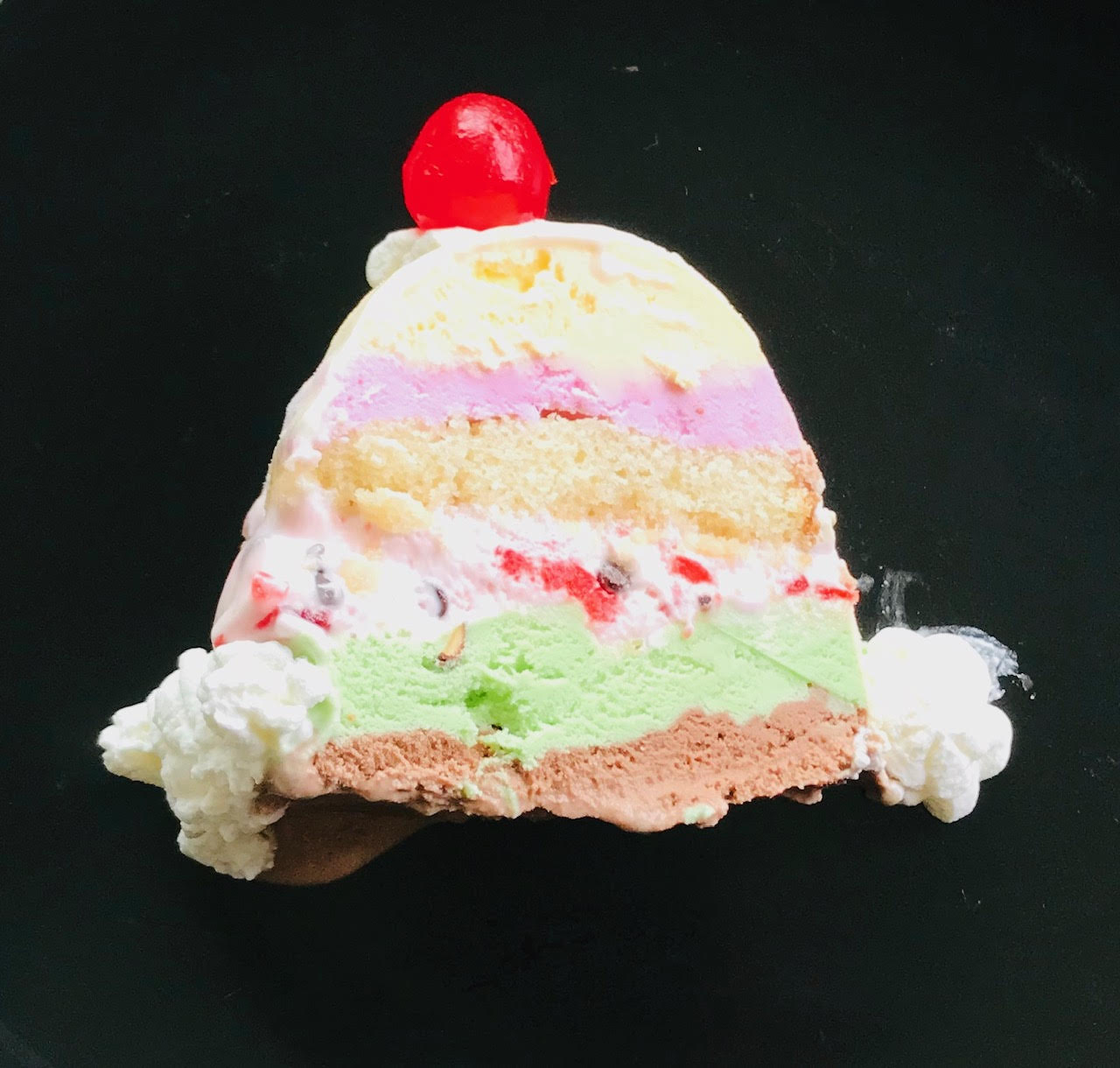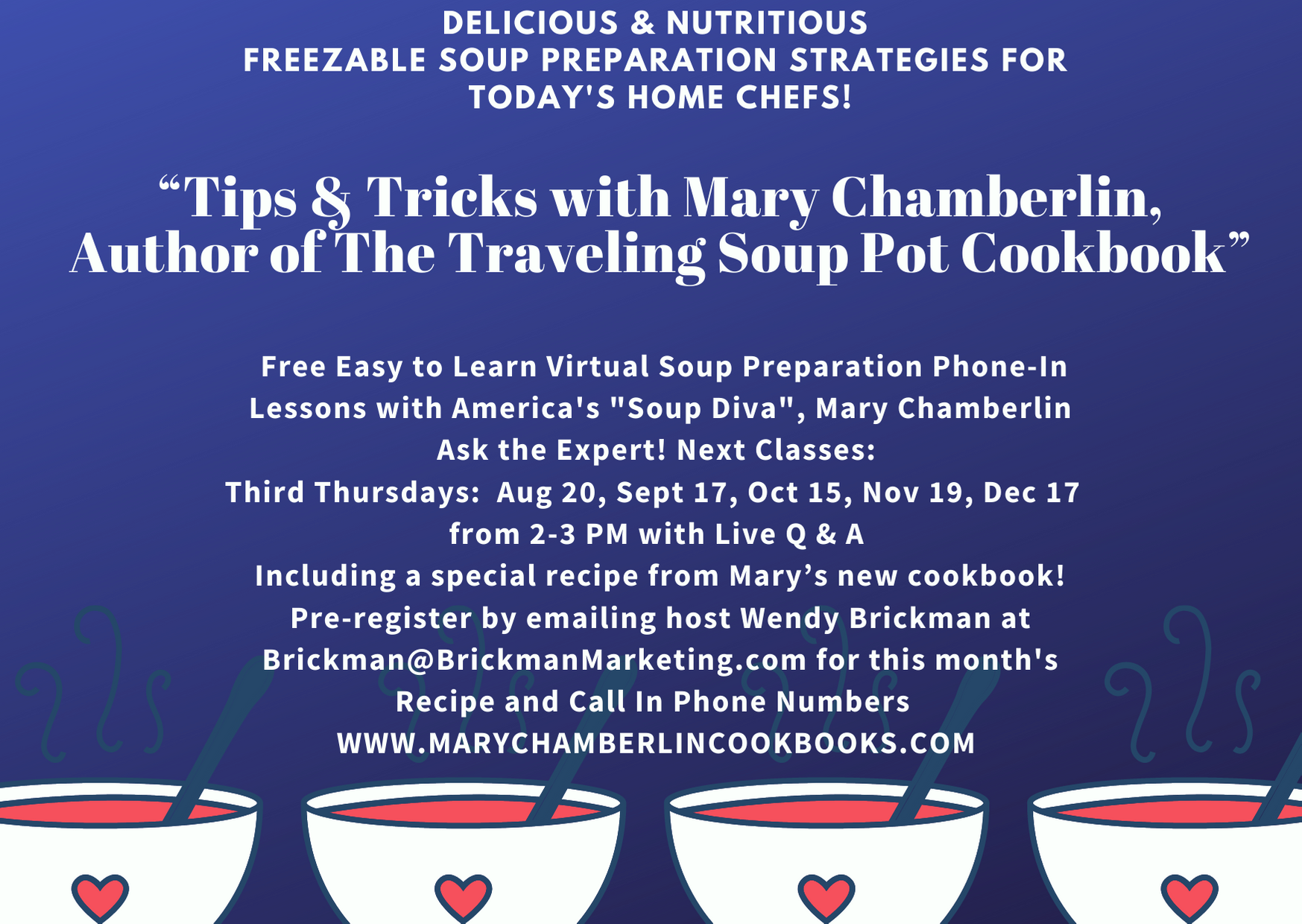 Here's Mary Chamberlin in her beautiful kitchen: