Mary Chamberlin Cooking Class - January 20th - Roasted Red Bell Pepper Soup and Spanish Flan
Mary Chamberlin Cooking Class -
This month, Mary Chamberlin's Cooking Class will be held on Thursday, January 20th at 2:00 pm. The two featured recipes recipes shown below will include Roasted Red Bell Pepper Soup and Spanish Flan (Creme Caramel)
Thanks so much for signing up for the Free Phone-In Cooking Lesson with Chef/Author Mary Chamberlin. Due to the increased usage of the conference call service and some possible interruptions, the Free Conference Call staff suggest we start the call at 2:05 pm so please call in at that time.
PLEASE BE SURE TO MUTE YOUR PHONE DURING THE CLASS AS BACKGROUND NOISES ARE VERY DISTRACTING. THANKS FOR YOUR HELP!
ALSO, PERHAPS KEEP A PEN AND PAD NEARBY SO YOU CAN WRITE DOWN YOUR QUESTIONS WHILE MARY IS TALKING AND THEN ASK THEM WHEN SHE OPENS UP THE Q & A SECTION.
To keep things simple, we will be using a free conference call service and you would dial in as indicated below:
NEW!!! Dial-In Number (434) 300-4101 and Access Number 756586
Dial-in Number: (434) 300-4101

And then they will request the Access Number below.
If the photos are too large, just right click on the picture with your mouse and then save image on your desktop.
To copy a recipe, take your cursor and drag your mouse down the page and right click, select Copy and then go to a new Word document and click paste. Then rename it and save it on your desktop for easy access.
Please plan some questions for the Q & A section about food preparation, sourcing and safety. We love the wonderful interaction on the call and appreciate your joining us!
Many of us are enjoying an electric can opener and the one people like is the Hamilton Beach Smooth Touch model (see photo below).
If you don't have a copy yet, check out Mary's new Traveling Cookbook filled with fabulous recipes! Go to www.marychamberlincookbooks.com.
Should you also wish to purchase a copy of Mary's fabulous prior cookbook, The Traveling Soup Pot, she is offering $5 off of the normal $35 cost to participants who call into our weekly classes and please call her directly at 831-624-0830 to order. We look forward to speaking with you! Thanks for participating!
Many of you have asked for the Olive Oil source that Mary Chamberlin had mentioned:
Verni's California Gold Olive Oil
Fresno, Ca.
A great value with high quality olive oil, freshly pressed.
Located off Auberry Road
1 Mile North of Copper in Clovis
Verni Farms
11990 N. Auberry Road
Clovis, Ca. 93611
To order, please call or text Sue to call you back: 818-402-8267
Sue will provide special pricing for us for their olive oil of $15/bottle (each 1 liter or 33.8 oz) instead of $18-$20 and 2 bottles fit in one box. Shipping will be $21.10
Sue wil also sell a gallon of their special olive oil at $40/gallon instead of $45. She will providing shipping costs soon. Shipping $28.99. Each gallon is 128 ounces.
They also have raw almonds, walnuts, almond butter, coconut almond butter, dried fruit including apricots, figs, plums, cherries, apples and peaches.
Here's the latest Brickman Banter Newsletter, too. Click Here.
Take care and stay healthy!
Best regards,
Wendy Brickman and Mary Chamberlin
Contact information: Wendy Brickman
Email: [email protected] (831) 594-1500
Mary Chamberlin
Email: [email protected]
(831) 624-0830
According to Margie Anderson...
We will be meeting via our telephones at 2:00 on Thursday, January 20, with our good friend, cookbook author and favorite chef, Mary Chamberlin. She is starting off with a ROASTED RED PEPPER SOUP, a scintillating, tasty dish so perfect for Valentine's Day with its rich red color. It's on page 22 in "The Traveling Soup Pot."
Then go to page 23 in Mary's new book, "The Traveling Cookbook," for SPANISH FLAN (also known as Creme Caramel). It's one of everyone's favorite desserts, it's easy to make and calls for just a very few ingredients.
If you're signed up, you will be receiving the class recipes, photos and instructions for calling in. As a special treat for us foodies, photos extraordinaire taken by in-house photographer Deborah Carpenter at the Escoffier event chaired by Mary in November will be emailed to you as well. And all this, ta-da, if you send your name, email and phone number to [email protected]
Until the 20th, Bon Appetit!
Margie Anderson
ROASTED RED BELL PEPPER SOUP
(This scintillating tasty dish enhances any special holidays like Valentines Day or Christmas with the rich red color of the soup. This recipe is from Carol Young, an accomplished artist in Hawaii and a very good friend. I have taught many cooking classes in her beautiful kitchen surrounded by her inspirational paintings.)
Ingredients:
1/4-cup extra virgin olive oil
4 tbsps. butter
1 large yellow onion, coarsely chopped
3 shallots, chopped
*8 large roasted red bell peppers ( prepare in advance)
1 tsp. salt
1/4 tsp. white pepper
4 to 6 cups of chicken broth
1/4 tsp. Cayenne
For the topping
1/2 cup of sour cream
1 tbs. fresh snipped chives or cilantro
Juice of 1 lemon
Preparation:
1. Warm olive oil & butter in a large saucepan over high heat. Add the onion and shallots. Sauté for about 5 minutes until the onion is lightly browned. Add the *roasted red peppers, salt, pepper, chicken stock, and cayenne and bring to a boil. Let simmer uncovered for about 30 minutes or until vegetables are soft.
2. Working with small batches, transfer soup to a blender or processor and puree on high speed until smooth.
3. Pour soup back into the same saucepan. Re heat and adjust seasonings.
4. Ladle soup into bowls and garnish with sour cream and chives.
*To roast the peppers:
Place peppers on a baking sheet (lightly sprayed with PAM) in a 450

°

oven. When skins are black and blistered, remove from oven and place into a paper bag. When cool enough to handle, remove seeds and skin and add peppers to the saucepan with the onions and shallots.
SPANISH FLAN - CREME CARAMEL
Spanish Flan or Crème Caramel
When you enter my home you are immediately greeted by an antique Spanish Suit of Armor, I found in Madrid that my husband flew back in the belly of his 747 all the way to San Francisco. Every time I eat a Spanish Flan I think of our wonderful culinary time in Spain!
For the Caramel
1-cup sugar
1 heavy-duty saucepan
1 Soufflé dish or 8 small ramekins
Place sugar in heavy saucepan and place on medium eat. When sugar has melted and turned a lovely golden brown color, pour into the bottom of the soufflé dish or divide evenly among the ramekins. Allow to harden.
For the Crème
4 large eggs
1 tsp. vanilla
1 can of sweetened condensed milk
Fill condensed milk can with whole milk (same quantity as condensed milk)'
Beat the eggs, vanilla and condensed milk in Cuisinart until thoroughly mixed. Use the pulse to mix. Add the additional milk and mix. Do not over beat or it will reduce the creamy texture of the Crème Carmel.
Bake in 350o oven for 40 to 45 minutes and also place in a Bain Marie.
Remove from the oven and let set about 2 minutes. Then take the edge of a knife and loosen gently the edge of the crème caramel. This will keep the top from splitting open as it cools.
It is delicious with fresh berries or thin sliced orange slices that have been poached gently in 30% syrup.
ROASTED RED BELL PEPPER SOUP INGREDIENTS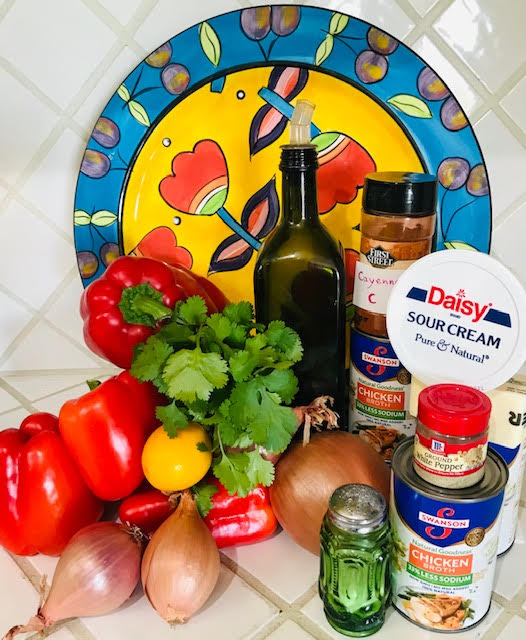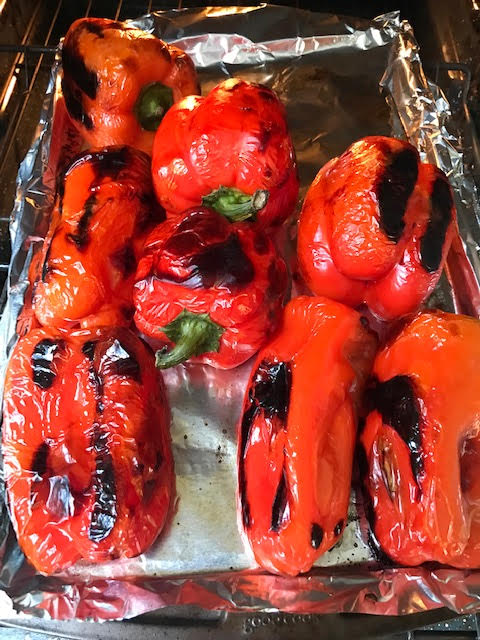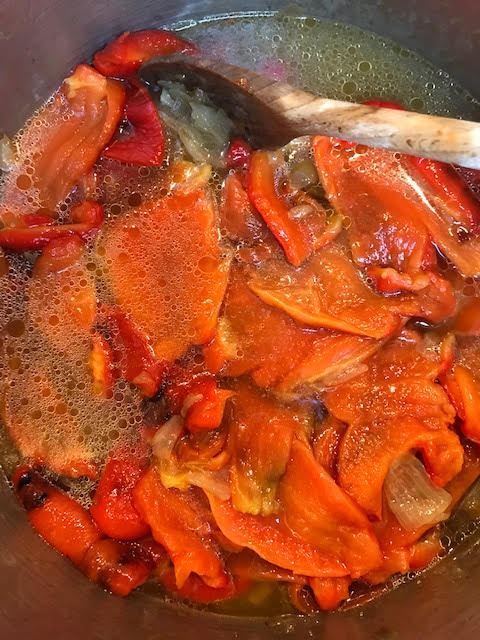 FLAN INGREDIENTS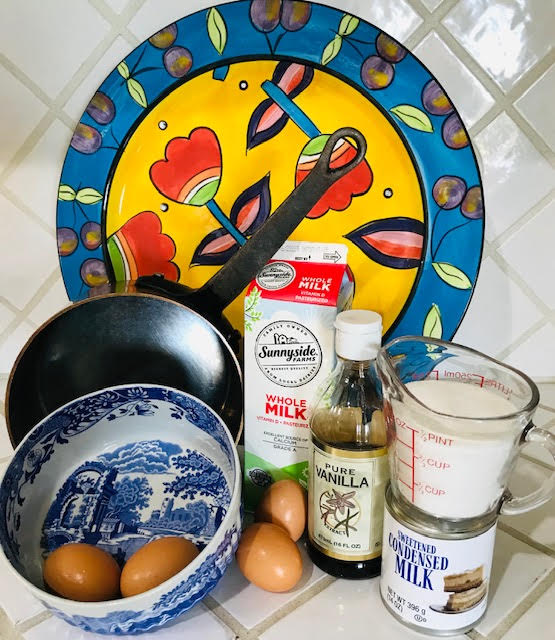 FLAN IN THE OVEN: