Mary Chamberlin Cooking Class - Scotch Eggs, Oeuf en Surprise, Baked Alaska
This month, Mary Chamberlin's Cooking Class will be held on Thursday, September 16th at 2:00 pm. The three featured fabulous recipes shown below will include Scotch Eggs, Oeuf en Surprise and Baked Alaska!
Thanks so much for signing up for the Free Phone-In Cooking Lesson with Chef Mary Chamberlin. Due to the increased usage of the conference call service and some possible interruptions, the Free Conference Call staff suggest we start the call at 2:05 pm so please call in at that time.
PLEASE BE SURE TO MUTE YOUR PHONE DURING THE CLASS AS BACKGROUND NOISES ARE VERY DISTRACTING. THANKS FOR YOUR HELP!
ALSO, PERHAPS KEEP A PEN AND PAD NEARBY SO YOU CAN WRITE DOWN YOUR QUESTIONS WHILE MARY IS TALKING AND THEN ASK THEM WHEN SHE OPENS UP THE Q & A SECTION.
To keep things simple, we will be using a free conference call service and you would dial in as indicated below:
NEW!!! Dial-In Number (434) 300-4101 and Access Number 756586
Dial-in Number: (434) 300-4101

And then they will request the Access Number below.
If the photos are too large, just right click on the picture with your mouse and then save image on your desktop.
To copy a recipe, take your cursor and drag your mouse down the page and right click, select Copy and then go to a new Word document and click paste. Then rename it and save it on your desktop for easy access.
Please plan some questions for the Q & A section about food preparation, sourcing and safety. We love the wonderful interaction on the call and appreciate your joining us!
Many of us are enjoying an electric can opener and the one people like is the Hamilton Beach Smooth Touch model (see photo below).
If you don't have a copy yet, check out Mary's new Traveling Cookbook filled with fabulous recipes! Go to www.marychamberlincookbooks.com.
Should you also wish to purchase a copy of Mary's fabulous prior cookbook, The Traveling Soup Pot, she is offering $5 off of the normal $35 cost to participants who call into our weekly classes and please call her directly at 831-624-0830 to order. We look forward to speaking with you! Thanks for participating!
Many of you have asked for the Olive Oil source that Mary Chamberlin had mentioned:
Verni's California Gold Olive Oil
Fresno, Ca.
A great value with high quality olive oil, freshly pressed.
Located off Auberry Road
1 Mile North of Copper in Clovis
Verni Farms
11990 N. Auberry Road
Clovis, Ca. 93611
To order, please call or text Sue to call you back: 818-402-8267
Sue will provide special pricing for us for their olive oil of $15/bottle (each 1 liter or 33.8 oz) instead of $18-$20 and 2 bottles fit in one box. Shipping will be $21.10
Sue wil also sell a gallon of their special olive oil at $40/gallon instead of $45. She will providing shipping costs soon. Shipping $28.99. Each gallon is 128 ounces.
They also have raw almonds, walnuts, almond butter, coconut almond butter, dried fruit including apricots, figs, plums, cherries, apples and peaches.
Take care and stay healthy!
Best regards,
Wendy Brickman and Mary Chamberlin
Contact information: Wendy Brickman
Email: [email protected] (831) 594-1500
Mary Chamberlin
Email: [email protected]
(831) 624-0830
According to Margie Anderson...
On a beautiful Saturday morning, Mary and her daughter Deborah loaded the dogs into the car and headed out to a pet-friendly breakfast spot, Jeffrey's Grill, a local favorite just east of Mary's Carmel home. Outside dining, a lovely breeze, the warm sun, perfectly-cooked Eggs Benedict and piping hot coffee -- What could be better? And that's how they came up with teaching recipes for eggs, eggs and more eggs at Mary's upcoming free cooking class on September 16 at 2:00. (Deborah does all of the lay-outs and photography for Mary's classes.)
First, Oeuf en Surprise, which is a marvelous starter that can be served at a fancy lunch or dinner.
Then, Scotch Eggs, served in most pubs all over England. Great picnic snack easily made ahead. Bring on the mustard Can you imagine how fast they would disappear at a wine social!
And last of all, the real show-stopper, Omelette en Surprise (Baked Alaska). Just wait until you see the photos and the user-friendly recipe.
To join us for eggs, email [email protected] with your name and email and she will send the recipes, photos, instructions for phoning in and all kinds of interesting this-a and a that-a.
And, here is the link to the latest Brickman Banter Newsletter. Click Here.

Scotch Eggs
An appetizer served in most English Pubs along with
Colman's Mustard. Great item for parties and outdoor picnics. Yum!
Ingredients
2 lbs. pork sausage
8 oz. seasoned breadcrumbs
1/2 cup dehydrated onions (soaked in warm water and drained)
White pepper and salt to taste
Poultry Seasoning & Dried Parsley to Taste
16 to18 hard-boiled eggs peeled and cooled
Preparation
Mix ingredients together and set aside.
Dip egg in flour

Cover or wrap sausage mixture around hard-boiled eggs 1/4 inch thick.

Dip egg into breadcrumbs

Deep fry in peanut oil until sausage is nicely browned. Remove from oil and drain onto paper towels.
Cool and refrigerate.
To Serve:
Cut in half and serve with Colman's Mustard. Will keep nicely in the refrigerator for 10 days. Makes a great breakfast item.
Makes 16 to 18 eggs
Oeuf en Surprise
This marvelous little concoction was placed in front of me at the Grand Largue Restaurant in a small village in Brittany France on Morbihan Bay where the gentle waters harboring the world's finest oysters meet the ferocity of the Atlantic Ocean. It is not only a true surprise, but the flavors are unforgettable. Eat this slowly and savor every bite.
Ingredients:
1 eggcup
1 fresh shucked oyster (save the liquor)
1 egg yolk
Salt to taste
White pepper to taste
Oyster liquor
Heavy cream
Assemble in an eggcup or a demitasse cup in the order given in the recipe. Place in the 450o oven for 3 to 5 minutes.
Remove from oven and add some blades of chives about 3 inches in length and place eggcup on a plate and serve immediately to your guests. What a surprise!
Should be eaten with a demitasse spoon.
Omelette En Surprise (BAKED ALASKA)
INGREDIENTS:
1 angel food cake or 1-Pound Cake
1/2 cup of Liqueur (your choice)
1/2-gallon ice cream (your choice)
2 - 3 cups of fresh fruit (strawberries, raspberries, blueberries, bananas)
10 to 12 old eggs whites
1 to 1 1/2 cups of granulated sugar
1/4 tsp. cream of tartar or 1/4 tsp. lemon juice or vinegar
DIRECTIONS:
Select an ovenproof platter, such as glass or metal and cover the center with slices of angel food cake or pound cake. Sprinkle the slices with Grand Marnier, Chartreuse, Rum or any other liqueur of your choice.
Add a layer of ice cream and fresh fruit, over the top of the sliced cake and put into freezer.
Make a meringue with 6 egg whites. Use 1/4 cup of sugar to 1 egg white. If you do not like it that sweet, you may add 1/4 cup of sugar to 2 egg whites. Whip meringue in copper bowl or electric mixer. Starts the beating very gently and then increase the speed on the mixer. Stabilize the egg white with cream of tartar, 1/4 Tsp. vinegar or lemon juice. When the meringue will support the weight of an egg, incorporate 2 to 3 tbsps of sugar, and then add the remaining sugar immediately.
Take platter out of the freezer, spread 3/4 of the meringue over the center, and ice as you would a cake. Make sure that the meringue has sealed the ice cream and fruit. Pipe the additional meringue through a pastry bag for garnish. Bake in 450o oven until meringue is golden in color. Serve at once.
A fruit sauce or chocolate sauce may be served over the top.
Quick Chocolate Sauce (Chocolate Ganache)
½- cup heavy cream
3 ½-ounces extra bittersweet chocolate, chopped
To make the Ganache: In a saucepan bring the heavy cream to a boil. Remove the saucepan from the heat and add the chopped chocolate. Let stand for a minute and then whisk until shiny and smooth.
Scotch Eggs Ingredients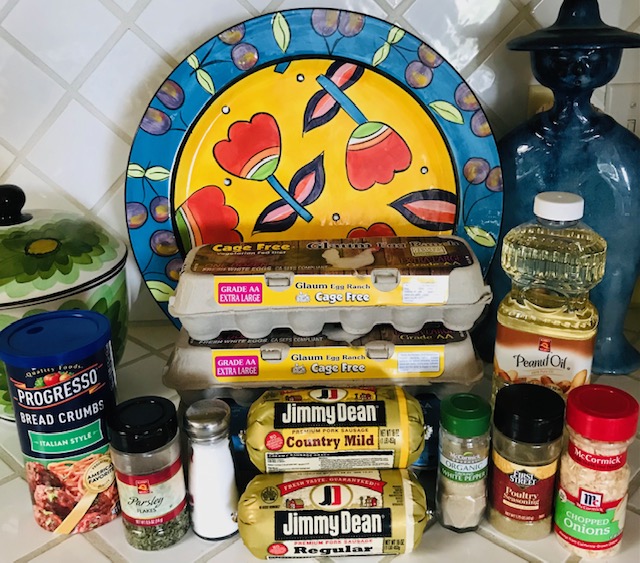 Scotch Eggs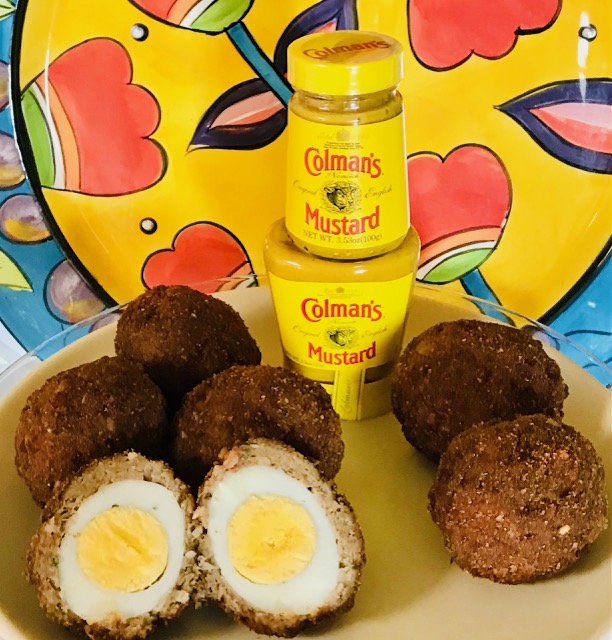 Oeuf en Surprise Ingredients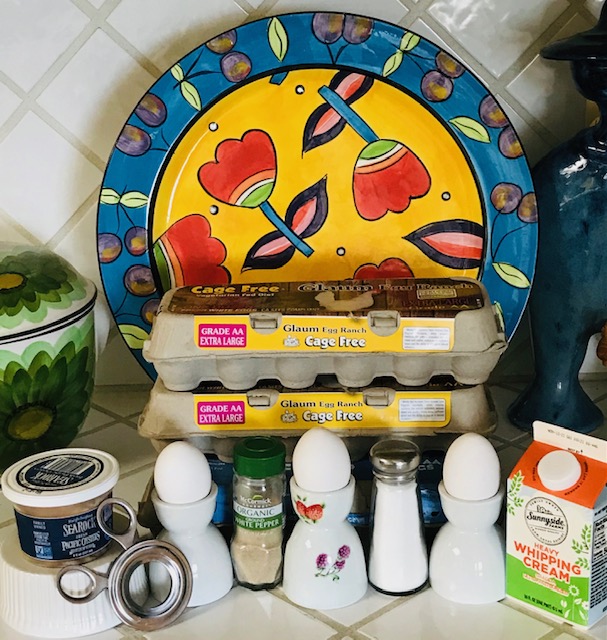 Oeuf en Surprise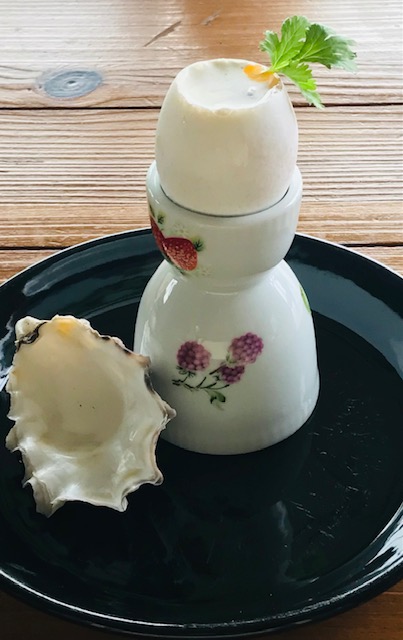 Ingredients - Baked Alaska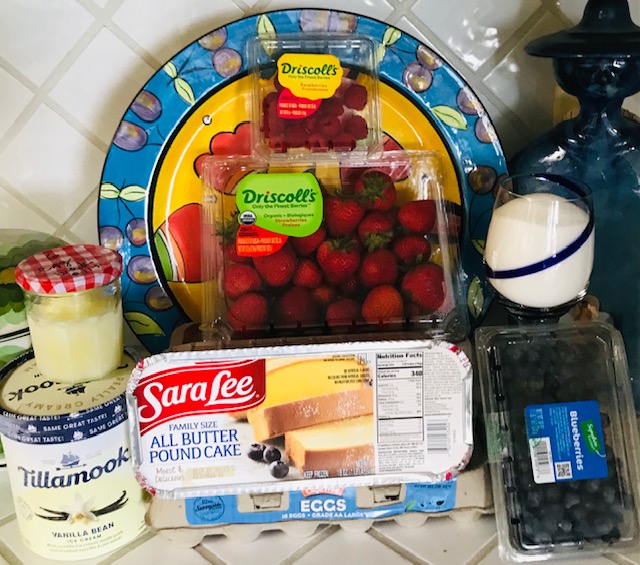 Baked Alaska