Mary Chamberlin Soup Class 07/02/20 - Corn Chowder and Manhattan Clam Chowder
Thanks so much for signing up for the Free Phone-In Weekly Soup Preparation Lessons with Chef Mary Chamberlin on Thursday, July 2nd from 2 pm – 3 pm. Due to the increased usage of the conference call service and some possible interruptions, the Free Conference Call staff suggest we start the call at 2:05 pm so please call in at that time. Please call back if there are any service interruptions or email me at [email protected] as I will be monitoring emails.
PLEASE BE SURE TO MUTE YOUR PHONE DURING THE CLASS AS BACKGROUND NOISES ARE VERY DISTRACTING. THANKS FOR YOUR HELP!
ALSO, PERHAPS KEEP A PEN AND PAD NEARBY SO YOU CAN WRITE DOWN YOUR QUESTIONS WHILE MARY IS TALKING AND THEN ASK THEM WHEN SHE OPENS UP THE Q & A SECTION.
To keep things simple this time, we will be using a free conference call service and you would dial in as indicated below:
Dial-In Number 712-451-0812 and Access Number 756-586#
Dial-in Number: (712) 451-0812

And then they will request the Access Number below.
I have posted this week's soup recipes and some photos below so please read the whole page to the bottom.
If the photos are too large, just right click on the picture with your mouse and then save image on your desktop.
To copy a recipe, take your cursor and drag your mouse down the page and right click, select Copy and then go to a new Word document and click paste. Then rename it and save it on your desktop for easy access.
Please plan some questions for the Q & A section about food preparation, sourcing and safety during this COVID-19 situation. We love the wonderful interaction on the call and appreciate your joining us!
Please feel free to share the meeting graphic below at the bottom of the page with any friends or family! Just right click with your mouse and Save As a new document on your Desktop for future easy acess too. Thank you!
Many of us are enjoying an electric can opener and the one people like is the Hamilton Beach Smooth Touch model (see photo below).
Should you wish to purchase a copy of Mary's fabulous cookbook, The Traveling Soup Pot, she is offering $5 off of the normal $35 cost to participants who call into our weekly classes and please call her directly at 831-624-0830 to order. We look forward to speaking with you! Thanks for participating!
Many of you have asked for the Olive Oil source that Mary Chamberlin had mentioned:
Verni's California Gold Olive Oil
Fresno, Ca.
Order # for shipment 559-299-9189
Located off Auberry Road
1 Mile North of Copper in Clovis
Verni Farms
11990 N. Auberry Road
Clovis, Ca. 93611
818-402-8267 Sue
Take care and stay healthy!
Best regards,
Wendy Brickman and Mary Chamberlin
Contact information: Wendy Brickman
[email protected] (831) 594-1500
Mary Chamberlin [email protected]
(831) 624-0830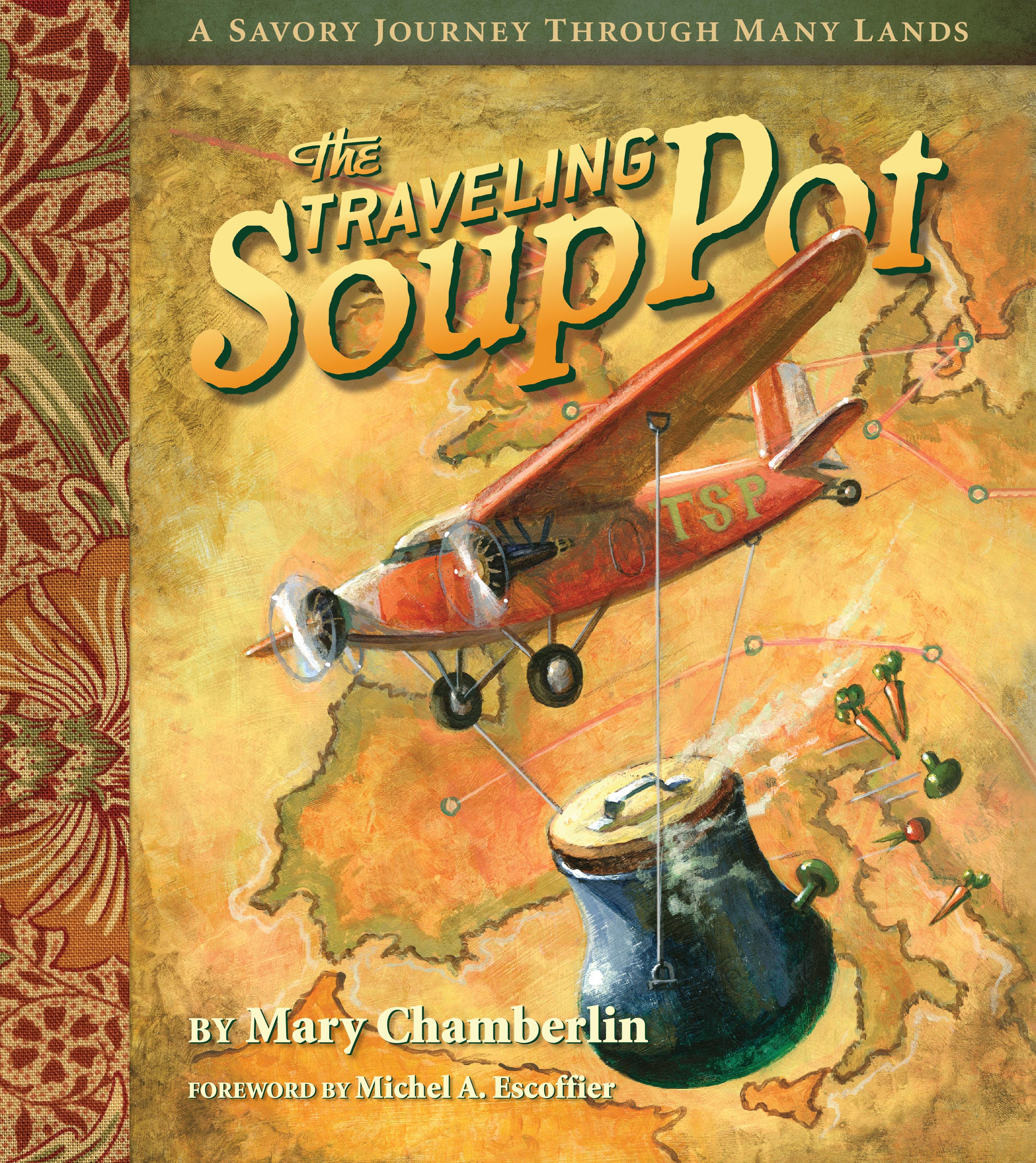 Corn Chowder with Mashed Potatoes
(My formative years began on a farm in Illinois where my father farmed 300 acres and grew corn & soybeans along with livestock. As a child I can remember the sweet corn tasting like candy and the milk from the corn running down your chin when you bit into an ear. We had five acres in truck garden and my mother canned everything for the winter months and placed the quart jars in the cellar on a 4-foot wide ledge that ran the length of the cellar on both sides. I could fill a page with all the things she canned. I was 12 years old before I ever tasted a canned good (referred to as "store bought goods"). I still visit my cousin Charles in Iroquois County just to have some of his succulent sweet corn. This recipe is made rather unique by adding the mashed potatoes to the center of the soup bowl as the richly flavored potatoes add their own special flavor to the soup. The potato addition also helps to make a hearty meal with this chowder.)
Ingredients:
1 can of Cream Style Corn
1 can of whole kernel corn (Or 1 box of frozen corn) ( Or 3 ears of fresh corn)
1 cup of diced onion
1 cup diced celery
3-diced potatoes
2 oz. flour
2 oz. butter
5 cups of chicken broth (Vegetable Broth may be substituted)
1- 1/2 cups of milk
1/2 cup of heavy cream
2 bay leaves
1 tsp. herbs de Provence
3 slices of chopped bacon (optional)*
1 bell red or green pepper diced (optional)*
Preparation:
Sauté in butter the onion and celery till transparent.
Dust with flour and cook for a few minutes, add chicken broth, cream corn, potatoes, and bay leaves and simmer until potatoes are done.
Add whole kernel corn (drained), milk and cream. Bring to boil and season with salt and pepper. Be sure to remove the bay leaves. Diced ham (optional) can be added with the corn and milk.
*If you add bell pepper or bacon this should be cooked with the onion and celery. Sauté the onion and celery in butter, until transparent. Serves 8.
For The Mashed Potatoes: (May be prepared in advance)**
4 boiled potatoes
½ cup of milk
1/8 lb. of butter
**4 oz. Philadelphia cream cheese
Salt & white pepper to taste
Boil potatoes in salted water until tender. Drain off the liquid. Let potatoes cool slightly and add to mixing bowl. Add the butter, cream cheese, and milk and beat on low speed with beater. Adjust seasonings with salt & white pepper.
**By adding the cream cheese to the mashed potatoes they can be prepared a day in advance with the potatoes remaining soft and creamy when heated in the microwave.
To Serve:
Place a dollop of mashed potatoes in the center of a flat soup bowl, pour the corn chowder around it and garnish with whole or chopped chives.
Manhattan Clam Chowder
(My husband was an aficionado of red chowder. His Mother made this soup every Friday evening for dinner, but she took the time to grind the clams in an old meat grinder that she would bolt to the table. Unfortunately, his sister decided to show her friends how the grinder worked and proceeded to run a bar of Fels-Naptha soap through it. The demonstration would have been fine if she had washed it afterwards…the soup served on the next Friday night had to be dumped in the garbage. I would never compete with his Mother's soup, so this is a quick version as to how his Mother's tasted!)
Ingredients
3 slices of bacon, diced
3 tbsps. Butter
1 large onion, diced
1 bell pepper, diced
4 stalks of celery, diced
2 fresh tomatoes, peeled, seeded, and chopped
3 tbsps. Flour
1 quart of fish stock or clam juice
3- 8 oz cans of chopped or minced clams (reserve liquid)
1 can stewed tomatoes
2 or 3 large potatoes, peeled and diced
Bay leaf
1/4-cup catsup
Salt & white pepper to taste
Preparation:
In a large sauce pan add bacon and sauté with butter, chopped onion, celery, and bell pepper for 5 minutes. Then add fresh chopped tomatoes and cook for another 5 minutes. Set aside and let rest a minute and then stir in the flour. Return to the heat and adding the clams, stewed tomatoes, catsup, diced potatoes, bay leaf and additional clam juice. Simmer the mixture until the potatoes are tender. Add salt & pepper, adjust seasonings and serve.
Delicious with hot biscuits.
Corn Chowder with Mashed Potatoes - Ingredients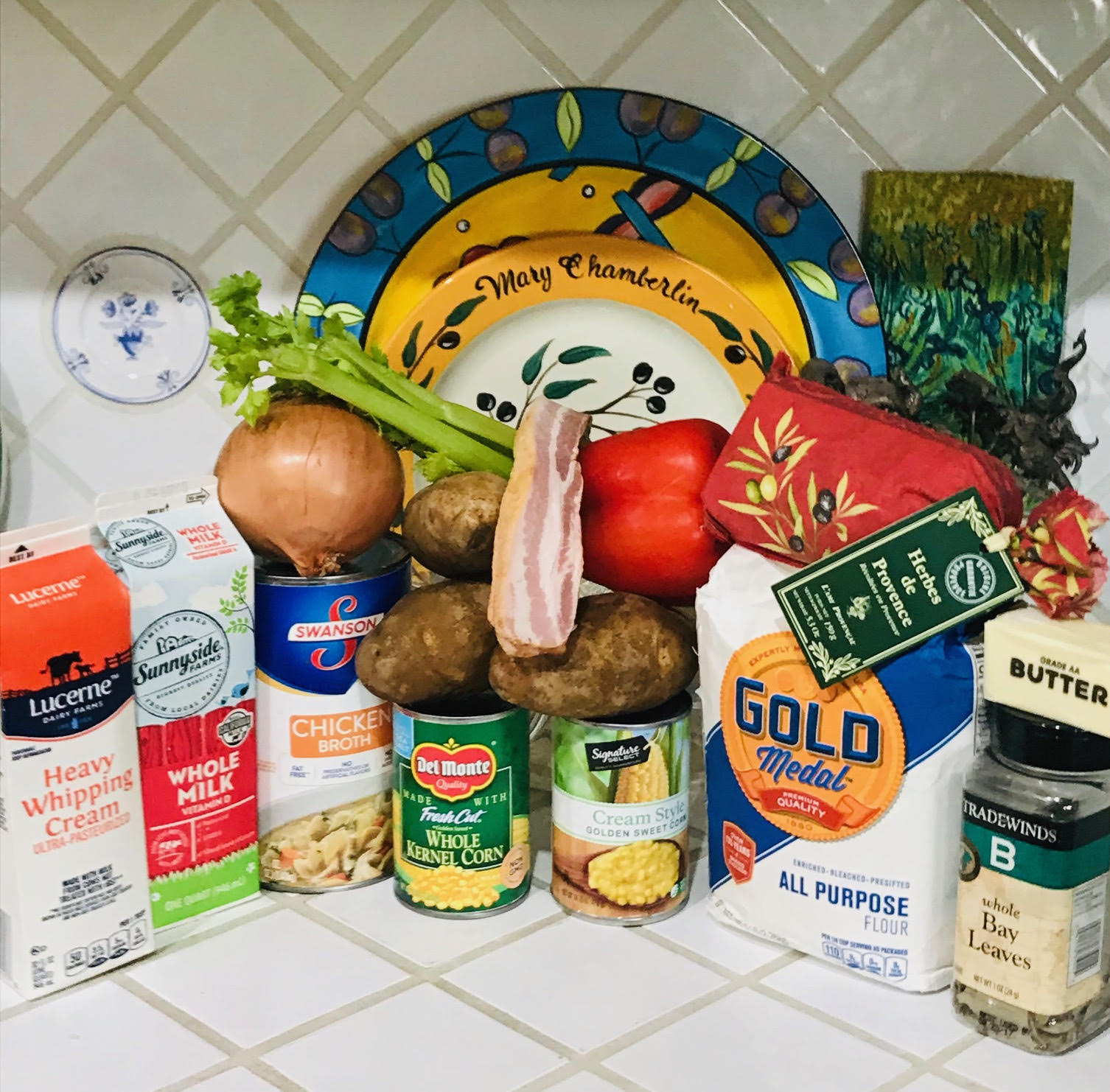 Corn Chowder with Mashed Potatoes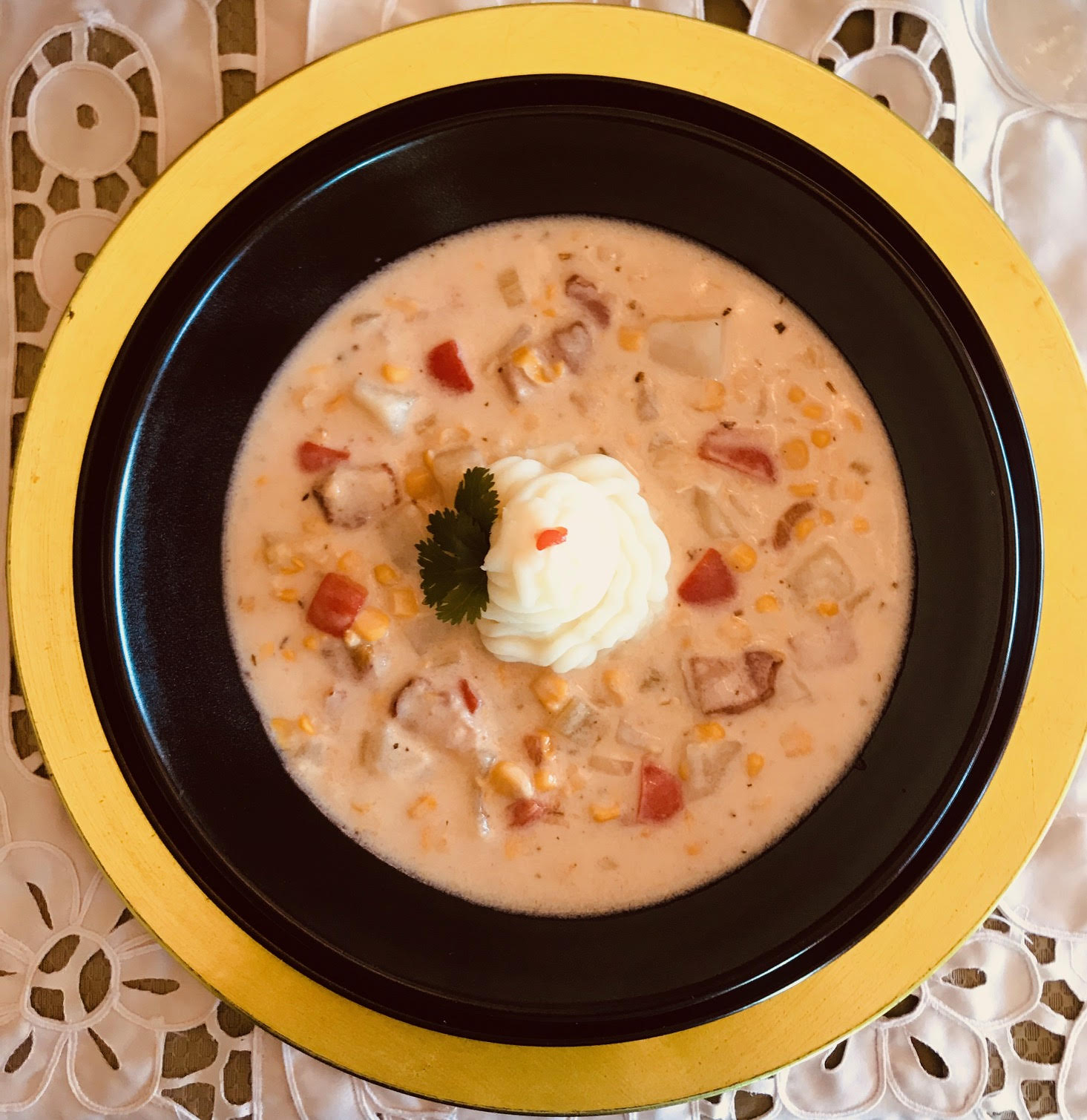 Manhattan Clam Chowder Ingredients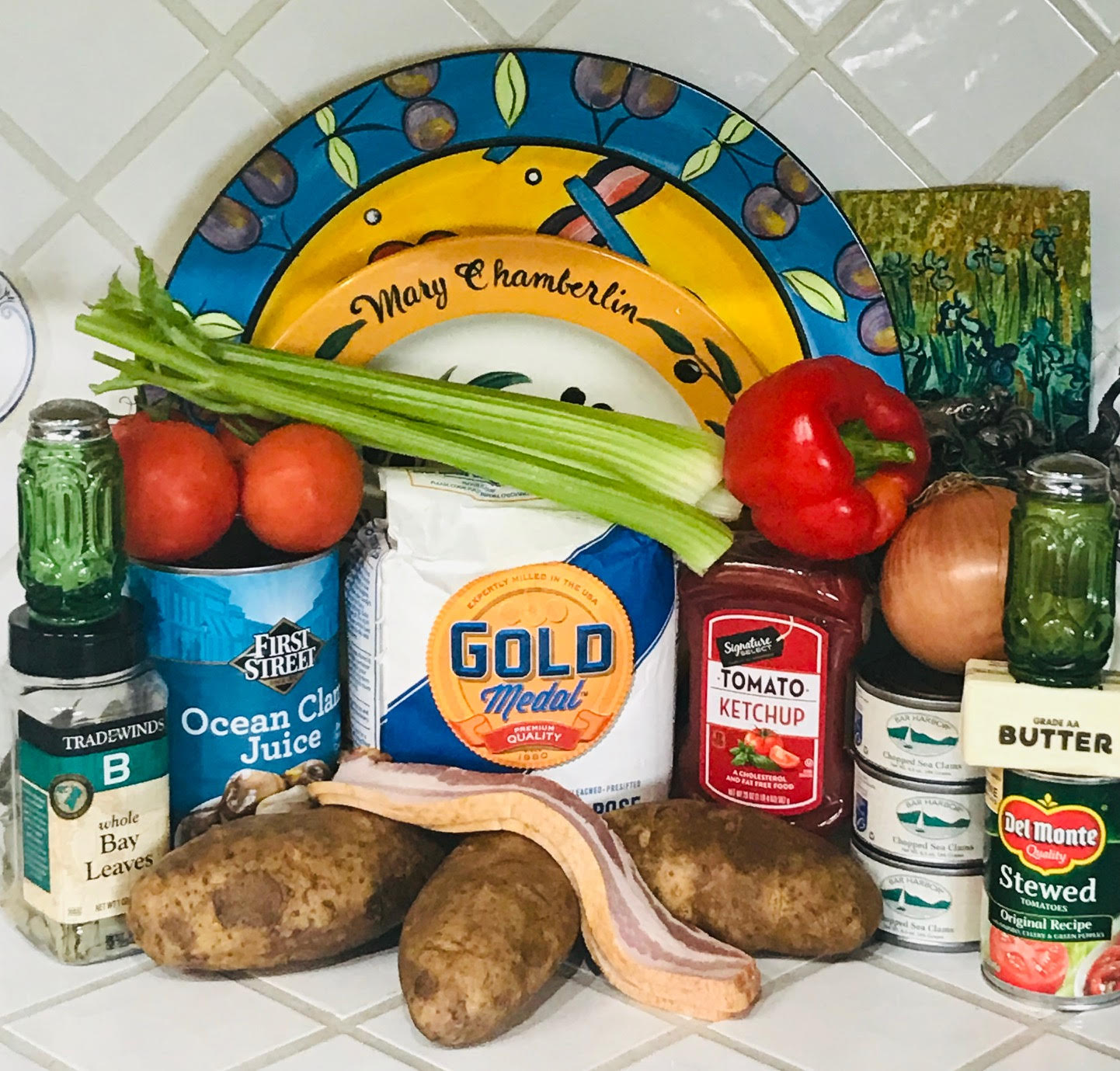 Manhattan Clam Chowder

Our Favorite Can Opener!!!

Mary Chamberlin's Beautiful Kitchen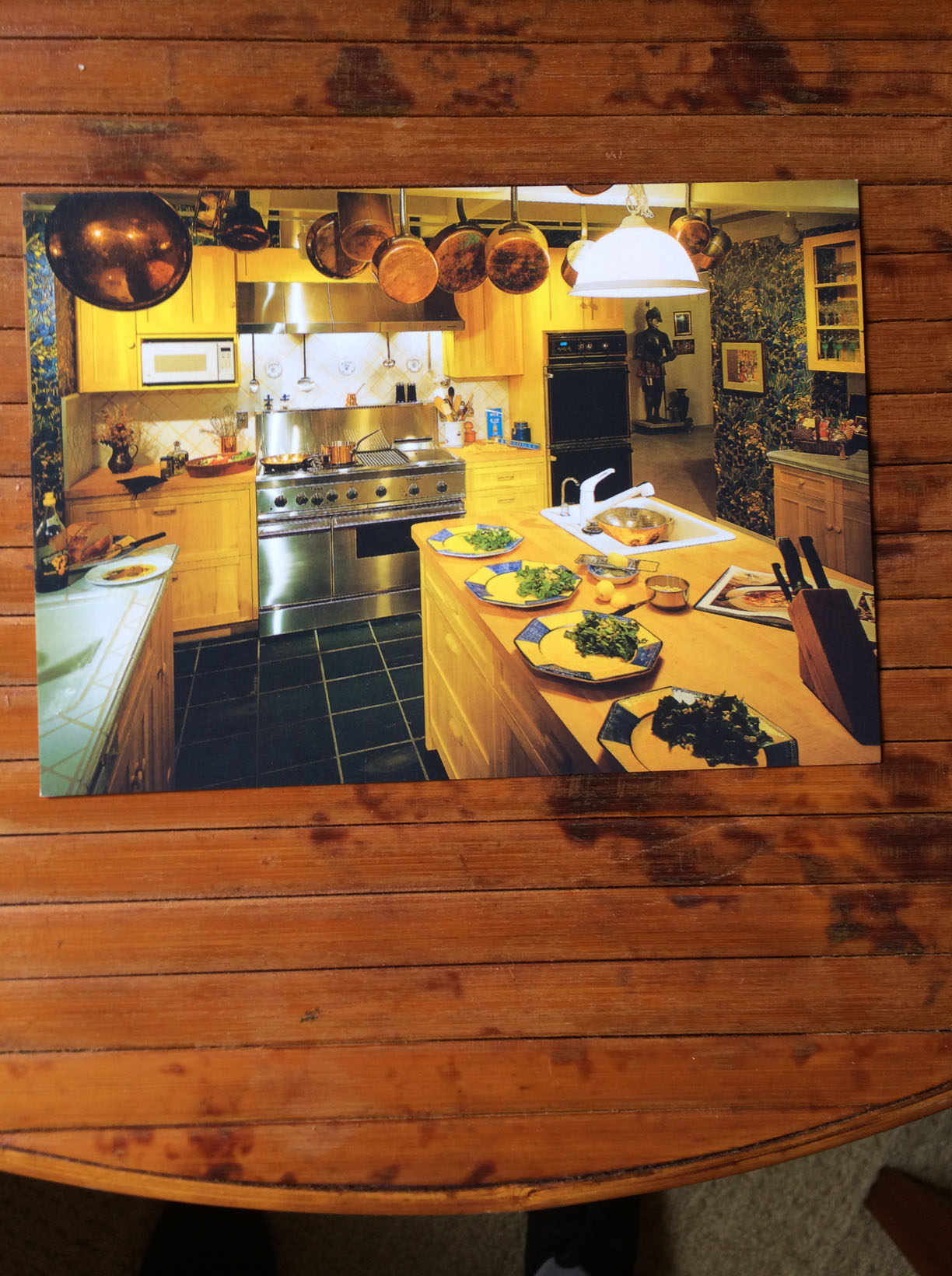 Mary Chamberlin, Soup Diva/Chef/Author and Very Patient Soup Class Teacher!