Mary Chamberlin Soup Preparation Class - 05-28-20 Carrot Ginger Soup and Hot Tamale Soup
Thanks so much for signing up for the Free Phone-In Weekly Soup Preparation Lessons with Chef Mary Chamberlin on Thursday, May 28th at 2 pm – 3 pm. Due to the increased usage of the conference call service and some possible interruptions, the Free Conference Call staff suggest we start the call at 2:05 pm so please call in at that time. Please call back if there are any service interruptions or email me at [email protected] as I will be monitoring emails.
PLEASE BE SURE TO MUTE YOUR PHONE DURING THE CLASS AS BACKGROUND NOISES ARE VERY DISTRACTING. THANKS FOR YOUR HELP!
ALSO, PERHAPS KEEP A PEN AND PAD NEARBY SO YOU CAN WRITE DOWN YOUR QUESTIONS WHILE MARY IS TALKING AND THEN ASK THEM WHEN SHE OPENS UP THE Q & A SECTION.
To keep things simple this time, we will be using a free conference call service and you would dial in as indicated below:
Dial-In Number 712-451-0812 and Access Number 756-586#
Dial-in Number: (712) 451-0812

And then they will request the Access Number below.
I have posted this week's soup recipes and some photos below so please read the whole page to the bottom.
If the photos are too large, just right click on the picture with your mouse and then save image on your desktop.
To copy a recipe, take your cursor and drag your mouse down the page and right click, select Copy and then go to a new Word document and click paste. Then rename it and save it on your desktop for easy access.
Please plan some questions for the Q & A section about food preparation, sourcing and safety during this COVID-19 situation. We love the wonderful interaction on the call and appreciate your joining us!
Please feel free to share the meeting graphic below at the bottom of the page with any friends or family! Just right click with your mouse and Save As a new document on your Desktop for future easy acess too. Thank you!
Many of us are enjoying an electric can opener and the one people like is the Hamilton Beach Smooth Touch model (see photo below).
Also, here is a link to my Brickman Banter Newsletter you may want to read that is meant to be scanned: http://campaign.r20.constantcontact.com/render?preview=true&m=1102276891248&ca=22c2aa52-2e1b-4891-bebf-53900849a06e&id=preview
Should you wish to purchase a copy of Mary's fabulous cookbook, The Traveling Soup Pot, she is offering $5 off of the normal $35 cost to participants who call into our weekly classes and please call her directly at 831-624-0830 to order. We look forward to speaking with you! Thanks for participating!
Many of you have asked for the Olive Oil source that Mary Chamberlin had mentioned:
Verni's California Gold Olive Oil
Fresno, Ca.
Order # for shipment 559-299-9189
Located off Auberry Road
1 Mile North of Copper in Clovis
Verni Farms
11990 N. Auberry Road
Clovis, Ca. 93611
818-402-8267 Sue
Take care and stay healthy!
Best regards,
Wendy Brickman and Mary Chamberlin
Contact information: Wendy Brickman
[email protected] (831) 594-1500
Mary Chamberlin [email protected]
(831) 624-0830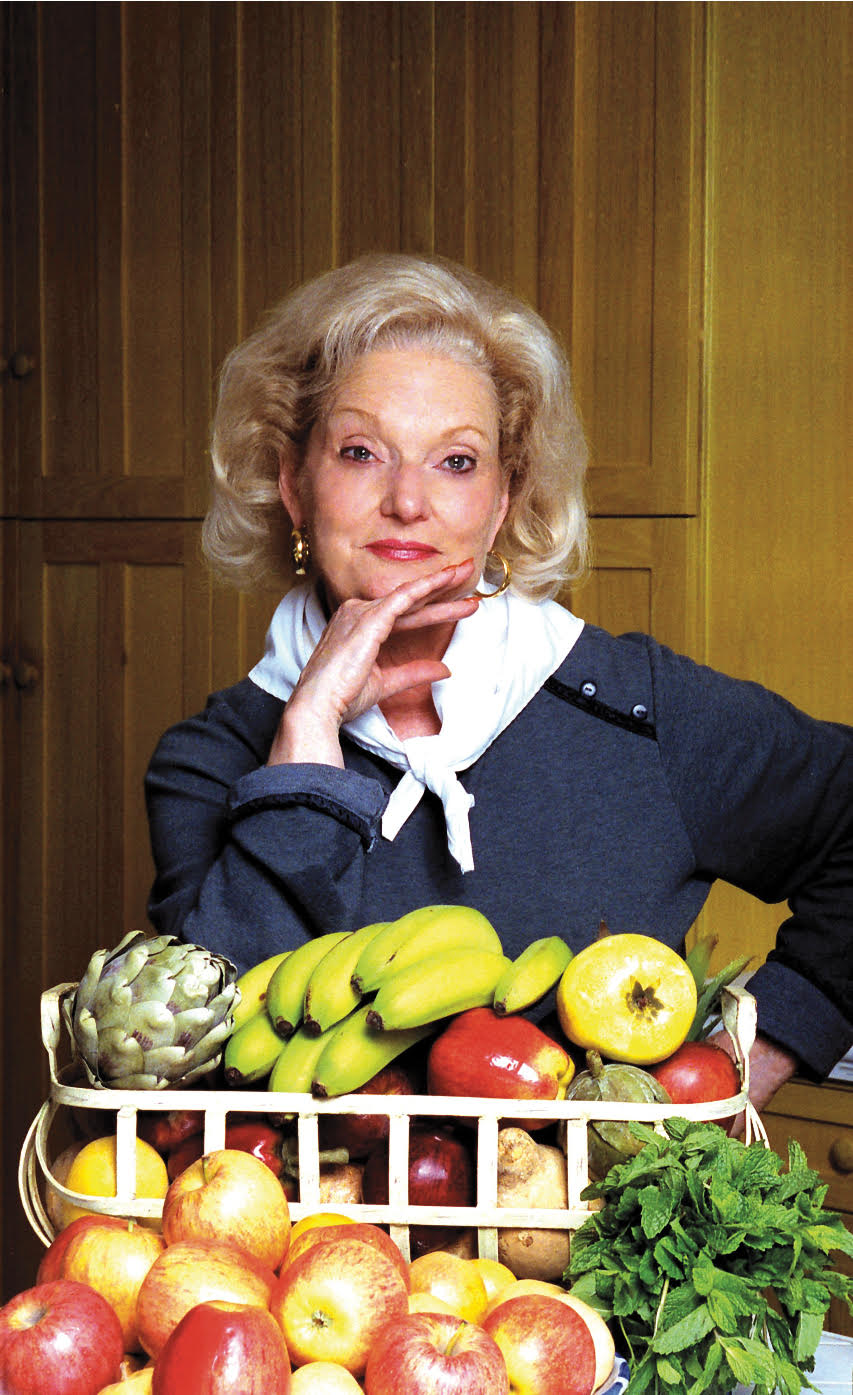 Learn more about our wonderful Mary Chamberlin...
Enjoy this fun interview Mary Chamberlin did in 2010 at the Wave Street Studios:
And a more recent interview in January, 2020 at Access Monterey Peninsula:
https://videoplayer.telvue.com/player/m_3HX6961GRMsvkqSCdwmGeJ8rwpRZrR/media/541311?fullscreen=false&showtabssearch=true&autostart=false
CARROT GINGER BISQUE
(Keats, a very small restaurant in London, was one of our favorite haunts during our many trips to London when my husband, Roy, was flying 747's International. The restaurant looked like a library with small private areas separated by bookcases filled with quaint little books. It was a delightfully cozy place to dine and this soup was one of my favorites. The food was superb! The owner said it was a French recipe!)
Ingredients:
1/4 cup plus 2 tbsps. of unsalted butter
2 lbs. carrots, peeled, and thinly sliced (about 10 large carrots)
2 lg. onions chopped
1 tsp.of salt
3 tbsps. of minced, peeled fresh ginger
2 tsps. grated orange peel or zest of orange
1/2 tsp. ground coriander
1 tbsp. of oriental curry powder
1/4 tsp. cayenne
8 cups of chicken broth
1 cup of half & half
1/2 cup of minced fresh parsley
White pepper to taste
Preparation:
Melt butter in heavy large saucepan over medium heat. Add carrots and onions and the salt. Cover saucepan and cook until vegetables begin to soften, stirring occasionally, for about 15 minutes. Mix in ginger, orange peel, curry, cayenne and coriander. Add 2 cups of broth. Reduce heat to medium, cover pan, and simmer until carrots are tender, for about 30 minutes. Puree soup in blender, return to the saucepan, add the 6 remaining cups of broth and the 1 cup of half & half to soup. Season with salt & pepper. Ladle into bowls and serve with chopped parsley and freshly ground pepper on top.
Garnish: I also like a little garlic croustade on top with a dollop of sour cream or yogurt.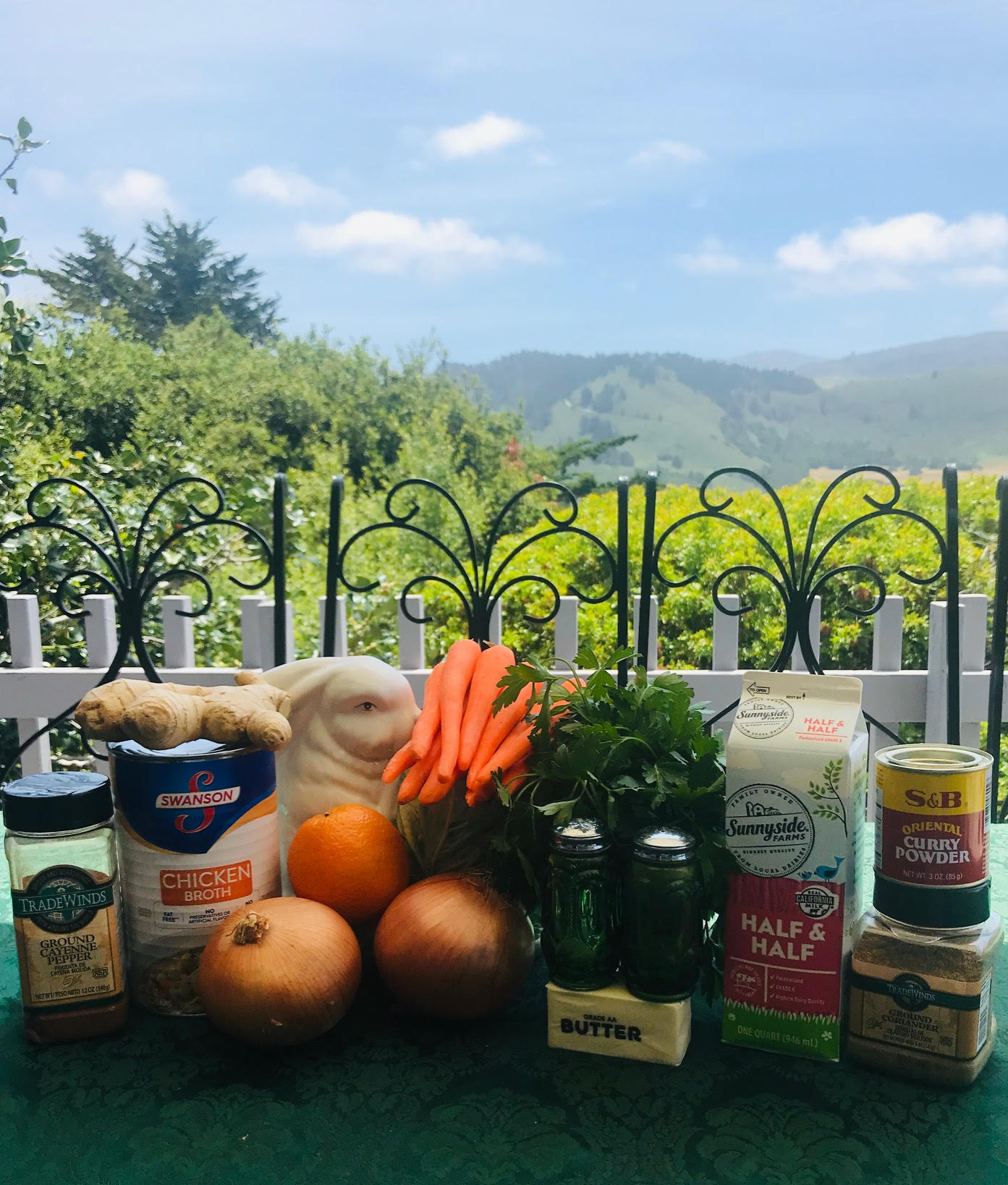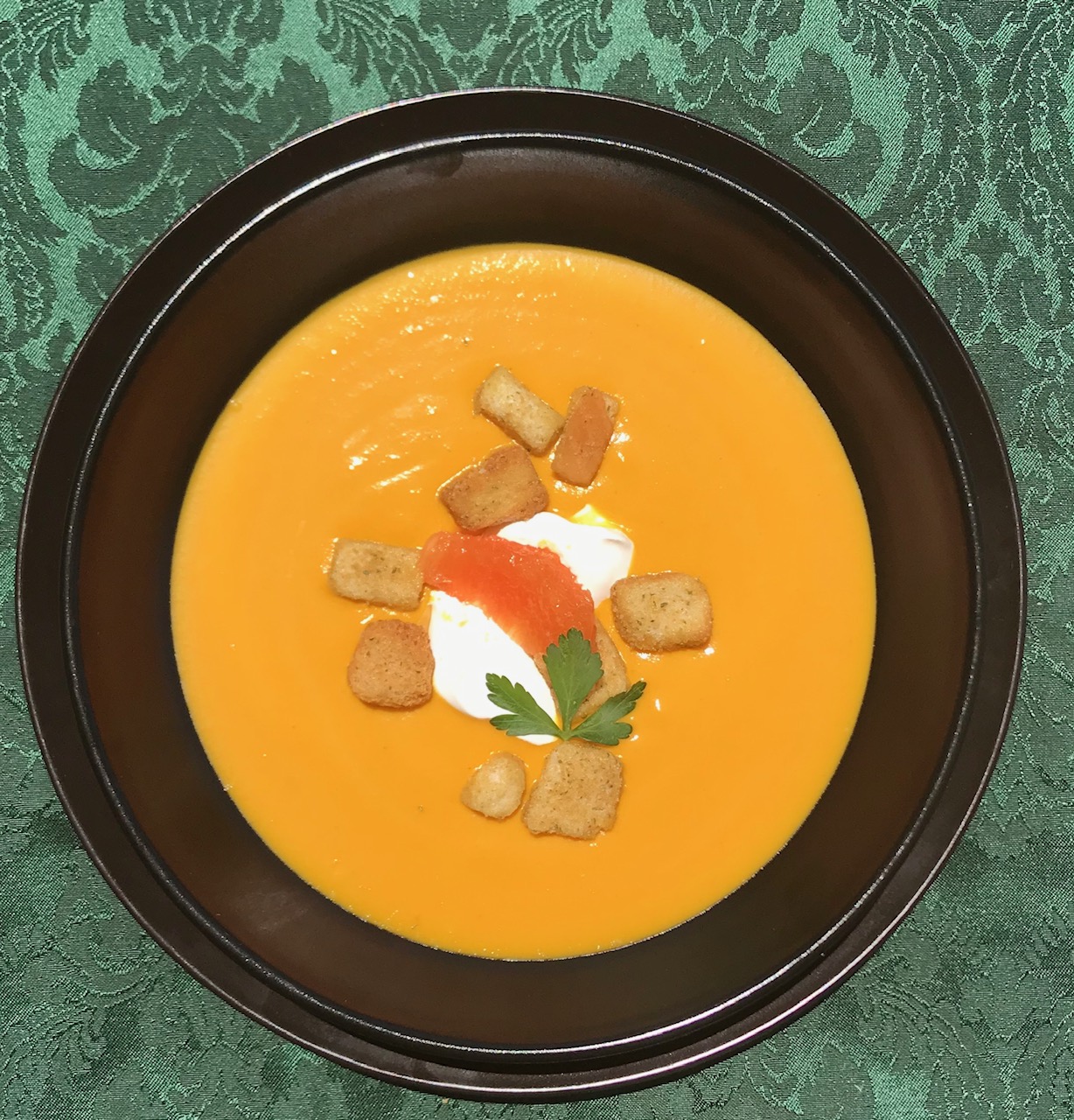 Hot Tamale Soup
(Yanette Fichou Edwards a member of Les Dames d' Escoffier and a cooking teacher in the Bay Area for the Palo Alto Adult School introduced this marvelous soup in her book….it is easy, delicious and unique.)
Ingredients:
2 tbsps. olive oil
1 lb. Lean Ground Beef or Ground Round
1 onion chopped
2 cloves of garlic, minced
1 tbsp. Chili powder
2 tsps. Cumin
½ tsp. Cayenne
1 49 oz. can of chicken stock (6 cups)
1 -16oz. can of stewed tomatoes, chopped with juices
6 prepared tamales – 6 oz. each
1 - 15 oz. can of pinto beans rinsed and drained
1 cup of frozen corn or 1 canned corn (Drained)
Topping Suggestions:
Cheddar cheese shredded
Sour cream
Chopped cilantro
Fritos or tortilla chips
Heat olive oil in heavy sauce pan over medium heat and add first three ingredients and cook until onions are soft and beef is browned, breaking up with a fork. Be sure to lightly salt ingredients as you are frying the mixture. Cook about 4 minutes and add chili, cumin, and cayenne about 2 to 3 minutes. Now add broth and tomatoes and simmer 30 minutes. Stir in beans and corn and heat the mixture. Adjust seasoning with salt and pepper.
Steam tamales according to package instructions and place into soup plate style bowl. Ladle soup into bowls and top with your choice of toppings.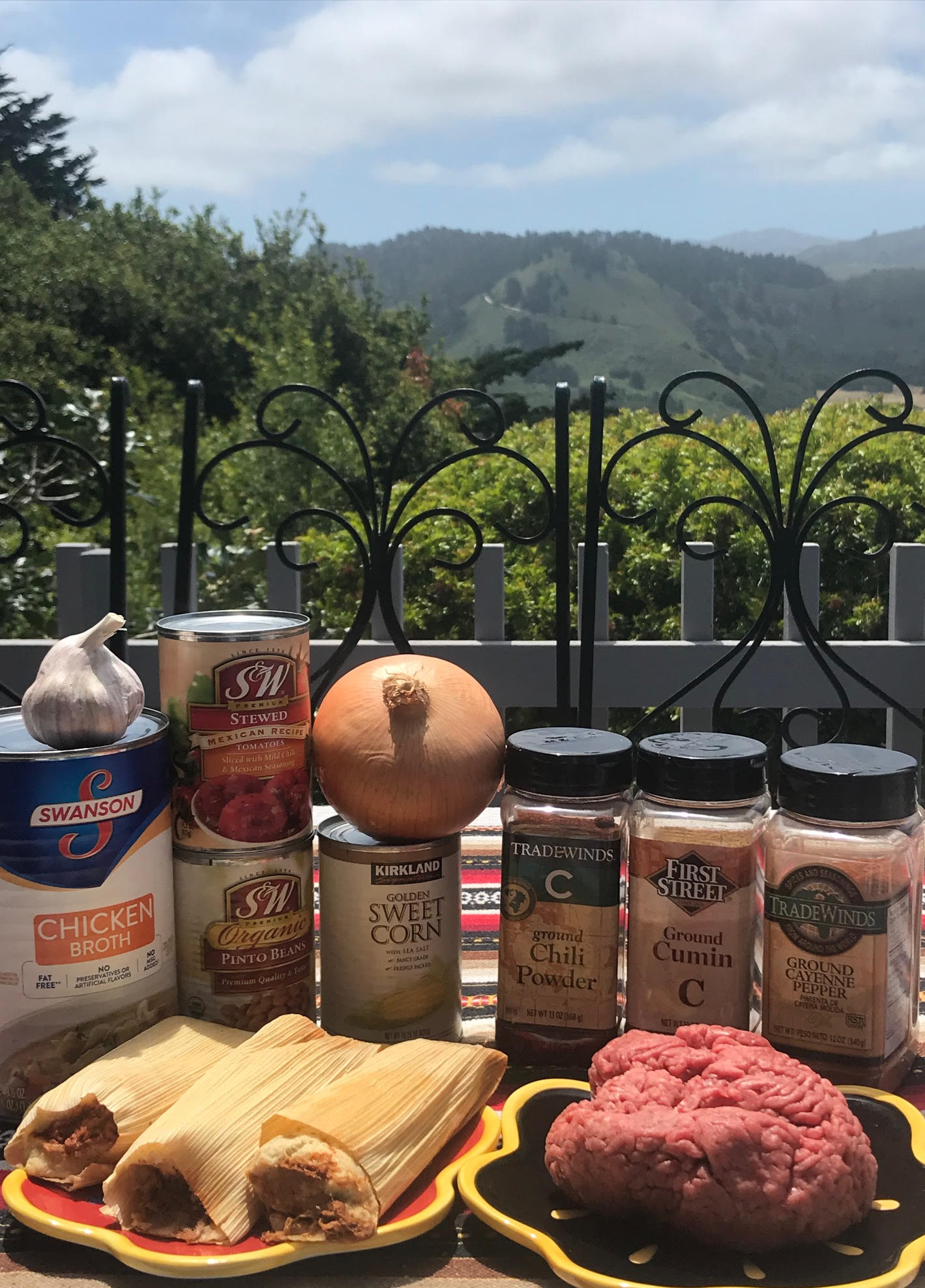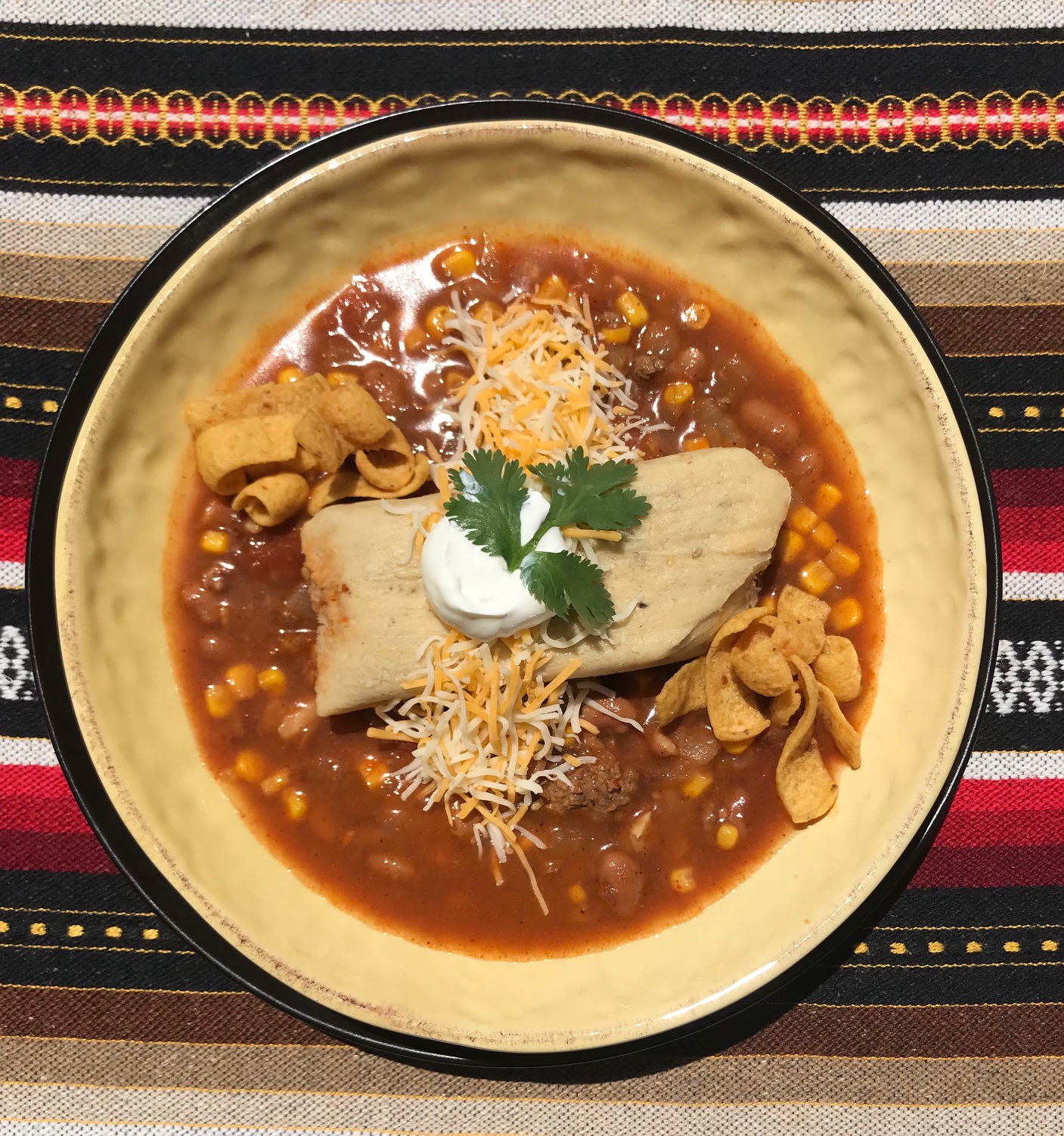 Thanks for sharing these fun antique postcards, Margie Anderson!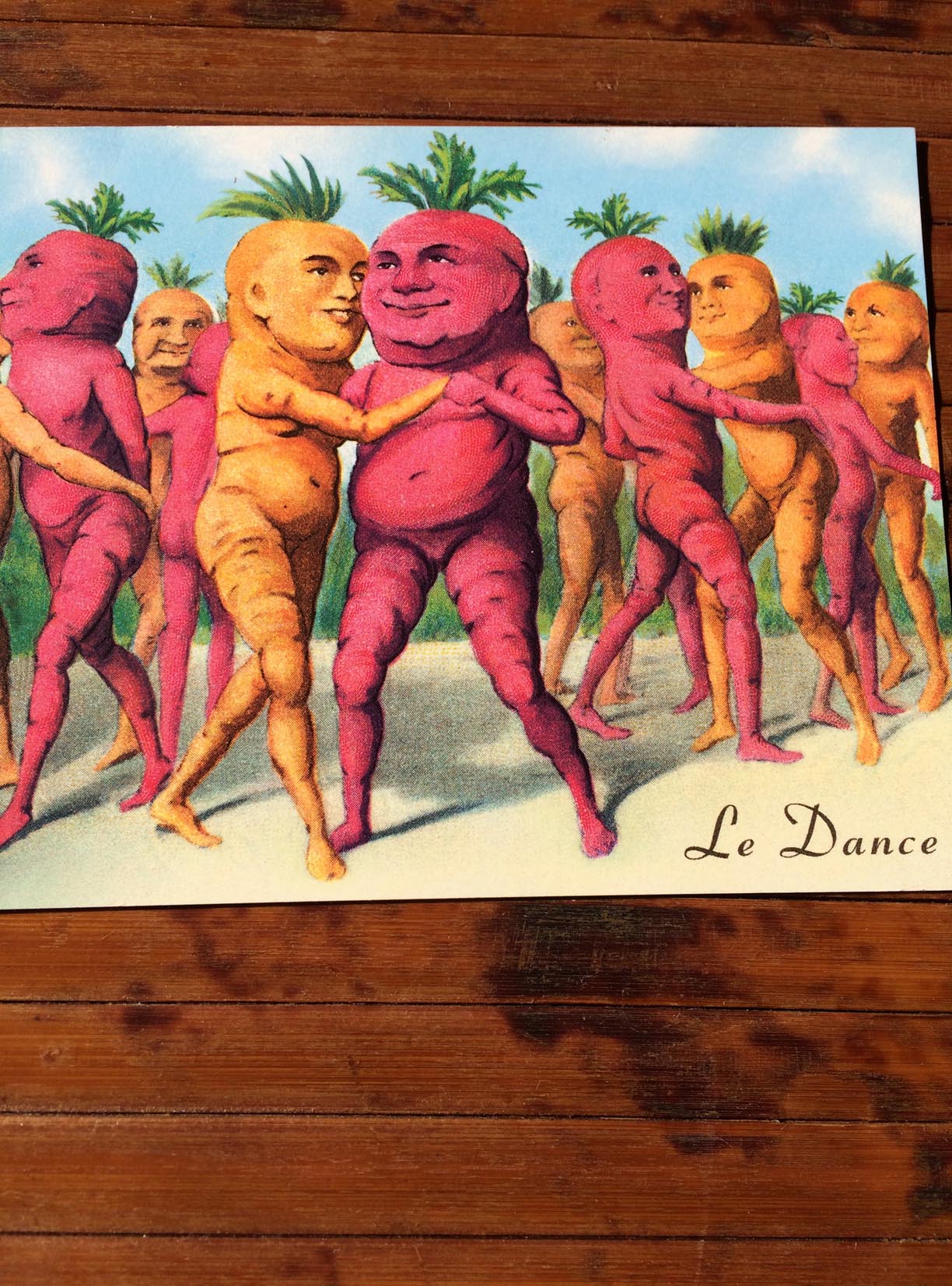 Thank you for joining us for a fun Whalefest Monterey Musical Fundraiser on Thursday, May 28th from 7 pm - 8 pm.

Thanks everyone for sharing the class with other people you may know who will enjoy it!
Whiz Lindsey of Sotheby's International Realty kindly included it in her newsletter: Click Here
Margie Anderson convinced her local newspaper to publish a mention, too!
Our local Peninsula Club also included it - see below!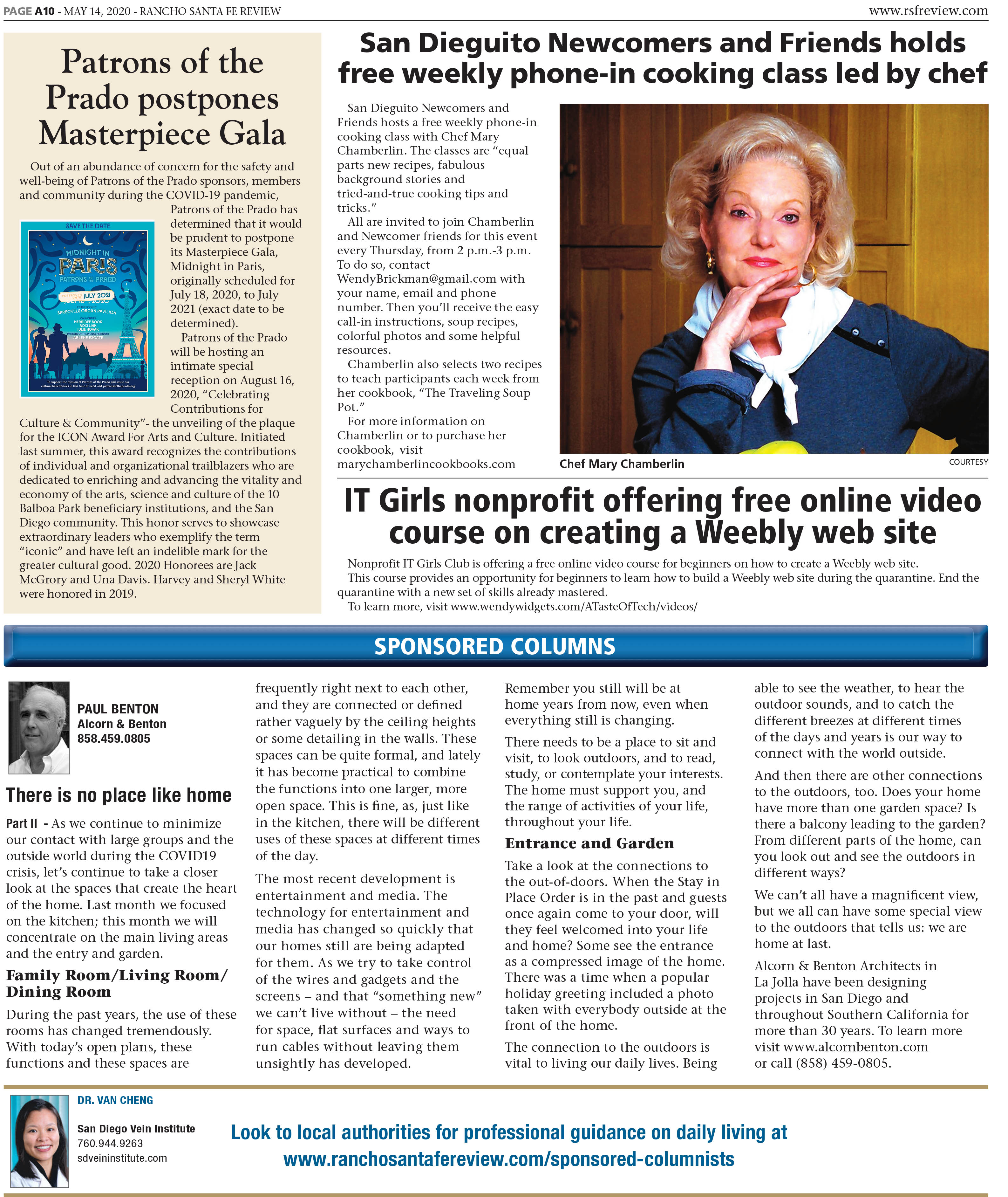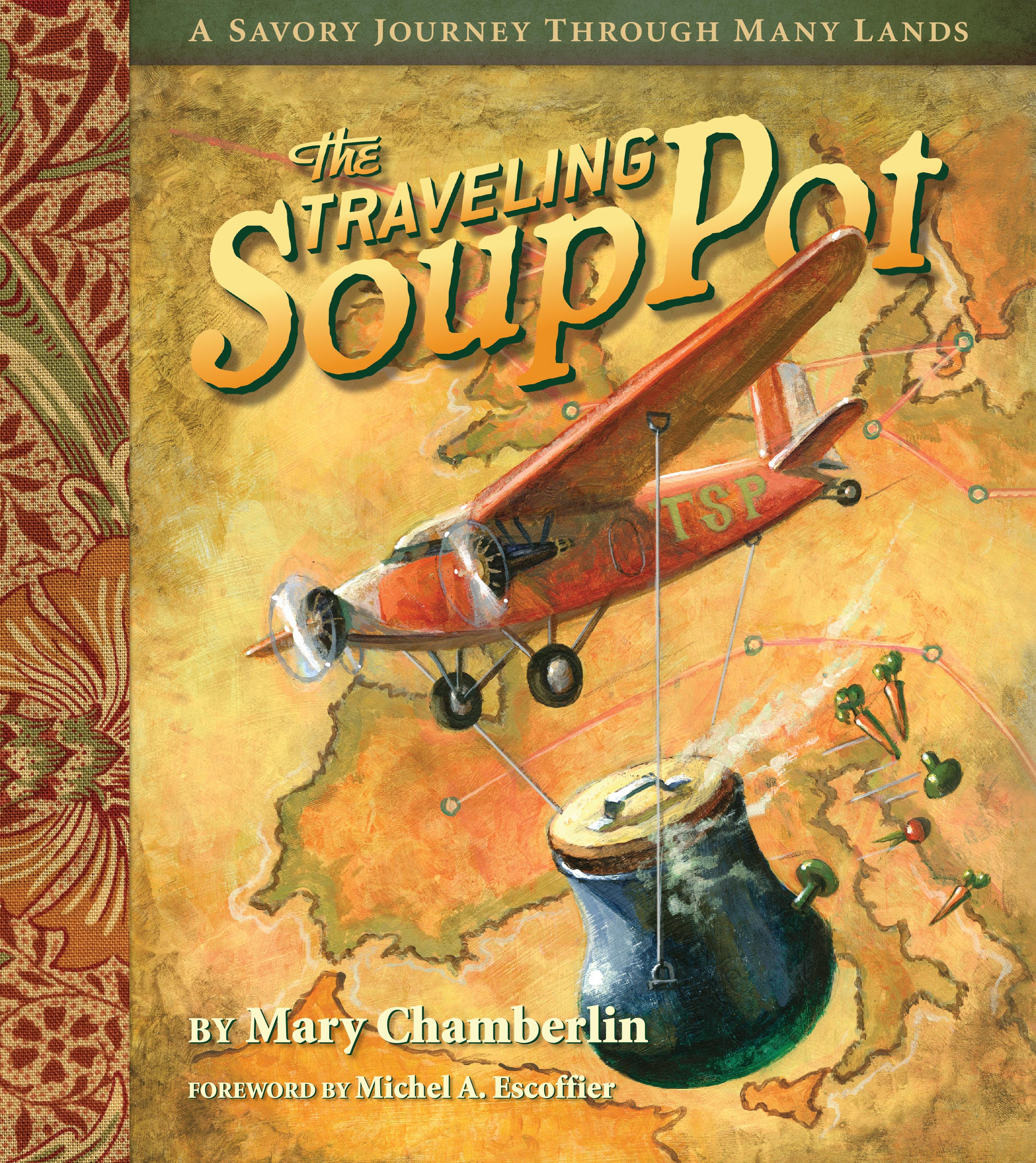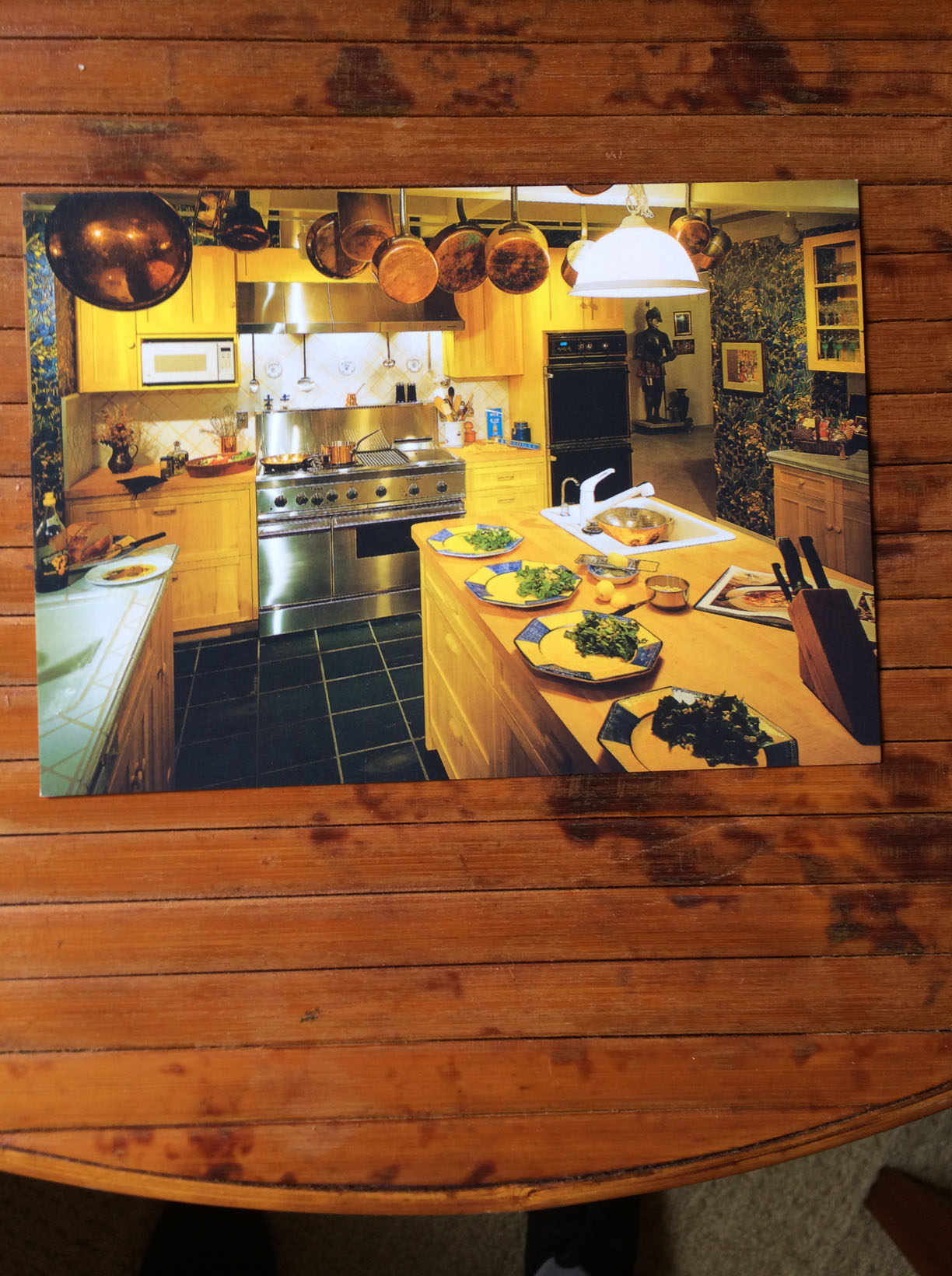 Thanks for sharing! We can email it to you directly upon request!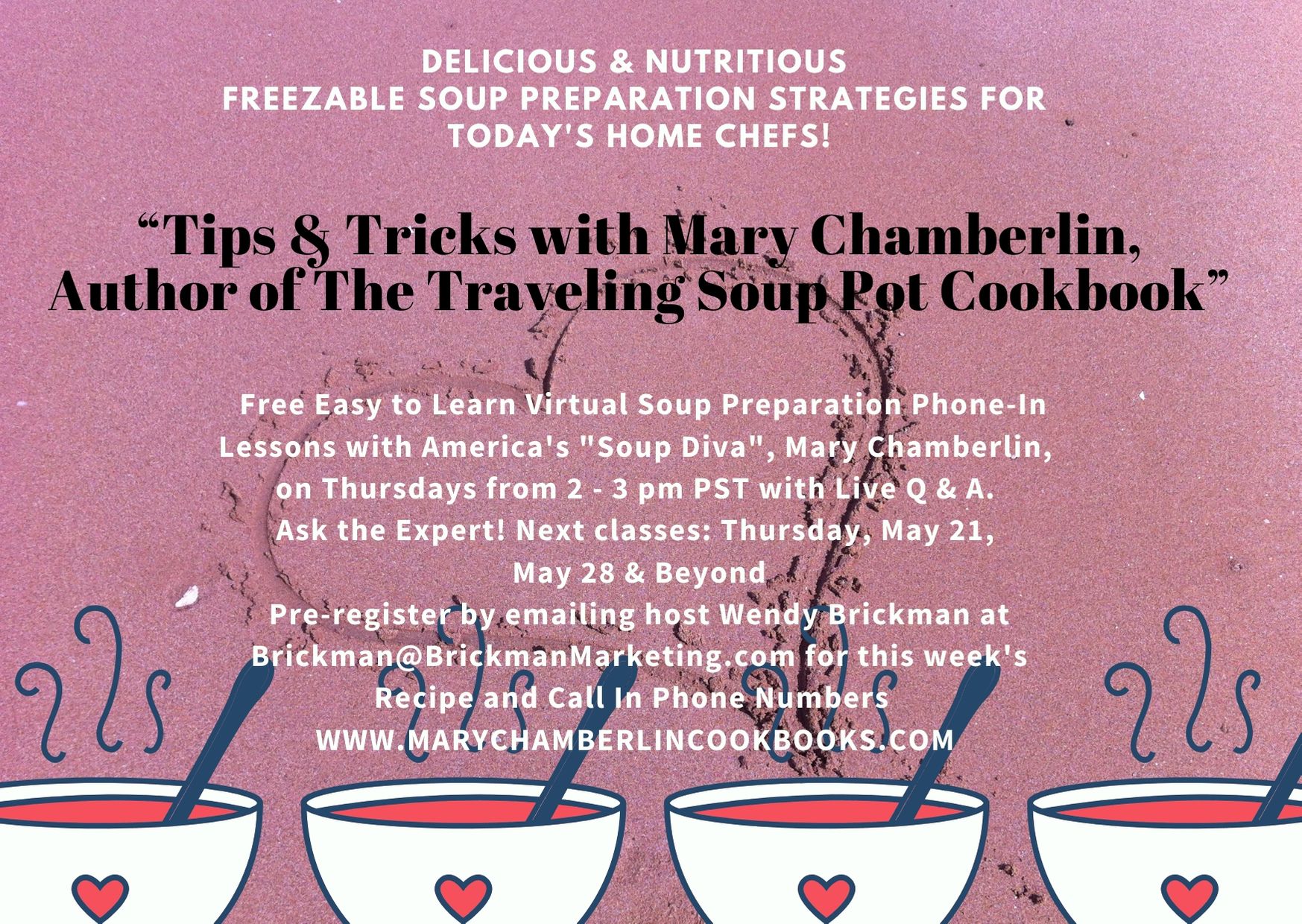 Our very favorite can opener!!!