ONE PERFORMANCE ONLY! A TOAST TO THE RAT PACK COMING TO THE GOLDEN STATE THEATRE ON SUNDAY, OCTOBER 26, 2014 FOLLOWED BY THE RAT PACK DINNER AT CIBO RISTORANTE ITALIANO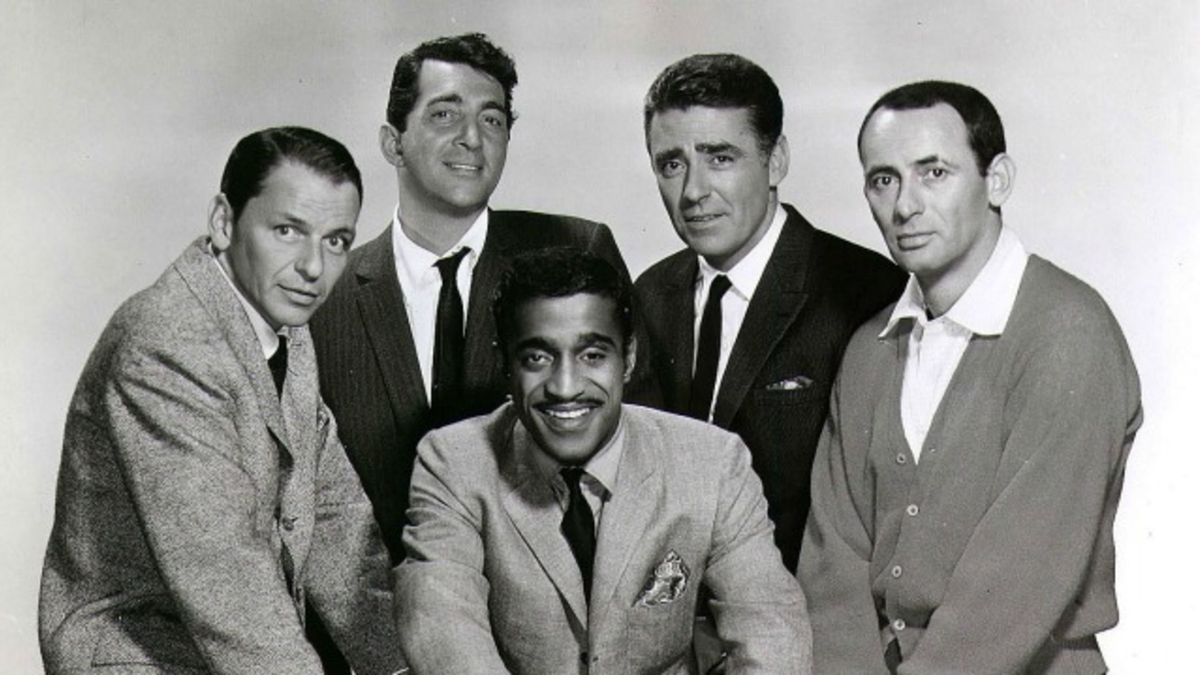 ONE PERFORMANCE ONLY! "A TOAST TO THE RAT PACK" COMING TO THE GOLDEN STATE THEATRE ON SUNDAY, OCTOBER 26, 2014 FOLLOWED BY THE "RAT PACK" DINNER AT CIBO RISTORANTE ITALIANO
October 2014. Monterey, CA. Save the Date and enjoy a great afternoon with the fabulous Rat Pack! Bring the whole family to "A Toast to the Rat Pack" that is coming to the Golden State Theatre!
AT A GLANCE:
WHAT: "A Toast to the Rat Pack"
Enjoy a very special afternoon that will pay homage to the voices and characters and tastes of Frank Sinatra, Sammy Davis, Jr. and Dean Martin…plus Marilyn Monroe. With the talented cast, take a trip back to the glamorous, hot, glitzy nights of Las Vegas. Experience world famous classic recordings, great laughs and more that bring the music and lives of these legendary characters together again!
WHEN: Sunday, October 26th at 2:00 p.m.
WHERE: Golden State Theatre, 417 Alvarado, Downtown Monterey. (831) 649-1070.
TICKETS: Tickets are available now at www.goldenstatetheatre.com, or by calling 831-649-1070 or on the day of the show..Group ticket discounts are available for 10 or more.
RAT PACK DINNER AT CIBO: Following the performance, the fun continues at nearby Cibo Ristorante Italiano! After the performance, walk a half block to Cibo Ristorante Italiano, 301 Alvarado Street in downtown Monterey. Enjoy their Happy Hour until 5:00 p.m. with specially priced drinks and appetizers followed by the "Rat Pack" Italian 3-Course Dinner (5:00 p.m. – 10:00 p.m.). The dinner is just $24.95 (see menu below) with a copy of your Golden State Theatre ticket stub or printout. For more information, or reservations, call (831)649-8151 or visit http://www.cibo.com.
About A Toast to the Rat Pack
Drift back to a tuxedoed, glamorous era where the famous rubbed shoulders with the politicians and partied hard. Frank, Sammy & Dean, all around entertainers injected their songs into a lifestyle that everyone wanted. The lights dim, the room quiets and the announcer says "Ladies and Gentlemen, direct from the bar... Dean Martin!!" Dean opens the show with a few songs and some relaxed humor, introduces Sammy to kick up
the energy, then Frank appears to belt a few great standards. The guys then take the stage together to sing and joke their way to a fun finale, including audience interaction along the way.
"A Toast to the Rat Pack" will take you on a musical journey featuring the greatest hits from the legendary Frank Sinatra, Dean Martin, and Sammy Davis Jr. This production will treat you to Frank's hits including "Come Fly With Me", "Lady is a Tramp", "My Way", and "New York, New York"! Enjoy the soothing sounds of Dean with great songs like "Volare", "Everybody Loves Somebody Sometime", and "That's Amore"! And from the great Sammy Davis Jr... "That Old Black Magic", "Mr. Bojangles" and "Candy Man"! These guys not only sing like their heroes, they physically resemble them on stage, share their unique mannerisms and even talk like they are at the Sands taking part in the "Summit".
About the Performers
Sebastian Anzaldo – Performing ast Frank Sinatra
Originally hailing from Omaha, Nebraska, Sebastian Anzaldo grew up in a musical family (his father was a sax player and later a talent agent, his mother was a singer). He started playing drums and singing at age 11. Sebastian's passion for jazz led him to New York, compliments of The National Endowment For The Arts. The next year, he headed to the opposite coast to make his fame and fortune in L.A., where he played professionally for 14 years. He then relocated to "The Entertainment Capitol Of The World" -- Las Vegas, where he discovered his knack for doing "Frank". With a dedication to perfecting the art of Sinatra, everything was in place and Sebastian began doing one corporate event after another. As word got out that there was a new 'Chairman' in town, he got the call to star in 'The Tribute To The Rat Pack' on the Las Vegas Strip. This in turn led to six years at the Riviera Hotel & Casino headlining with Sharon Owens as Barbra Streisand in the wonderful "Barbra & Frank, The Concert That Never Was...". Sebastian debuted his Sinatra tribute on national TV in the summer of 2007 on the ABC hit show, The Next Best Thing, where he came in 2nd to none other than Elvis! In 2010, he performed at Foxwoods in Connecticut in "Legends In Concert" and is currently performing nightly with the "Barbra & Frank" show at the Westin, Las Vegas. Tours include United States, Canada, Spain, Italy, London, Hong Kong, Vietnam, Australia, Tasmania, New Zealand, Bahamas and many more!
Andy Di Mino – Performing as Dean Martin
Although Andy DiMino's background may be more in music and singing than celebrityimpersonations, DiMino is a natural when it comes to bringing ol' Dino back to life. DiMino has been entertaining audiences for practically his entire life. Growing up in Southern California, his high school rock bands opened Hollywood club shows for groups like The Doors and Iron Butterfly. Playing the ski circuit in Colorado led to an album with RCA as a founding member and songwriter for the band First Fire, and later tour dates as keyboard player/singer with Mary MacGregor ("Torn Between Two Lovers").
However, the road is a tough place to raise a family, and eventually DiMino decided to leave the rock club circuit to stay close to home and raise his son. He started focusing on songwriting, working as a solo guitarist/singer in restaurants and pubs. A first place prize on TV's "Gong Show" planted the seed for variety. Eventually, DiMino wanted to expand his career, so he set out for Las Vegas in 1990 with the hopes of finding something different that would allow him to continue working with talented people while still singing great songs.
Once in Las Vegas, DiMino quickly added acting and improv to his credits, appearing in TV commercials, a "Tonight Show" comedy sketch with Jay Leno and a bit part in a Kenny Rogers TV movie. DiMino also found work as Las Vegas legend Buddy Greco's production manager, working his big band dance/live radio shows at the Flamingo. It was here that DiMino got some of his earliest Vegas singing experiences, when Greco arranged a big band vocal chart for DiMino to sing on stage with his band.
Eventually, DiMino found various other gigs at the local hotels, playing everything from a Medieval musician (guitar) at Excalibur to Caesar himself at Caesar's Palace. He even joined the strolling opera group at the Venetian as the mandolin/guitarist. His vocal contributions? The Italian/American songs of Dean Martin.
As a child, DiMino watched the Dean Martin Variety Hour weekly on TV. He was drawn to Martin's relaxed style of singing, and soon started collecting CDs, videos and books on the Rat Pack member. DiMino collected Martin memorabilia for over five years before he ever put on the tux and held his first fake cigarette, and was even encouraged by his mother to use his physical likeness, ability to sing and even walk like Martin as a career opportunity. DiMino saw other Rat Pack acts working in Las Vegas and decided to give it a try, taking his new "Dino" act on the road, performing as Martin in a long running lounge show at Harrahs, big band/concert shows in Arizona, Lake Tahoe and Boston, and local corporate events. DiMino was a success, and people of all ages would stop to tell him how close his recreation of Martin was. One older lady even stopped DiMino to tell him how much she loved Frank and remembered how all the guys wanted to be Frank, before leaning in close and whispering, "but Frank always wanted to be Dean."
When DiMino isn't on stage in a Las Vegas showroom, he can still be found performing at corporate events. DiMino's also back on the road, traveling to both coasts and in between, for various engagements performing as Dean, and also crooning and swinging the "standards" as himself. With his love for music and comedy of the Rat Pack generation, his close physical resemblance to Dean Martin and an Italian background (DiMino's father and all four grandparents were from Sicily), it looks like Andy DiMino has truly found his calling.
Lambus F. Dean – Performing as Sammy Davis, Jr.
A native of Chicago, IL, Lambus was the 10th child from a family of 8 boys and 3 girls. He discovered his love for singing while in his teenage years, Do-Whopping with seasoned singers in his neighborhood. This led to invitations performing in various nightclubs and churches in the area. Once bitten by the entertainment bug, Lambus maintained his connections to music in and around his work and family responsibilities by joining theater groups and taking the occasional acting and singing parts as opportunities arose.
As a member of the ETA Creative Arts Theater, The Mary Matthews Theater Company and The Free Street Theater, all in Chicago, Lambus landed roles as diverse as Lazarus and other biblical characters to the starring role portraying Sam Cooke in "A Change Gonna Come'. He toured Europe in a musical documentary production of "Project, Life and Times in the Cabrini Green Housing Project", which was showcased in the International Festival of Theaters.
Lambus relocated to Las Vegas in the late 1990's to try his luck at performing full time. His versatility enabled him to work as a solo artist as in groups where he quickly learned choreography and background harmonies as required in addition to carrying many lead vocal positions.
A much sought after performer in Las Vegas, Lambus has answered the call to perform with a Temptations Tribute group, Touch of Silk, (a spin off of the Flamingos "I Only Have Eyes For You") Spectrum, a group voted "Best Lounge act of Las Vegas 2005" and numerous "Rat Pack", tribute ensembles a perfect impersonation of Sammy Davis Jr.
Lambus has performed in casinos big and small on the Las Vegas strip, either as himself or his tribute to Sammy Davis Jr, (which he does with or without the rest of the Rat Pack). In fact he produced and starred in his own show entitled "A Musical Journey on Route 66", a wonderful production that audiences enjoyed at the Westward Ho Casino on the strip for 2 months in 2004.
Another jewel in his crown of achievements was his second place finish in the NBC television shows "America's Most Talented Senior", an American Idol style show for people 50 and over. Currently Lambus enjoys mixing his entertainment options doing group projects, solo work, impersonating tributes, or recording in the studio. He also produced a Lambus Dean CD with some great original material.
Susan Griffiths – Performing as Marilyn Monroe
Notably the most famous Marilyn Monroe impersonator in the world, Susan Griffiths began her career with "Legends In Concert". She went on to star in the ABC Movie of the Week, "Marilyn and Me". She's played the
actress in several TV shows such as "Quantum Leap", "Nip Tuck" and "Curb Your Enthusiasm", with Larry David and Dustin Hoffman. Most notably she was cast by Quentin Tarantino for the "diner scene" in "Pulp Fiction".
When David LaChapelle was asked to create a video for Elton John's live Red Piano review, Susan was cast to star in his "Candle In the Wind" video. She went on to be photographed by LaChapelle for Vanity Fair
with Quentin Tarantino and Robert Rodriquez in a photo called Blood Brothers. When GQ Magazine photographed Jimmy Kimmel as JFK for their presidential issue, Susan was chosen as Marilyn for the cover shot.
With a recent role on the new TV series The Defenders, an appearance on American Idol and The Tonight Show with Jay Leno, Susan continues her portrayal of the famous bombshell. She has teamed up with Andrew
DiMino, the best Dean Martin impersonator to create "The Crooner and the Bombshell". It features duets, along with the classic Dean and Marilyn songs.
Here are some reviews of Sebastian Anzaldo performing as Frank Sinatra…
"...a gem of a show."
"Sebastian is the Sinatra in his hey day...Confident, cocky, and well, one word describes the man...Swingin!!"
- Nightmoves/Call Back
"This is more than just a terrific show - it's a showbiz topper!"
"If one closes the eyes and just listens, you would swear the actual person is on stage...
Then when you open your eyes you see a swinging Frank." "A show you must see!"
- Heard Around Town/Las Vegas Leasure Guide
"The role is perfectly cast with Sebastian Anzaldo portraying Sinatra."
"The tribute artist sings beautifully, which leaves the audience wondering whether the real star could have done an even better job..."
- What's On Las Vegas
"...Anzaldo resembles and sounds like a young, handsome Frank Sinatra..."
- Showbiz Weekly
"Anzaldo has the Sinatra swagger...he immerses himself in the character."
"If you are a fan of this legendary entertainer, you should get a kick out
of this show..."
- Accent/Las Vegas Sun
"When you reach a point in watching such a show that for a moment you actually believe he is who he is performing as, it really sends a chill up your spine."
Dinner At Cibo Ristorante Italiano
Cibo Ristorante Italiano "Rat Pack" Dinner Menu
Sunday, October 26th – 5 pm – 10 pm
3 courses - $24.95 per person
Tuscan White Bean Soup
Cannellini Beans, Imported Pancetta, Rosemary Infused Oil
Or
Insalata Della Casa
Mixed Baby Field Greens, Balsamic Vinaigrette
Choice of:
Pollo Arrostito
Mary's Roasted Half Free Range Chicken, Creamy Fontina Polenta, Roasted Cauliflower Ragout, Pancetta & Rosemary Reduction
Fresh Grilled Salmon
Brown Butter & Blood Orange Puree, Farro Risotto, Wild Mushrooms & Swiss Chard
Rigatoni Di Giovanni
Short Pasta Tubes, Fresh Tomato, Sweet Basil, Garlic, Extra Virgin Olive Oil, Imported Ricotta
House Made Lasagna
House made four cheese Lasagna layered with a tomato meat sauce, bechamel, spinach & cheeses
Dessert
Tiramisú
Mascarpone layered with a hint of shaved chocolate, espresso and liquor-soaked savoiardi
For more information about Cibo, go to www.cibo.com.
About the Golden State Theatre
In 1926, a 15,000 square-foot Moorish castle rose on Alvarado Street, to the amazement of locals and visitors alike. A new cinema and live performance venue to rival those in California's largest cities, the Golden State Theatre , which was built by the Reid Brothers, was the definition of an opulent movie palace. After decades of deterioration, it was faithfully restored to its former glory, featuring an Old World grand lobby and mezzanine, one thousand plush velvet seats, state-of-the-art sound, and the indefinable magic of a truly historic setting. B.B. King, Bill Cosby, Willie Nelson, Yes, Patti Smith, Bob Weir and The Smothers Brothers — these are just some of the names that have graced the stage, contributing to the Theatre's new legacy since its renovation and exciting revival. The community is invited to attend a world-class concert or film festival at the Golden State Theatre, or host your own special event here, and become part of its new chapter of history.
The Golden State Theatre is operated by husband and wife entrepreneurs, Eric and Lori Lochtefeld, along with a team of industry professionals from across the country. They are also co-owners of the Fox Theatre in Redwood City, also built by the Reid Brothers in 1929, where they hold nearly 200 events per year. Through their work with the Fox Theatre and the community, they have helped to revitalize downtown Redwood City. For more information, go to www.goldenstatetheatre.com or call (831) 649-1070.
The Golden State Theatre is located at 417 Alvarado Street in Downtown Monterey and has many outstanding events coming up in 2014/2015. To arrange any interviews, please call Wendy Brickman at (831) 633-4444 or email [email protected]. For more information and to be added to their newsletter list, go to www.goldenstatetheatre.com.
comments powered by

Disqus